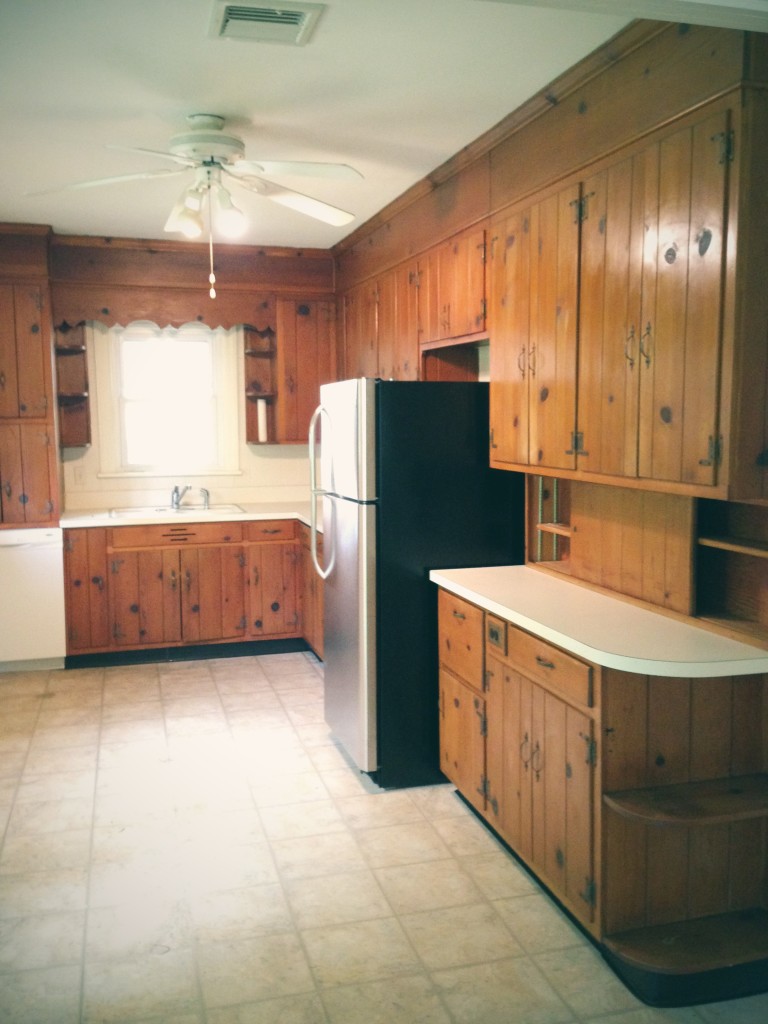 Somewhere along the 70+ years of this little historical cape cod's existence, someone who lived here had a fascination with cabins.  Like knotty pine & corner shelves & hammered iron hardware cabin.  And while I love a good cabin [I'm a Wisconsin-born girl after all, we love our lake cabins!] — the cabin look was so terribly wrong for a kitchen in this charming brick cape cod.  Though I do give those cabin-loving kitchen designers credit for taking the cabinets all the way to the ceiling!  Nicely done.
If you're new here, my name is Tera Janelle.  The short of it is we're certifiable house addicts. In the past 7 years we've renovated 12 houses/flats.  And just about the time things start looking pretty enough to have people over (you know, beyond bare studs and exposed electrical wires) we somehow get the crazy notion to do it all over again!  So about 8 months ago we moved into this (potentially) charming brick cape cod.  And the rest is, well, lots of renovation dust and history.
So when I realized Linda of Calling it Home was kicking off the Spring 2015 One Room Challenge – I knew it was "cape gone cabin" kitchen time!!
The One Room Challenge is a 6-week journey to finish a room.  Each Thursday I'll post pics of the kitchen progress, and you can follow along on Calling it Home as other ridiculously, uber talented designers do the same. (Seriously, it's a heaping dose of inspiration and intimidation to be posting in leagues with these creatives.  But it is so fun to get an inside-peek into the progress of all these talented designers, stylists, and DIYers!)  Reveals are Thursday, May 7!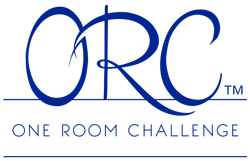 So this kitchen is headed back to Historic. Hopefully the final design will settle into a practical and appealing balance between classic and modern.  There's plans for gray cabinets, gold hardware, classic marble, and a bit of sparkle!  And we'll document the pretty, the frustrating, and all the dust & designs along the way!
So here's "A Knotty Pine Kitchen Goes Classic" PLAN A:
(Because we never get to the end of a project without rolling over to at least Plan M.)
Details coming soon!

Confession:  We jumpstarted this project several months ago, cause we had a 6 week wait just for the cabinets to arrive.  So we definitely fudged this 6 week timeline a bit — now fingers crossed we can still be done by May!