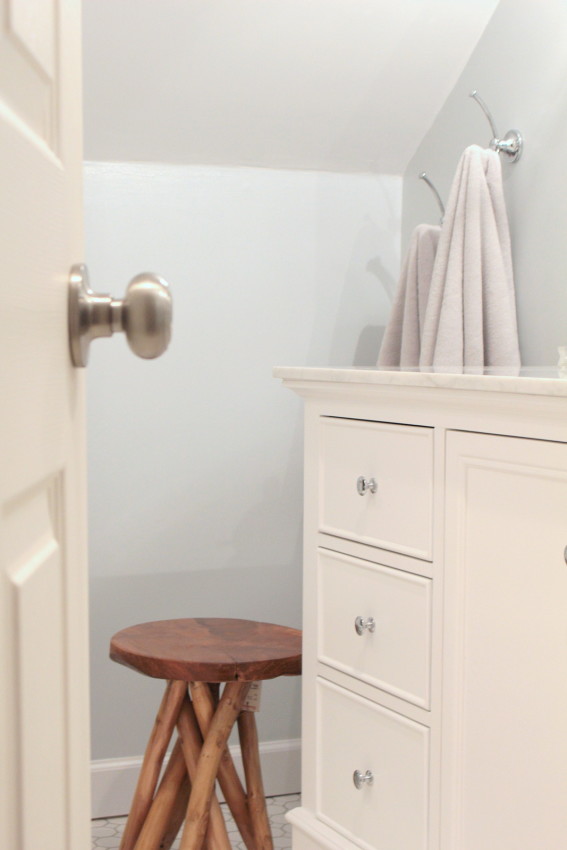 I grew up renovating houses with my parents.  I can remember at five years old running to get tools for my dad — I call him Papa — as he built our family home. I'm a girl who knows the difference between a socket wrench, an allen wrench, and a pipe wrench. A miter saw, a hack saw, a table saw, and a skill saw. I remember the first time I was assigned a "real" task at an old farmhouse we were renovating: cutting fiberglass insulation to size for installation. Looking back, it did not require a whole lot of skill, and in the rank of jobs on a construction site, it certainly fell at the bottom. But I was ten years old, and I was pretty sure I had truly arrived that day.  We ended the day swimming in Spencer Lake, washing off the sweat and itchy fiberglass, and dipping in the cool, satisfying waters of my first "real" day on the job.
I grew up and went to college to teach high school English, where I graduated just short of a 4.0 and scored a dream job teaching 12th grade English. But I never lost the itch to renovate, to be a part of that incredible transformation. Luckily I married a smart, handsome, insanely-talented guy with the same passion.  So alongside my parents, on my summers off from teaching high school English, we bought and renovated homes to sell.  I learned the ins-and-outs of renovations, design, scheduling, and marketing. And after all these years of renovating, I still get stir crazy without a renovation project. Maybe it is in my blood.  Maybe it is because I was lucky enough to spend the past 30 years watching my parents expertly schedule, coordinate, and deal with the inevitable hiccups of any renovation. I watched them treat contractors well, often bringing coffee and donuts for early morning starts, and ice cream and cold sodas to crews on sweltering summer days.  I watched them work hard right alongside the contractors, and hold everyone accountable for a job well done.
One summer break, we tackled the renovation of a foreclosed lake house in my hometown. The response from buyers was incredible.  Within just a couple days on the market we had multiple, over-asking-price offers. That house ignited a spark and crazy series of events that has landed me where I am today.
I don't cook well or sing well or craft well.  I'm not a fancy, high-heel walking, jewelry-wearing designer.  I generally show up on a job site in comfy work clothes.  I grab tools for the crews when they need a spare hand, help carry in drywall and ladders, and in the same breath laugh with a contractor and then call out instructions.  But the crews I work with know I work hard, that I hustle, that I care deeply about my clients and their projects, and that when I ask contractors to work late into the night to make a deadline, that I'll often show up with pizza and cold sodas in appreciation. And I'm blessed to work alongside some amazing contractors. Design is not nearly as glamorous as it sounds. Many days are long and renovations inevitably yield hiccups.  I take staying on schedule and budget very seriously, and that often means some sleepless nights and very long hours.  But I am so lucky to get to do something for a living that I love. And on reveal days, when I get to watch as homeowners experience their new, beautiful spaces — I forget the labor pains and get excited to do it all over again. What an incredible honor to be invited into people's homes and their lives, to be tasked with the awesome responsibility to design the homes in which they live life and make memories.
And this week, I had the great pleasure to do just such a reveal…
The Stone Cottage homeowners had moved into their home a year and a half prior, and within just weeks their upstairs bath came — very literally — flooding into their main level living room.  For 15 months they'd tried to coordinate a renovation.  They grew exhausted with companies who failed to return their phone calls, with the outrageously expensive bids, and with contractors who started a job and then simply stopped showing up.  They lived 15 months with a hole in their living room ceiling and an entirely useless upstairs bath.  And then one day my crazy Labrador ran out of my front yard (naughty dog!) to meet their Collie as they were out for a walk.  I rushed out to apologize, and we started chatting (my gosh, they are so stylish and talented and sweet), and you can guess the rest of the story.  A few weeks later I signed on to design and renovate their bath.  And today, I had the incredible honor to reveal to those homeowners their long overdue upstairs bath!!!
THE BEFORE
THE DESIGN PLAN

THE FINAL REVEAL
This bath had incredible potential but some major challenges.  It was in need of new plumbing, venting, and electrical. So we gutted the room back to the studs, brought in great contractors, and made it top priority to ensure all the behind-the-wall workings were fully upgraded.  Then it was time to add function and beauty to the bath. The bathroom was nearly 8'x8′, a generously-sized footprint.  But the full-height ceilings extended only 30″ before they began a roofline slope.  It was this character that added such incredible charm to this tudor/cottage, but that sloping character also created unique challenges for designing a bathroom layout. I wasn't about to waste an inch of that square footage!
For the overall design, we went with a classic, clean, and spa-like design palette: blues, grays, whites, and Carrera marble, all inspired by the beautiful style of the rest of their home.  The vanity cabinet is undoubtedly the show-stopper in this room.  Sporting classic chrome hardware and soft-close doors and drawers, it provides loads of storage and classic style.  It is well complimented by the classic, 1930-40's style "octagon and dot" floor tile (perfect for this 1931 home).  And the casual, organic style of the stool and wood shelves keeps the room from feeling overly precious, creating a beautiful but also practical and comfortable family bath.
We repositioned the doorway from the left corner to the center of the room.  This allowed us to maximize the stretch of each wall, and accommodate a 60″ vanity and a full-size tub.  And with a brand new baby on the way, these homeowners were eager for a bath that accommodated a growing family! So fitting a full-size tub was a priority.  The addition of a tub provided a corner-nook that was perfect for shelving and provided a convenient spot for a laundry basket.  The nook houses shelves that store plush, Turkish towels and bath accessories, and beside the laundry basket is room for a bin of bath toys and a waste basket.  The opposite corner was optimized with towel hooks and a stool which can be pulled up to the tub for bathing that precious new baby girl.
Well-planned-out electrical and lighting offers beauty and practicality.  The vanity has outlets on each end, offering convenient plug-ins for curling irons, razors, electrical tooth brushes, etc. The 4″ recessed can highlighting the shelves brightens what could otherwise be a dark corner.  The waterproof, LED light over the tub allows the shower to feel bright and spacious even when the shower curtain is closed.  In addition, the vanity sconces, shower light, and ceiling lights are all controlled by separate switches, allowing for a range of lighting options, from full lighting optimum for applying makeup to mood lighting for a relaxing bath.  And the exterior-venting exhaust fan is controlled by a push-button timer.
The Stone Cottage project homeowners have impeccably beautiful, vintage style.  The rest of their home is simply stunning.  This bath finally follows suit and feels right at home in this enchanting, 1930's tudor-meets-cottage home! And I am so swimmingly honored to have been a part of the process.
 Tips for renovating a bath
Simple details can get overlooked in the busyness of demo and design.  Don't forget to plan for places to hang a hand towel, toilet paper, bath towels, and clothes.
Bathrooms benefit greatly from well-planned out lighting and electrical plans.  To optimize your lighting and electrical placements, have your bathroom layout, vanity cabinet, mirror, and light fixtures chosen ahead of time.  This will ensure your electrical outlets, switches, and light fixtures are conveniently and effectively placed.  Just think of all the electrical gadgets we often use in a bathroom: curling irons, straighteners, razors, electric toothbrushes, night lights, etc.  Plan out the placement of outlets to provide convenient spots for plugging them all in.
Vanity lighting is key.  Front lighting is ideal for make up and primping.  Using wall sconces in combination with ceiling lights prevents those dark, downward shadows cast by ceiling lights alone.
Make use of awkward spaces, which are great opportunities for artwork, shelves, hooks, and baskets.
Don't forget the vent fan!  By code, bathrooms without a window require an exterior-venting exhaust fan.  Even if you are one of the lucky ones with a window in your bath, exhaust fans are a great investment for controlling humidity, diffusing hovering sprays and perfurmes, and sending out and away any – ah hem – unpleasant bathroom odors.  Bathroom vent fans are rated based on noise level and how quickly they recycle air.  A fan's ability to move air is measured in CFMs (Cubic Feet per Minute).  The larger the bathroom, the higher the required CFM.  (An exhaust fan should recycle the air every 7 minutes; we usually opt for every 3-4 minutes.)  Noise level is measured in "sones."  If noisy vent fans bother you, aim for a fan at 1.5 sones or below.  (Our pick is a 1 sone fan.)
Your toilet is likely one of the most-used pieces of furniture in your home.  How do you pick?!  Round verses Elongated.  Single verses dual flush.  Plastic verses wood seats.  Soft-close lids.  Comfort verses standard height.  So many decisions!  Consider the size of your space and the ages of people who will use the bath when weighing the options.  (For example, "comfort height" toilets are two inches taller than standard toilets and are great for adults and elderly but can be difficult to use for small children.)
And if the idea of handling a bathroom renovation on your own overwhelms you, give us a call.  We'd be honored to be a part of making your home one you love!