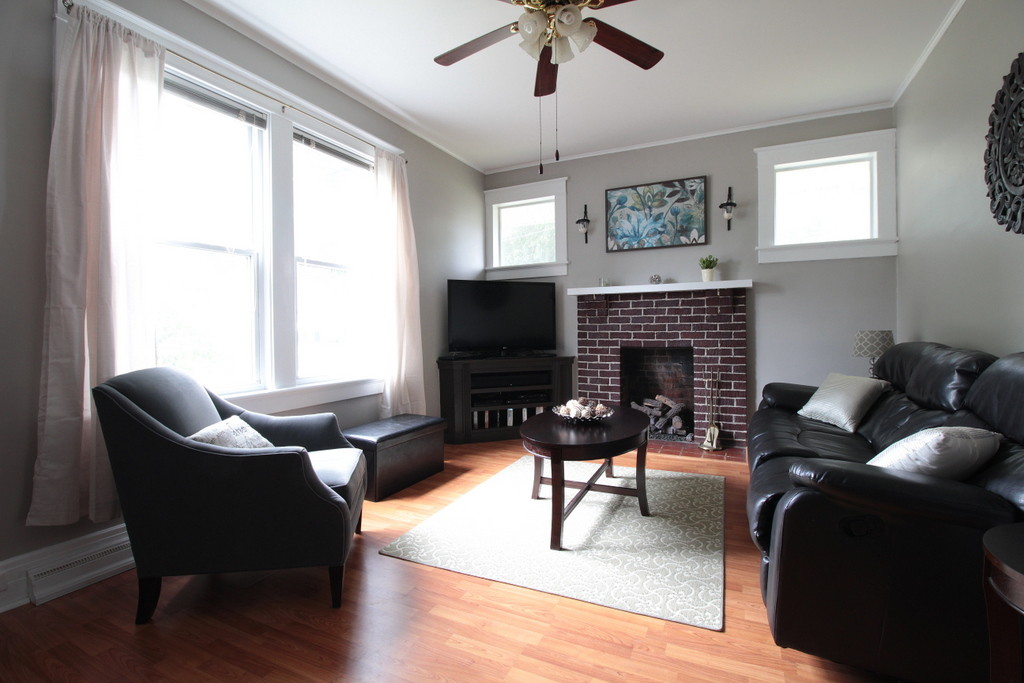 A couple selling their home just asked my advice for how to get their home ready for the real estate market.  A whole rambling of advice came to mind: "fresh, neutral paint" and "depersonalize" and "finish those pesky lingering projects" and  "declutter, declutter, declutter."  But most sellers, including the ones asking the question, had heard all that before.  So what advice did I offer?  Buyers remember a laundry room with a chandelier! Add a chandelier!
But all that other advice, though many of us have heard it over and over again, is time-tested, solid advice.  Often sellers say, "But can't buyers see past that?" or "Don't they know you could fit a bed in this room?"  And the truth is, NO!  Many of them don't!
Transforming a home for the real estate market is one of the avenues of design that I am especially passionate about. In fact, renovating real estate is what landed me in the design world!  And getting to work alongside realtors and homeowners to showcase homes for sale is one of my absolute favorite aspects of my job.  (And it gets me behind the camera too, double win!)
When Preparing Your Home for the Market…
Showcase your home to its full potential.
Ensure it stands out amongst the crowd — this is where the laundry chandelier comes in!
Allow buyers to easily see themselves in the home — depersonalize.  Personal items can be a distraction for buyers.
Those tips are all good and well, but understanding HOW to showcase a home to its potential can be tricky for many sellers.  After all, most of us have lived in our homes for several years (at least) before we plan to sell them.  We've grown accustom to quirks that might be red flags for buyers, or we've lost that "lovin' feelin" for the charm that first drew us to the house.  The job when prepping your home for the market is to be sure buyers have that good ol' lovin feeling you once had (and maybe still do!) for your home.
So what does "Showcase a home to its full potential" mean?  Here are some tips for bringing that potential to fruition:
"This room is perfect!" Limit the amount of furniture and decor in a room to that which looks best.  That can be frustrating as most sellers are still living in a home while it's on the market.  But it's worth the effort, I promise!  If you have a hard time visualizing what looks best, move the majority of items and decor out of a room, then move things back in one by one.  (Sounds exhausting, I know.  But it helps!)  When the rooms looks "just right" – stop!  Move the leftover furniture, decor, etc. into a storage unit.  Positive side effect: You already have some packing done when it's time to move!
Get some packing out of the way:  Declutter.  Clear away the clutter so buyers can see your home's features rather than your collection of roosters or carnival of children's toys.
"I forgot that trim was missing!" Tackle those pesky to do lists.  Put the panel back on the base of the dishwasher.  Swap out that broken cabinet door for a new one.  Repaint the worn walls in the kids' rooms.  Buyers like move in ready homes.  Moving is hassle enough. Don't leave them with a to-do list.  Positive side effect:  Those pesky projects can become negotiating tactics when it comes to agreeing on a price.  Eliminate the to-do's so they can't be used against you!
"It's so bright in here!"  Buyers like bright spaces.  Open the blinds, use bright light bulbs, and bring in extra lamps and light fixtures.
"Oh, I love that front door!"  Curb appeal is key.  Many buyers drive by a home before scheduling a showing.  Add some pretty outdoor furniture and pillows, hanging ferns, or fresh flowers to the landscape.  Weed, weedwack, and add fresh mulch.  Consider refreshing or updating your front door with a fresh coat of paint (and maybe a new color!) and adding some new house numbers.
Bring in fresh style with affordable updates – and a big, potted palm!  New paint (go gray!), curtains, artwork, rugs, throw pillows, and light fixtures are great ways to refresh a space without breaking the bank.  And we LOVE what a large potted palm or fiddle leaf fig can do for adding life and layered charm to a room!  (Check Walmart, Home Depot, Ikea, and Lowes for affordable indoor plants.)
A Real Life Example of Sellers who ACED it!
A few weeks back I had the pleasure to work alongside these homeowners to showcase their home for the real estate market.  They had recently become addicted to the television show The Property Brothers, and they knew how important it was to prepare their home for the market.  But they were on a tight budget, and they just didn't know where to start.  So together we created a design plan the homeowners could use to transform their home.  And the end results were INCREDIBLE!  I am so impressed by all the homeowners were able to accomplish, especially with a busy two-year-old at home.  Bravo guys, you made it look easy!
THE DESIGN PLAN:  
Decluttered, neutral spaces that maximize the home's historic charm.
On an AFFORDABLE, family-friendly budget!
Paint.  A neutral color palette that compliments the floors and furniture.   "Greige" Paint.
Living Room Additions.  The present furniture and layout wasn't taking full advantage of the living room's potential, so we kept their current sofa and then created a list of additional furniture and accessories that would maximize the layout and create a comfortable, right-at-home feel:  Side chair.  5×7 area rug.  Coffee table. Side table.  Bench for additional seating.  Lamp.  Above couch artwork.  Fireplace mantel artwork.  Curtain panels. Stylish accessories.  The homeowners scored some incredible deals on stylish furniture at a local thrift store, and the new furniture and accessories now highlight the home's historic charm!
Staging and Additions Throughout Rest of Home.  New, neutral bathroom floor. Sparkly laundry chandelier.  Kitchen artwork.  Dining room artwork.  New, modern dining chandelier.  Chairs for outdoor fire pit.  Outdoor pillows, porch ferns, and landscape flowers.  
Rearrange Bedroom Layouts.  The upstairs was presently accessible only through the master bedroom, which worked best for the homeowners but would likely not appeal to buyers.  So we switched up how the rooms were used to appeal to a greater majority of buyers.
LIVING ROOM BEFORE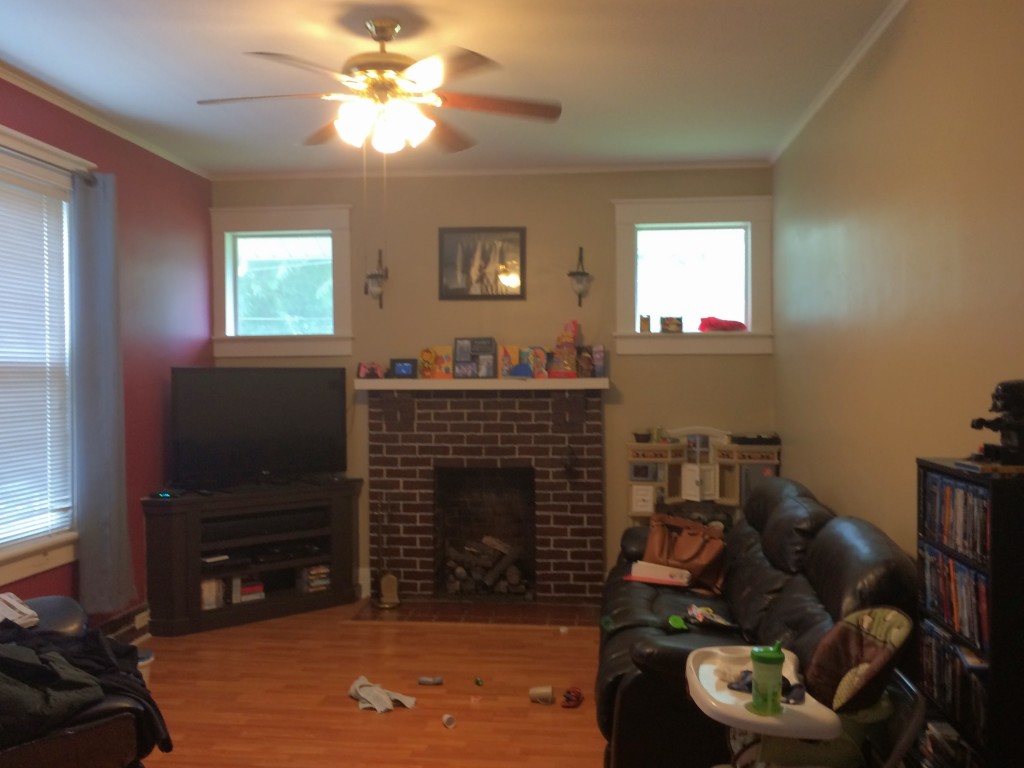 LIVING ROOM AFTER
DINING ROOM BEFORE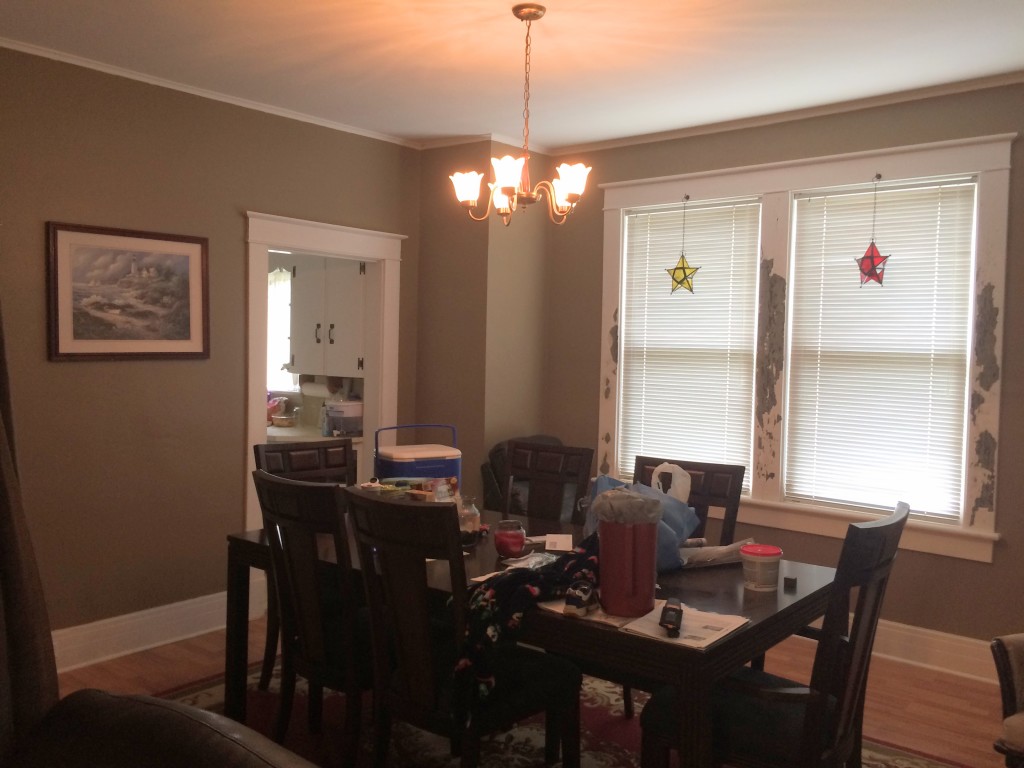 DINING ROOM AFTER
KITCHEN BEFORE
KITCHEN AFTER
LAUNDRY BEFORE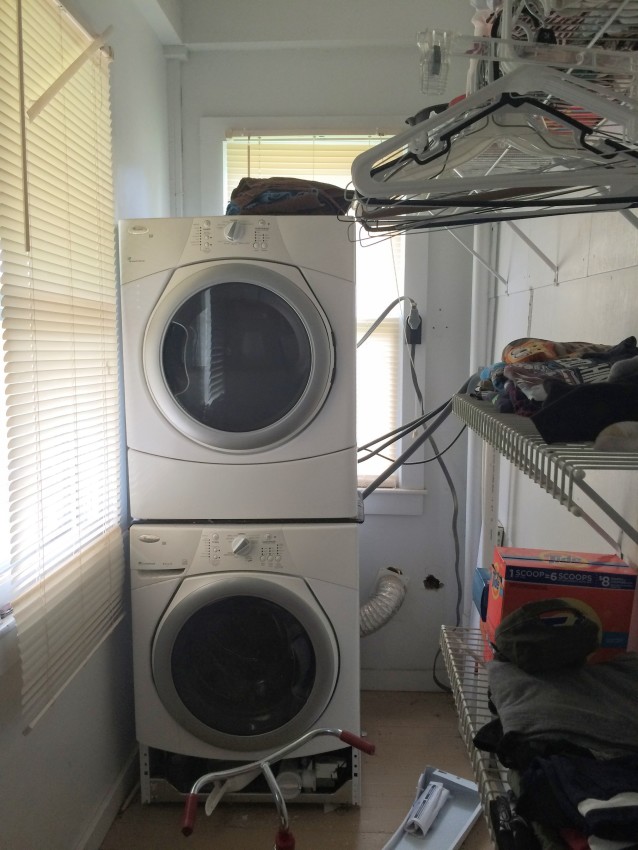 LAUNDRY AFTER
BEDROOM BEFORE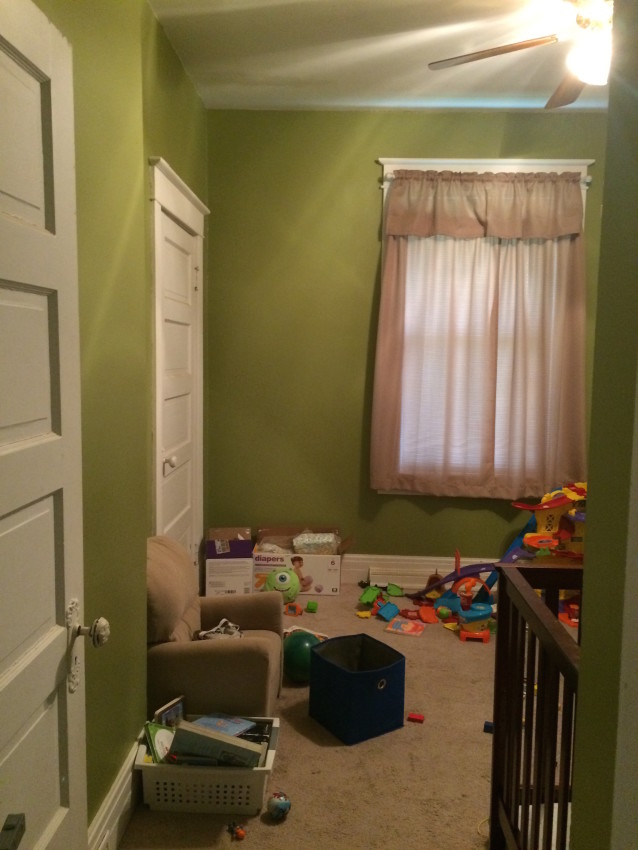 BEDROOM AFTER
BEDROOM BEFORE
BEDROOM AFTER
UPPER LEVEL BEFORE
UPPER LEVEL AFTER
BATH BEFORE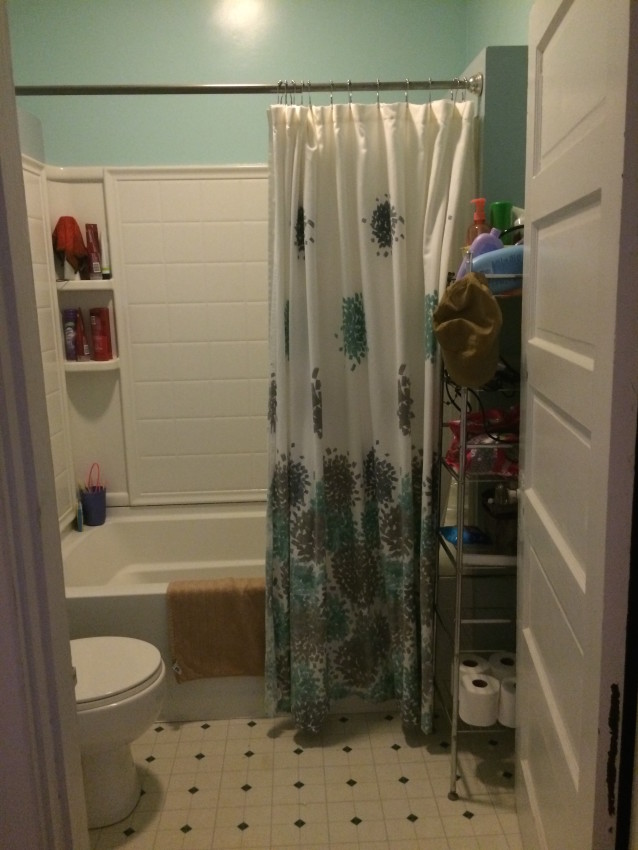 BATH AFTER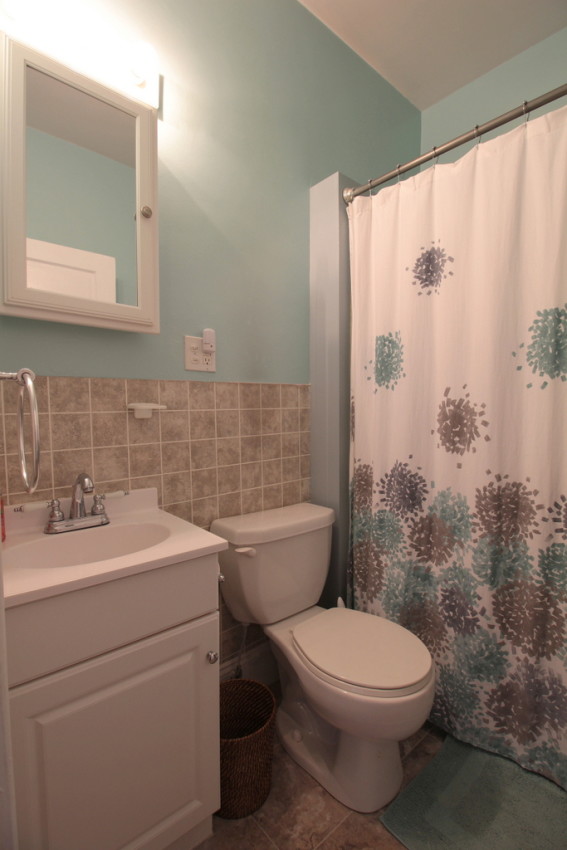 LOVE THIS HISTORIC CHARM!
What an impressive transformation.  Bravo to you guys!  Hoping there's a SOLD sign out front soon!
Need help in preparing your home for the real estate market?  We'd love to partner with you!  Check out our packages and prices here.