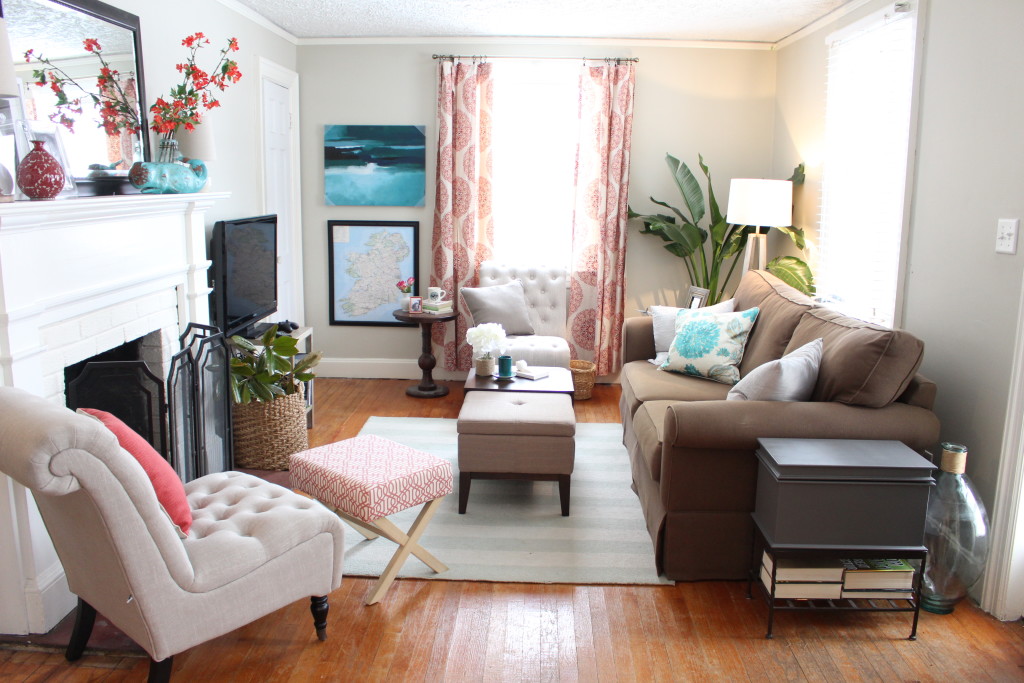 They are world-traveling, spunky, high school sweethearts.  Audrey loves interesting coffee mugs, bunnies, and the sound of the rain.  Dave loves comic books, driving with the windows rolled down, and a really good cup of coffee. On the regular, Audrey works as a production manager for a leather travel bag line and Dave as a local police officer.  They are a funny, sentimental and endearingly relaxed couple.  And they make me baked goods and celebrate with champagne = the perfect clients!
Audrey's goal for their home design was "colorful, designed-clutter," a house brimming with life and personality. Dave, on the other hand, prefered classic lines, simple decor, and neutral colors.  However, though Dave preferred things subtle and simple, he worried Audrey would be disappointed in a house that wasn't bursting with color. Finding a balance of classic and colorful was key.  Luckily they live in a quaint, historic neighborhood in a charming house brimming with character!  That architectural character paired with Dave + Audrey's collection of sentimental mementos, equaled design springboard gold!
Living Room – Design Plan:  Curated & Colorful
Paint: A color that lightens the room and compliments the couch & floor
Light fixtures & lamps: Windows offer great light during the day, but a single bulb was the only light on duty at night
New furniture: to provide additional seating & storage
Layered & colorful textiles: to embrace Audrey's love of color and Dave's desire for traditional patterns and textures
Decor: Incorporate art & collected mementos that embrace the homeowners' style and travels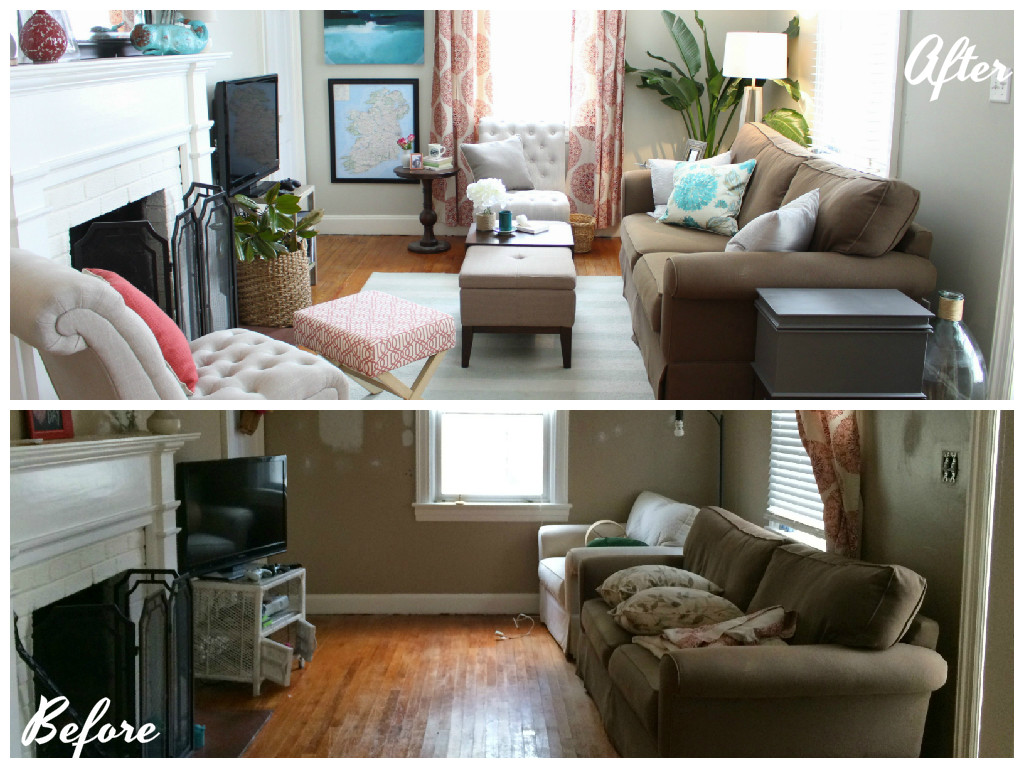 BEFORE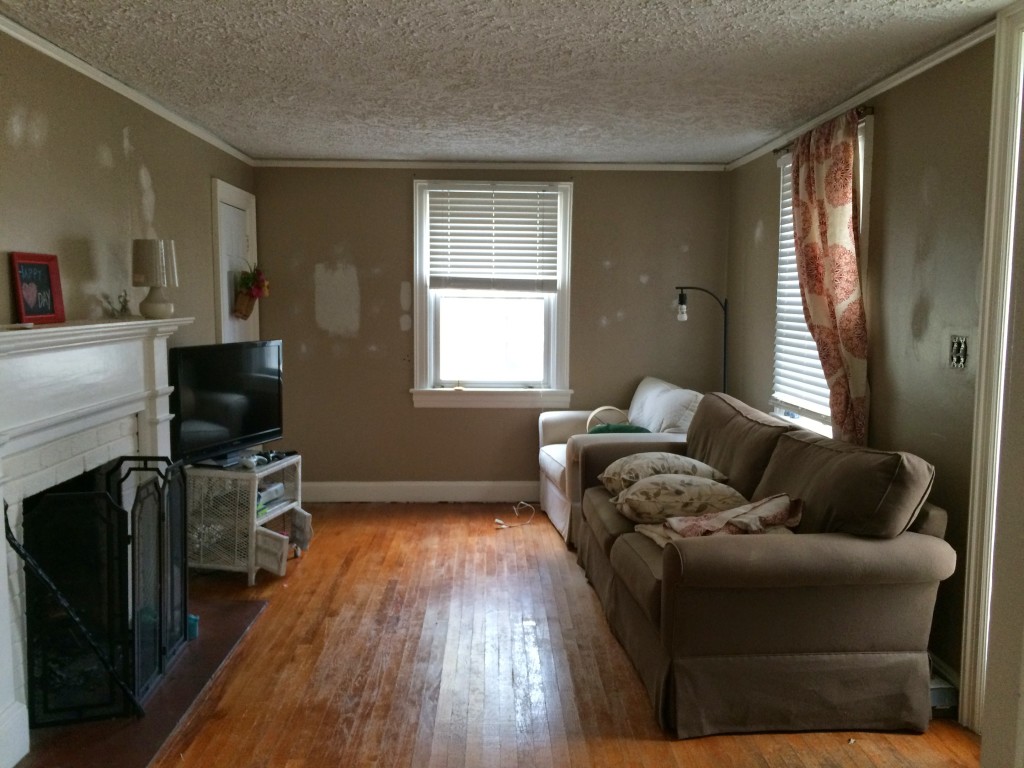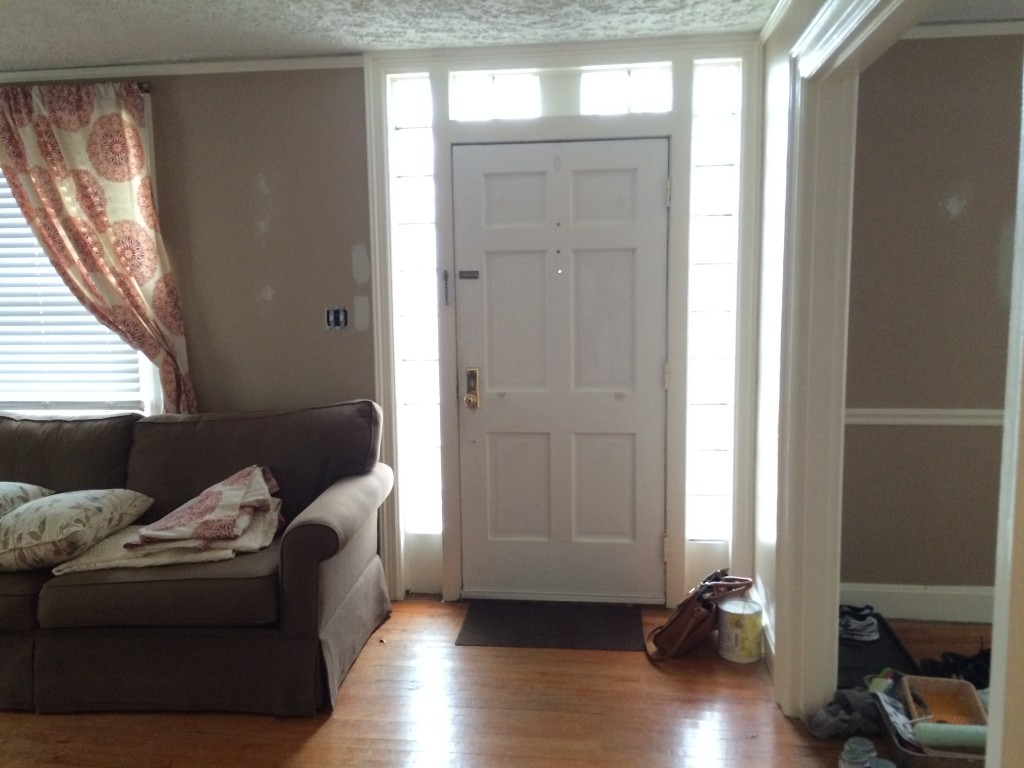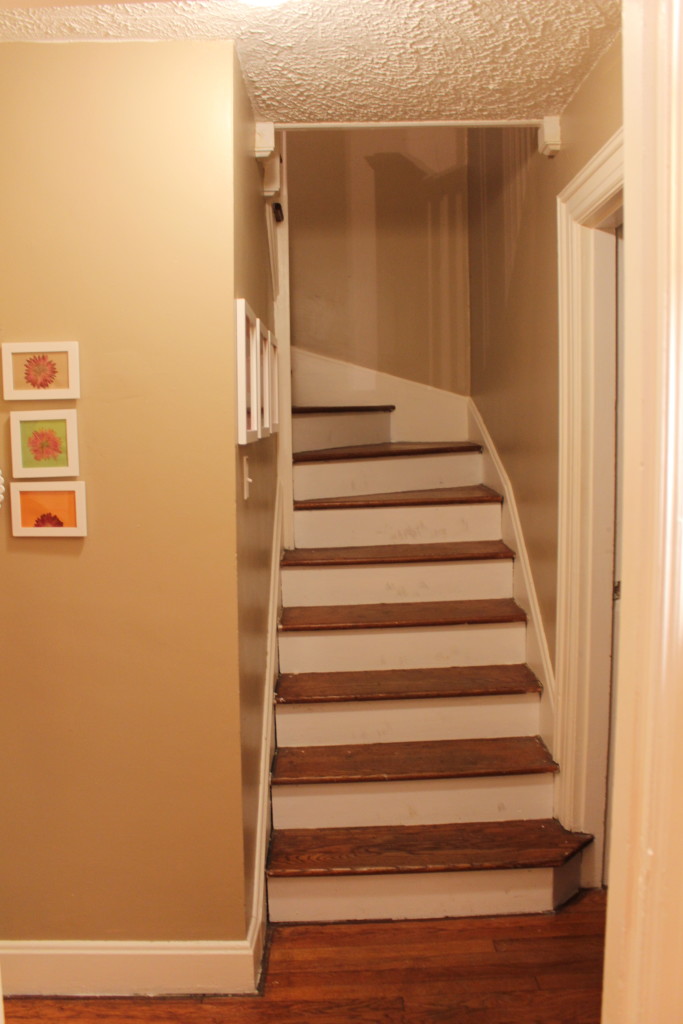 AFTER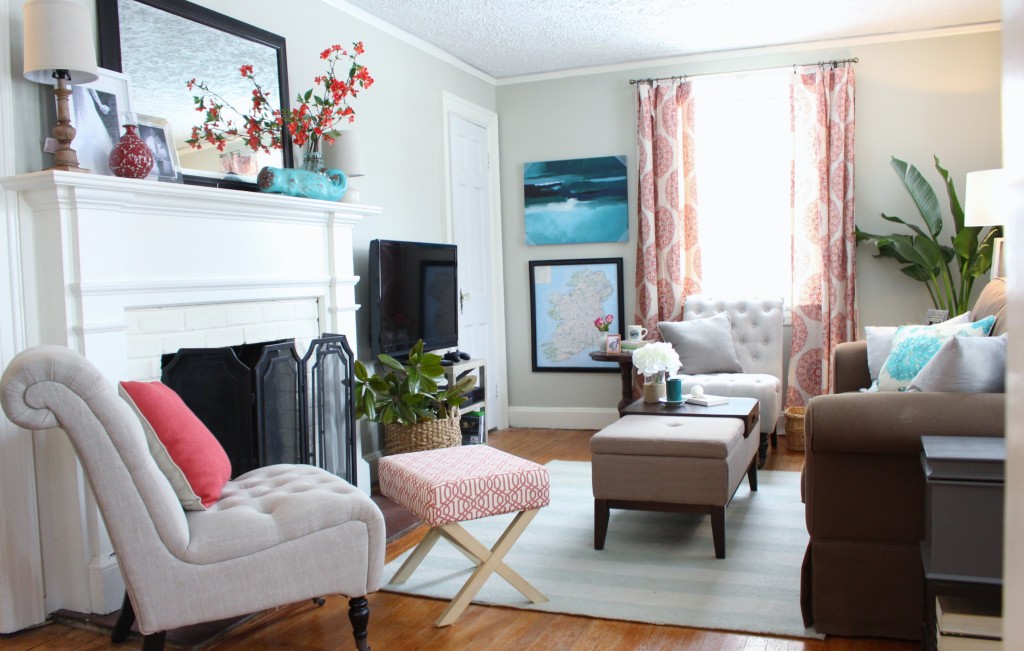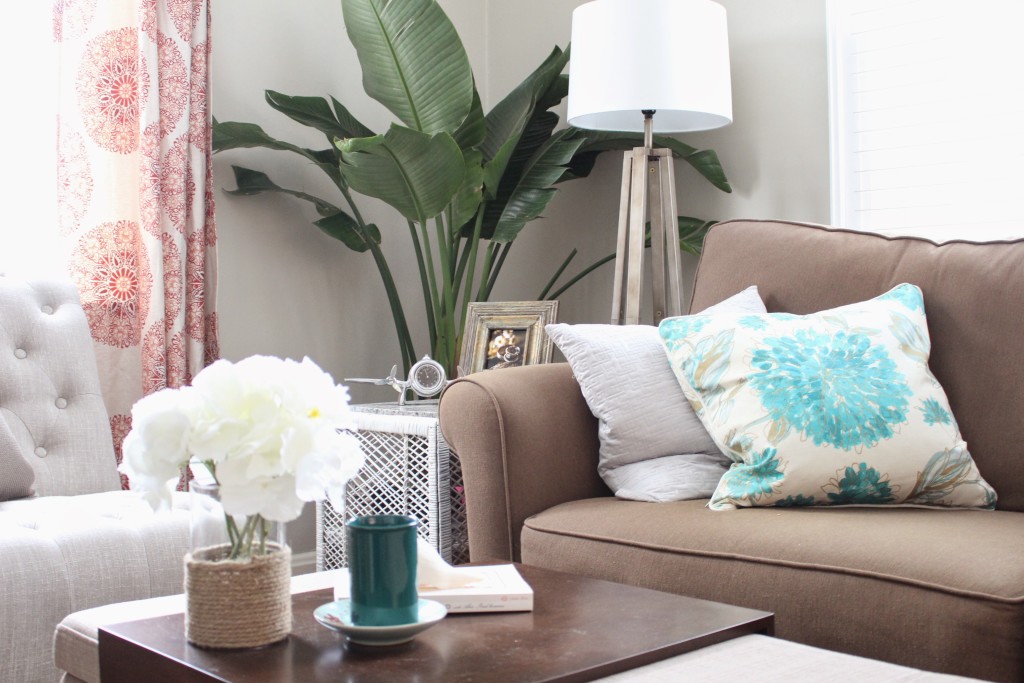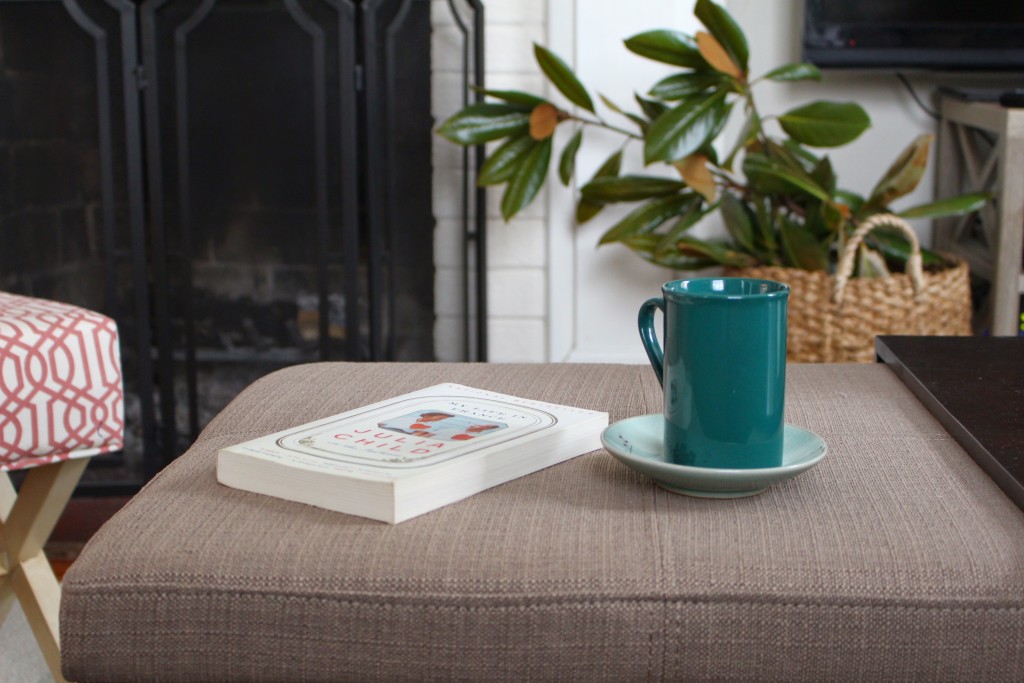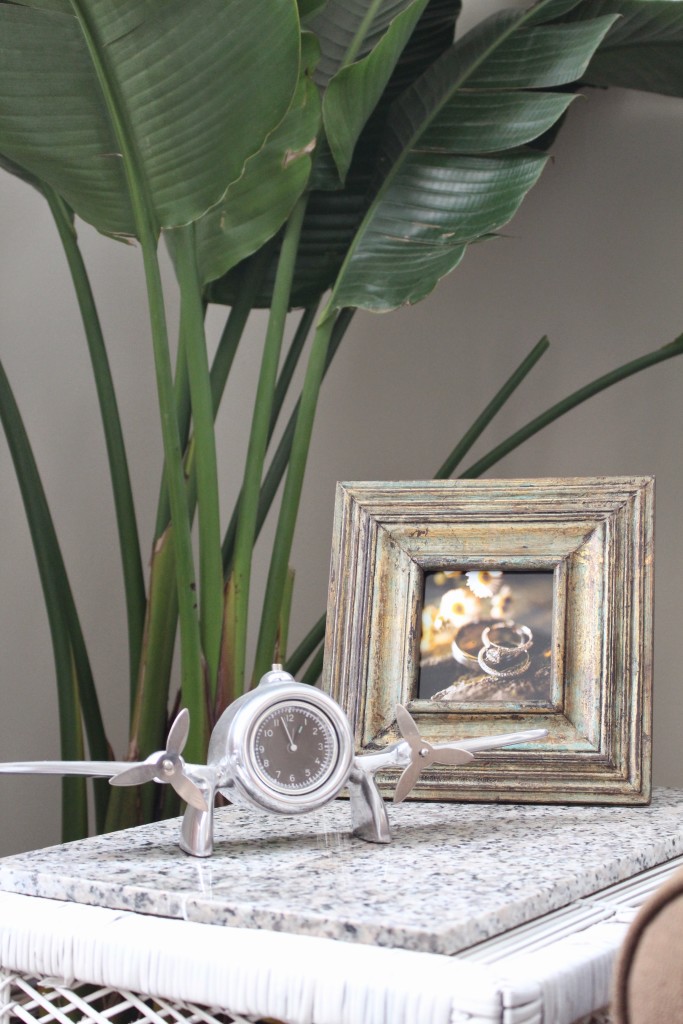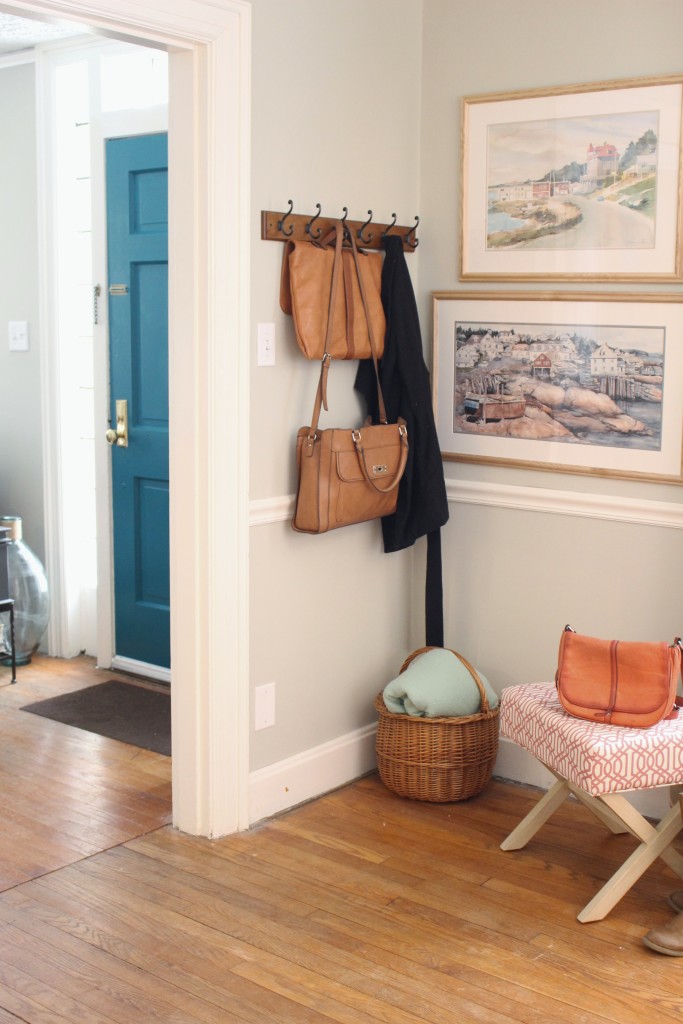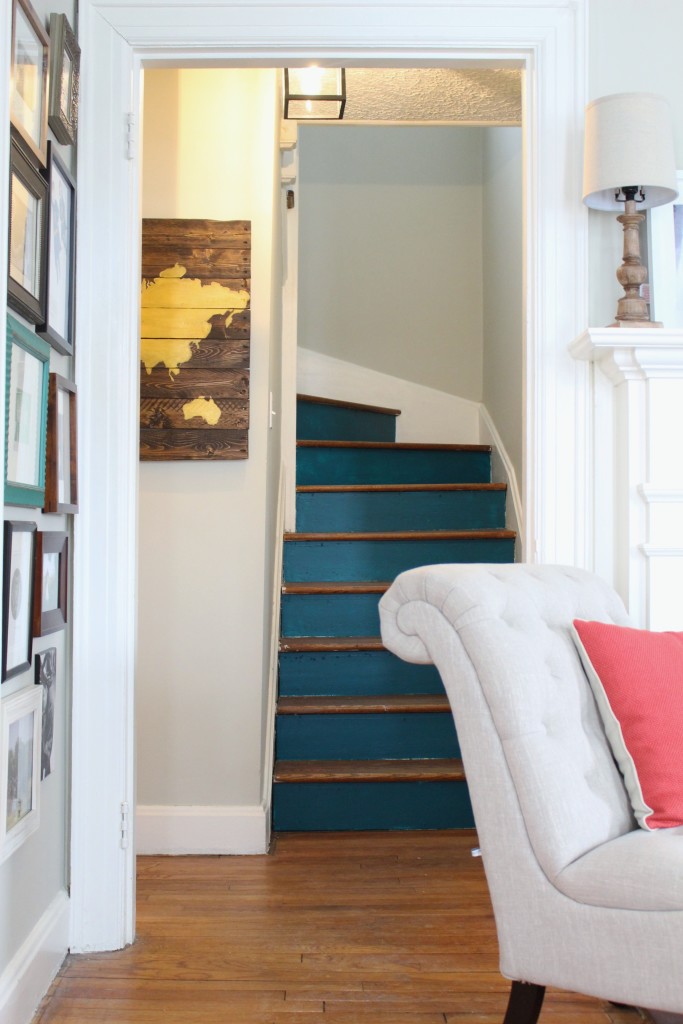 Though I'm habitually drawn to the fail-safe elegance of layered and neutral spaces, bright colors can be sophisticated too!  This project reminded me of that truth.  The historic architecture of Dave + Audrey's home now blends with color in an utterly charming way.  I mean seriously, that teal staircase!! It's colorful yet classic, and down-right tempting!  So much so this buttoned-up, netural loving girl (me here, we're talking about me) now has the itch to paint her stairs, with color!
The living room furniture now multi-tasks well!  The coffee table and ottoman provide additional seating when the living room needs to accommodate a larger group.  The coffee table bench also lifts up to provide storage, and the refinished gray end table houses files and laptops and all those rogue cords we all seem to accumulate. The weathered wood TV stand provides a place for gaming odds & ends. And the white wicker storage piece (which now serves as a side table) was a $10 garage sale find which the homeowners painted white; then they re-supported the drooping top with stone tiles, providing a place to set a book or cup of coffee, and offering a nice balance of texture. The white wicker piece now houses DVDs and small exercise equipment.
By keeping the scale of these new furniture and storage pieces in check, we were able to accommodate the homeowners couch (which they were worried wouldn't coordinate with the design) in a way that looks both intentional and stylish!  The elegant button-tufting and scrolls of the side chairs, and the clean modern lines of the coffee table now provide a complimentary balance of style and scale for the otherwise very brown, oversized couch.
GALLERY WALL: BEFORE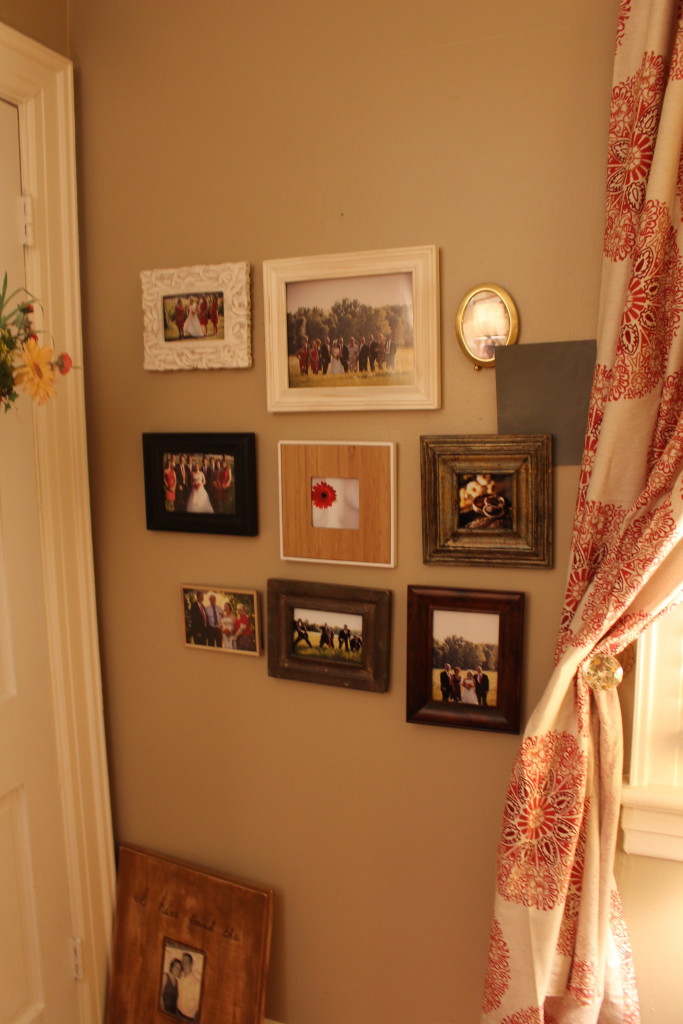 GALLERY WALL: AFTER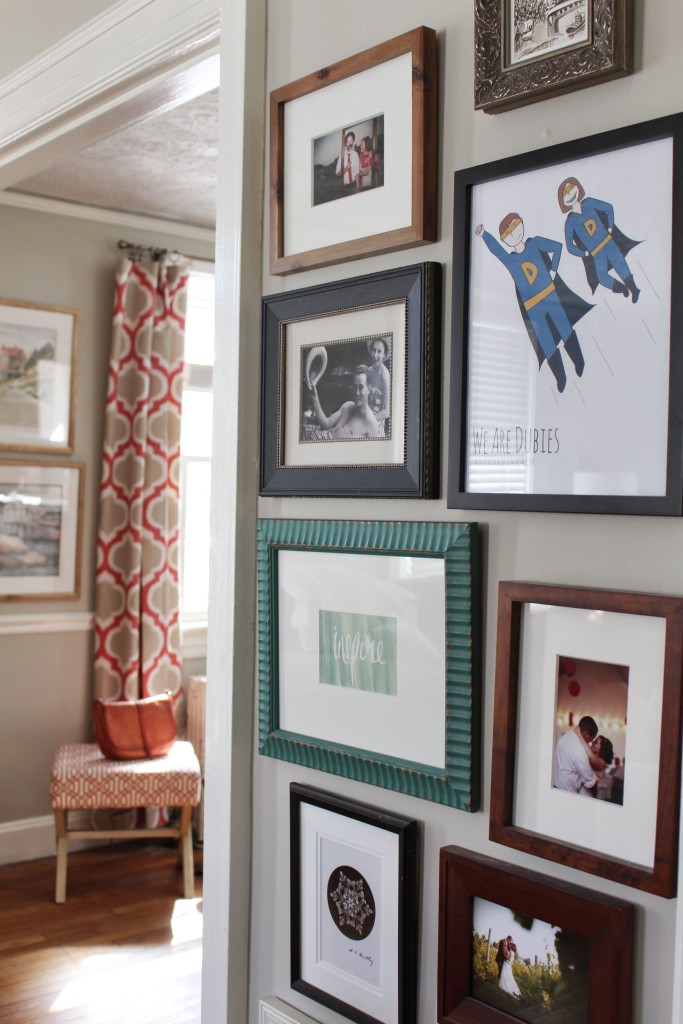 Audrey had always wanted a gallery wall, and she'd made great strides towards creating one in the "before" picture. The downside was she was working with frames that on their own were too small.  In order to accommodate those smaller frames, the gallery wall needed to have 3-4 larger "statement" pieces, so that the smaller frames could serve as subdued fillers in creating an eclectic gallery wall.  But with no statement pieces for counterbalance, the "before" frames were entirely too small.  So instead we used some of those smaller pieces as-is in other places throughout the house, and I reframed others in larger frames the homeowners already had on hand. Then we used those larger frames to create a gallery wall that flanked the pass-thru between the living and dining rooms.
THE 3-6 FOOT GALLERY WALL TRAP:
If you're looking to create your own gallery wall, do not fall into the 3-6 foot gallery wall trap!  Many people hang gallery wall artwork in only the 3-6 foot zone (when measuring from the floor).  However, gallery walls can extend floor to ceiling, as this one nearly does!
GALLERY WALL VARIETY:
I was conscious of choosing a variety of pieces for the gallery wall (custom prints, photos, paintings, and graphics).  I also used frames of all widths, colors, and sizes.  If I had used too many brown, wood frames, the others would look out of place.  But by using a variety of styles (some matted, some black and white, some classic-style frames, some modern-style frames) the mis-matching looks intentional and eclectic.
Though nearly all of the artwork and frames were items the homeowners already had on hand, I did buy one new piece.  The gallery wall needed to play ball with the accent colors in the rest of the living room, bringing the color full circle around the room.  The teal "inspire" frame and print did so beautifully, and for $11.99, affordably!  In the end, the gallery wall is a mix or artwork, styles, and memories that work both cohesively and aesthetically, while highlighting the mementos and memories Dave + Audrey treasure most!
That wraps up the Dave + Audrey living room!  I'll be back on Friday with the final reveal of their multi-tasking room that serves as their drop-zone, home office & dining.
In the mean time, check in tomorrow for our cape cod kitchen progress for the Spring 2015 One Room challenge. We're all hot plates, storage tubs, and demo around here — but it's going to be a spectacular, classic kitchen!  One day.  Hopefully one day soon.