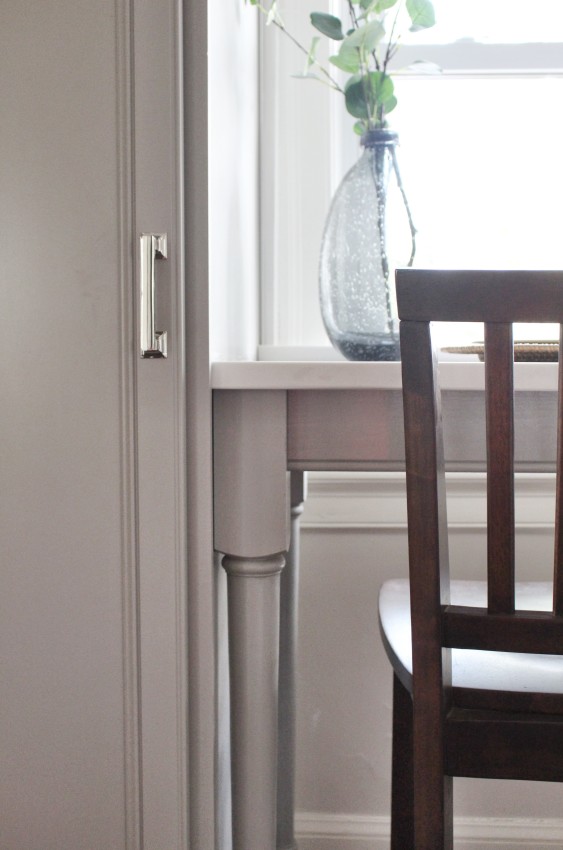 [ It is week 4 of The One Room challenge.  If you haven't heard of Calling it Home's One Room Challenge or missed last week's post, you can find those here! ]
CONFESSION:  We got a head start on this project several months ago, because when it comes to kitchen remodels, there is so much waiting. 6 weeks for cabinets to arrive, 2 more weeks til cabinet install, 3 weeks for counter template and production = we cheated a bit to get a head start!  Thank you for following along and picking up with us midway in this knotty pine kitchen renovation! :)
___________________________________________________
We got everything AND the kitchen sink!!  Okay, not everything and the kitchen sink.  But after all that time without cabinets or counters, it feels like everything to have them in our kitchen once again! AND we got a kitchen sink!  (And sold our "temporary" kitchen sink – a laundry sink – on Craigslist!)
COUNTERS 
When it came to choosing the kitchen counter for our "classic" kitchen renovation, my initial thought was marble.  We live in a historic area of the Virginia.  Marble and soapstone are major kitchen players in these parts. So in 2013, when we redesigned the kitchen in our last house, we had a great opportunity to give both those materials a trial run.  We adored the Carrera marble on the kitchen island.  There were a few quiet scratches and etching spots that developed over time, but the character was sublte and right in line with the historic charm of the home.  I didn't mind being attentive to wiping up coffee spots or squeezing limes on another surface, because the marble was a lovely statement piece of the entire kitchen.  Oh, I did love that marble island!  My instagram blew up with photos of things set atop that counter, because marble makes about anything look picture-worthy…  A piece of chocolate cake.  Spaghetti.  A pitcher of cucumber water! :)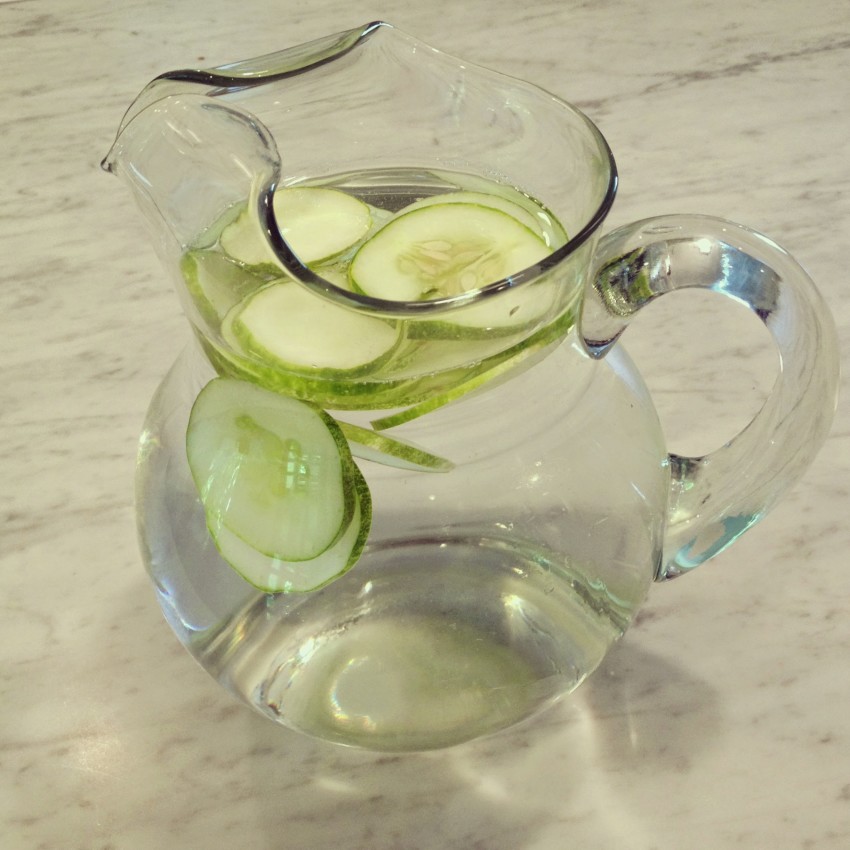 The perimeter counters were soapstone.  It was not our favorite.  The soapstone looked beautiful but was far more finicky than the marble – scratched easily, required oiling, showed water spots… argh.  The price of beauty.  So when it came time to remodel this knotty pine kitchen, marble was a prime candidate and soapstone was out.  But though we love marble, it has a reputation for beauty and high-maintenance.  And while we love this house – it isn't our forever home.  So I had to consider resale down the road.  Would buyers be turned off by the marble, worried about it's diva reputation?
So then came the sleeper countertop candidate:  Last summer we renovated-to-sell a 4-bedroom, hillside, two-story house, and I decided to give quartz a try. We'd seen several slabs of the usual marble-looking quartz options.  Though I loved the practicality, I felt some of the options were trying too hard to be marble and falling short.  I wanted a quartz pattern that had the light coloring and depth of marble, but wasn't trying so hard to mimic a natural stone.  And quartz can pricey!  I needed an option we could afford.
Winner:  Viatera Snow Storm.  We installed it on the Hillside project and loved, loved, loved it!  (As did everyone who came through to look at the home, phew!)  It has subtle depth and differentiation of color that hides crumbs and lends a "natural" feel.  But the real bonus, it pairs beautifully with a marble backsplash.  So I still got my marble fix!
So we gave it another shot with this kitchen – We ordered Viatera Snow Storm with the standard (pencil/square) edge through Home Depot.  (We priced Viatera through 3 or 4 other vendors, but Home Depot had the best price by far, especially when we waited for the free "color upgrade" sale.  That sale alone saved us nearly $800!  And we used our Home Depot card, so we got an additional 5% off!)
Here's the "Before"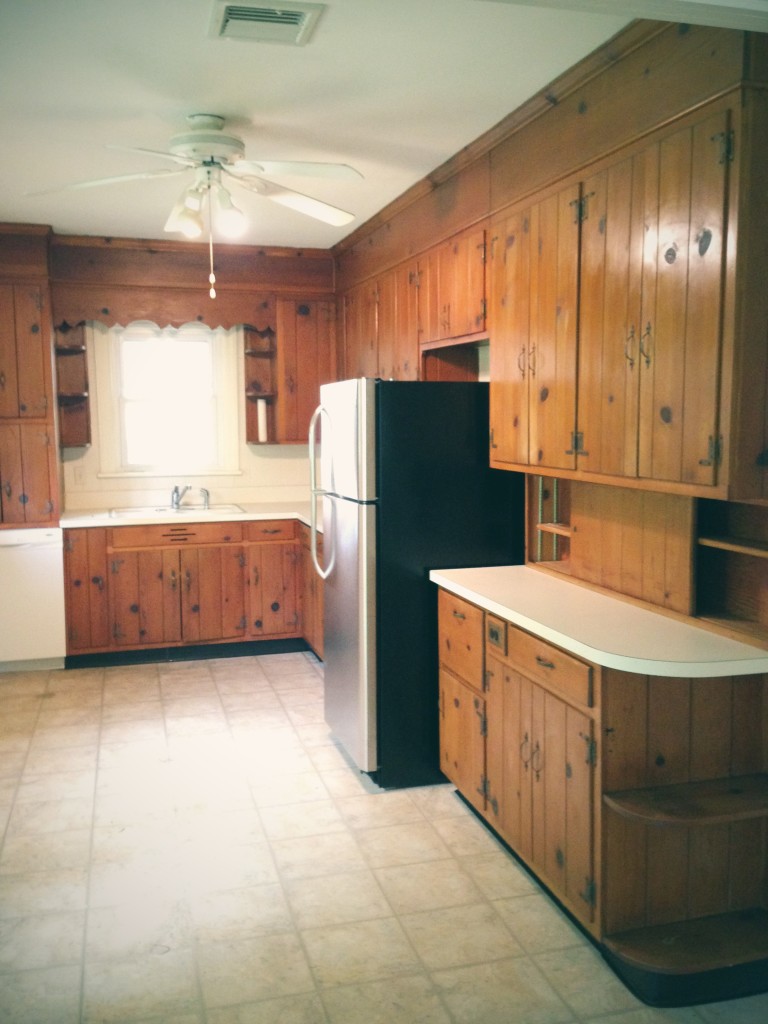 And here we are so far!!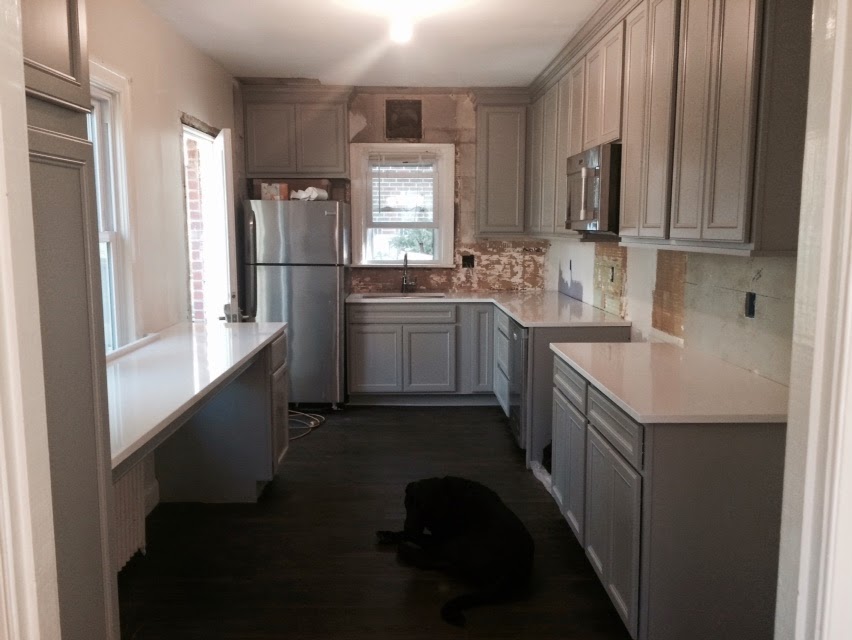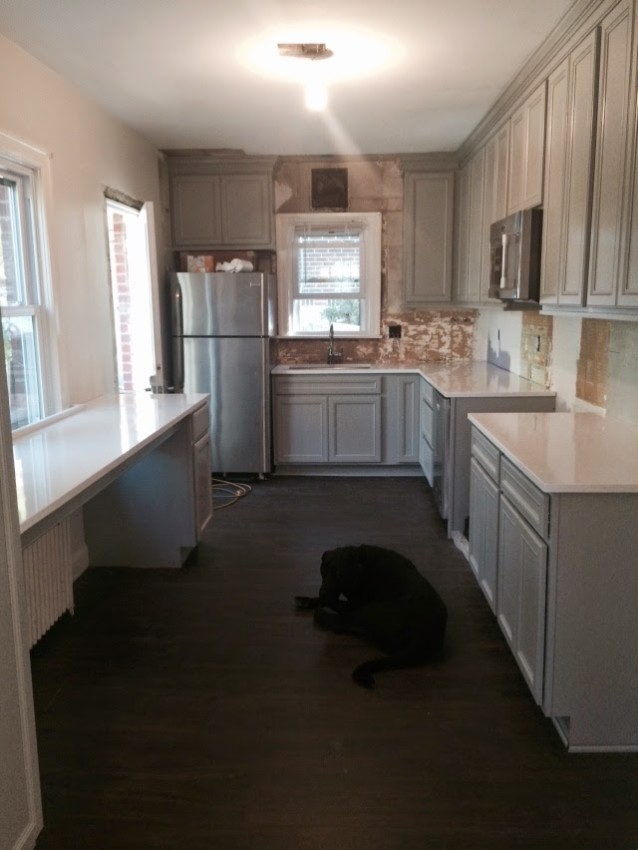 THE FLOORS
You can read the backstory on our flooring options here and here.  I really wanted real wood.  But at nearly $1000, it was far beyond the budget.  These Traffic Master vinyl interlocking planks worked out so very well though!  We did the install ourselves in about 6 hours, and the grand total came to less than $200 for the entire kitchen floor!  (I can't find an online link to the color we used.  We found the product in Home Depot in stock for cheaper than it's listed here online.  I'll keep hunting for a link to the exact floor we used, and at the better price!)
THE SINK
Then it was time to pick a kitchen sink.  We could have ordered a sink through the counter manufacturer, but their sink options were limited and not all that appealing.  So we ordered ours online.  I know the single-basin verses 2-basin sink debate is entirely one of preference, but we are hardcore single basin fans, 9″+ or deeper!  Those beasts swallow up a whole kitchen full of dishes when guests come over – keeping kitchen mess off the counter and out of sight.  Glorious! But when we finally found a single basin, 10″ deep sink that fit our budget ($250 or under), we were short on time for getting it delivered.  We needed it on site when the counters arrived.  Home Depot had the best price, but Amazon agreed to match Home Depot's price and the sink was available for free, 2-day shipping through Amazon Prime.  WIN!  
When the sink arrived it was huge!  I knew based on the measurements it would fit the sink cabinet just fine, but I was worried it was visually too big for the kitchen.  Though once it was installed, perfect.  Thank goodness.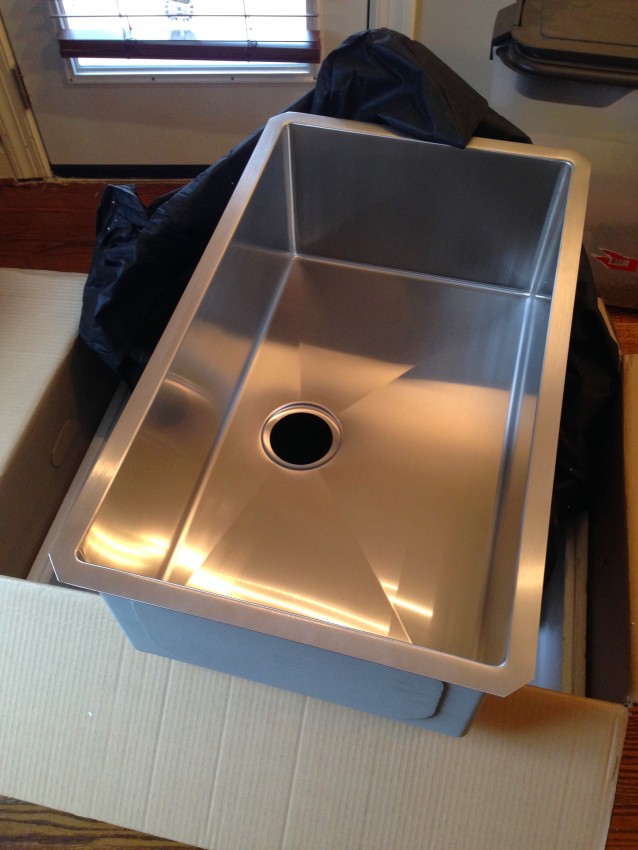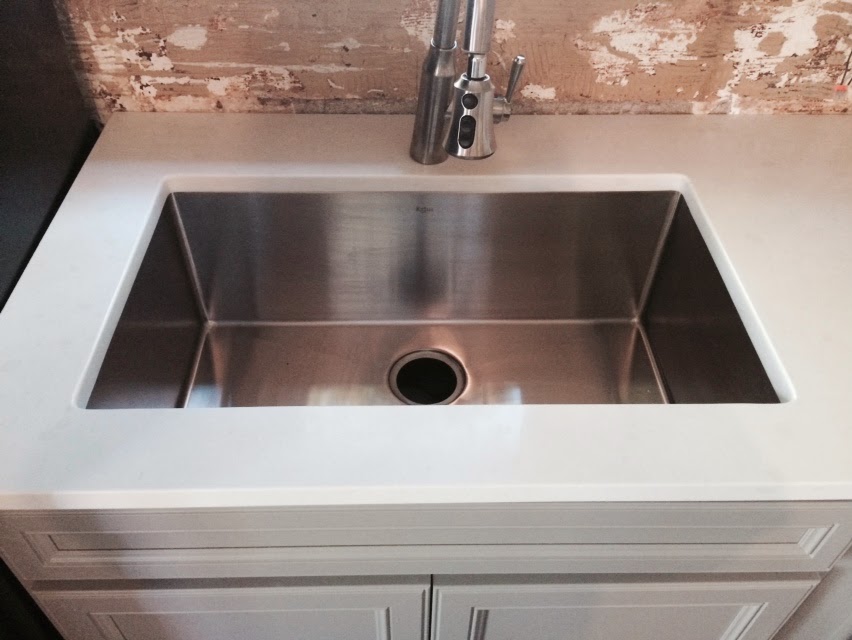 THE INSTALL
Installing straight-sided counters in a (we'll call it "character filled") old house always requires a bit of creativity.  We'll mud the walls to eliminate that gap and make them flat (that would have been easier to do before the cabinets and counters were installed – we're working a bit backwards here).  Once we install backsplash tile, the counters will look straight, the walls flat, and I'll be able to focus on the pretty finishing details rather than troubleshooting old house quirks. Looking forward to those days. :)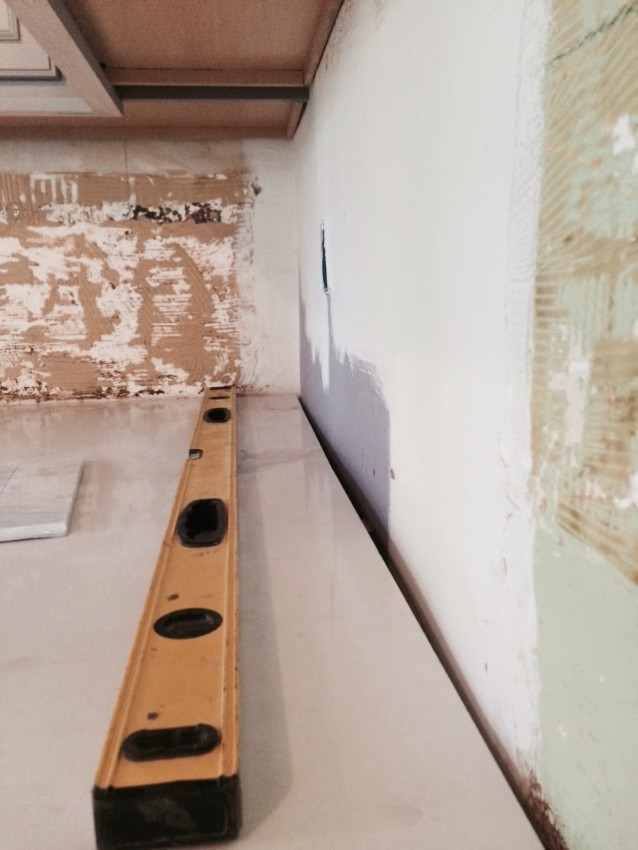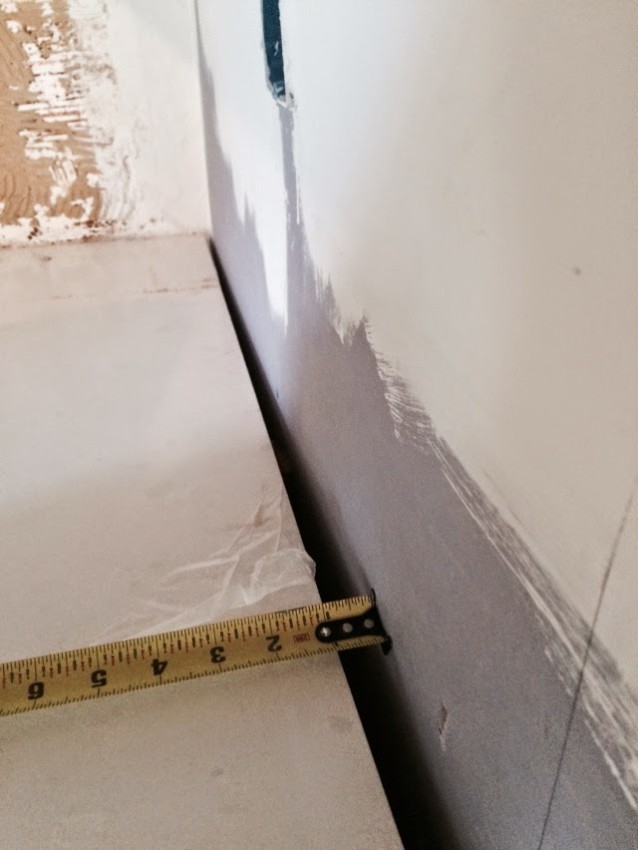 BUILDING THE CUSTOM PENINSULA
Initially I'd planned for the peninsula to have four traditional-style table legs, like this Margot Austin design.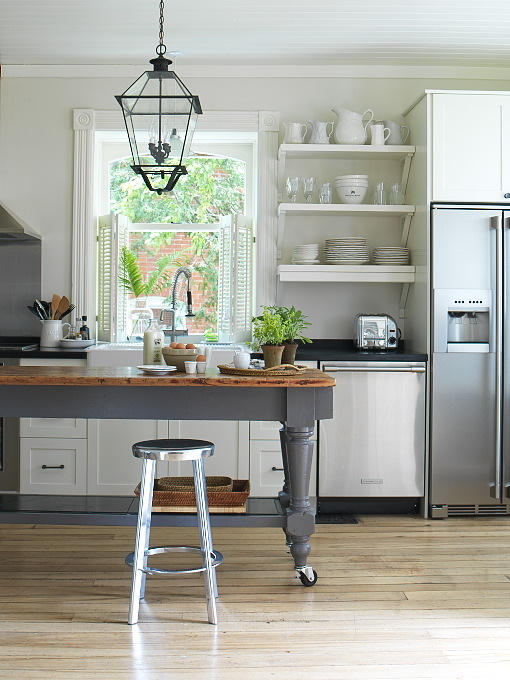 But as we were planning and prepping and (taking all that time) to build the island, I went about-crazy without a designated pull-out garbage & recycling center in the kitchen.  I thought I'd be okay with a smaller set-up under the kitchen sink, but I was so very wrong!  I missed this guy: Rev-A-Shelf. We'd had him in our last 4 kitchens, and I couldn't function without him!  So we adapted what was intended to be a built-in peninsula/table to include a cabinet with pull-out garbage & recycling.  In the end, I think I like the final design even more, both practically and aesthetically.  Isn't it awesome when that happens?!  You can find more details about our DIY peninsula build and design in this post.
There are so many finishing details that still need to come together, but I am so excited by the progress so far!!  AND I HAVE A KITCHEN SINK!!
UP NEXT
Backsplash, hardware & lighting.
Here are a few of the contenders.  I'm loving the modern-yet-classic style of this stacked white marble backsplash (left) and the texture of the split-faced marble (right).  And these gold drawer pulls make my heart beat faster!!  But they don't have matching door pulls, and I'm having a hard time find a coordinating antiqued-gold pull…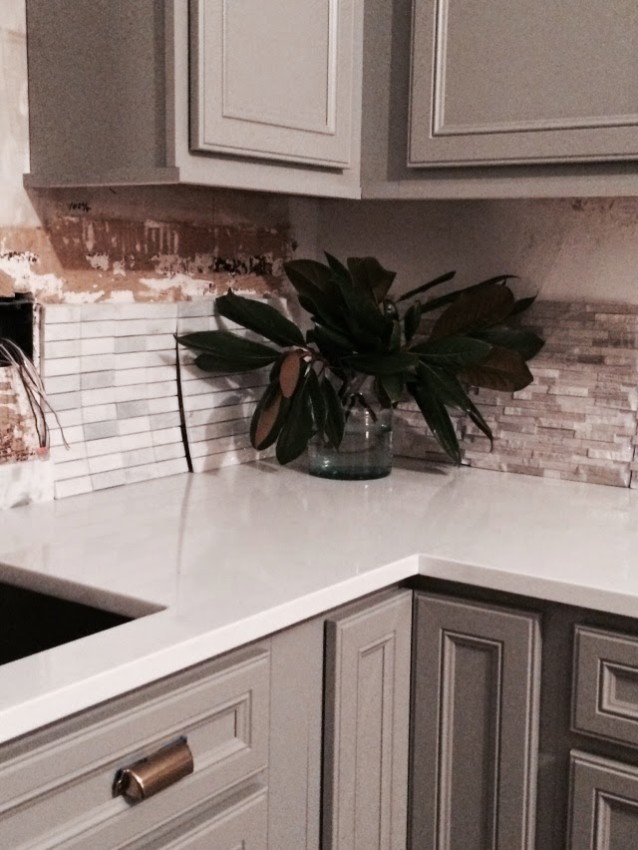 In the meantime, you can check on the progress of the other One Room Challenge participators here: One Room Challenge!