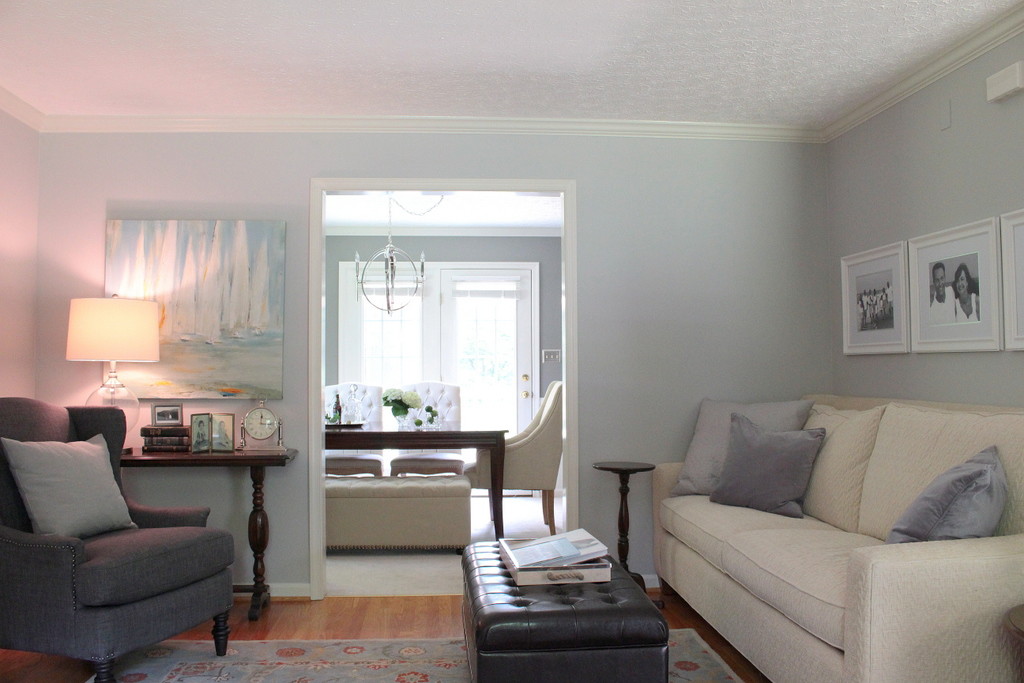 It is our final day on the Forest Project.  And it has been a lot of sunshine, heirloom furniture, doggy kisses, shades of gray, throw pillows, and laughs. What a blast I've had working alongside these clients, and the queen of the house – Ms. Gracie, the dog.  I definitely took her into account when tackling this design — she loves to keep an eye on the neighborhood, so she has her own bench under the front window, with a Calvin Klein feather pillow cushion, nonetheless.  I'm pretty sure we've won each other over for life.
If you're just joining us on our design journey with the Forest Project, here's the backstory… (And don't forget to check out the Outdoor Living Reveal and Dining Reveal!)
At some point, the Forest project homeowners had become "the keeper of things."  Every time a family heirloom was passed down, every time a family estate was cleaned out, the family furniture, memories, and collectibles made the way to their house.  And the homeowners found incredible comfort in knowing that these family heirloom's were being cherished.  But at some point the scales tipped.  They were out of space!  These heirloom's had overtaken any sense the homeowners' had of their own design style.

But the thought of parting with any of the meaningful heirlooms, hand built pieces, or high quality furniture they'd invested in years ago was suffocatingly painful.  So a primary focus of this redesign was to embrace these heirloom and cherished pieces, to give them proper position as beautiful, meaningful elements of the home, but also to infuse the home with a breath of fresh air.  To lighten and brighten the space. To find designated moments to display the photos and memories, rather than letting them overtake the space.  To balance history with the present.
Today we are ready to head into the final Forest Project room, the living room.  It is now swimming with wonderful doses of texture, layers of neutrals, a blend of old and new, and furniture and photographs with incredible history…
THE BEFORE
THE AFTER
This console table reminds me of one of my absolutely favorite moments of this project. I needed some books to balance out this vignette, and I found these two beautiful, well-loved bibles in the guest room (where we were tackling a light refresh).  I set the bibles on the table, and I anticipated I would leave it as that. But as I was wrapping up the final styling touches, I picked out one of the homeowners' old, framed photos and set it atop the bibles.  Later, during the reveal, the homeowner looked at me and said, "That's so beautiful — Tera, you didn't know…The man in that photo is my grandfather, and he was a preacher.  You set his photo atop the bibles.  It's perfect."
Incorporating family photos in a living space is so natural to how we often live.  Family rooms are where we gather with family and watch TV and lounge and play games and cuddle up with our puppies and loved ones.  They are where we do family.  And when the family photos are as beautiful as these (those beach photos capture a beautiful weekend with four generations of family!), well incorporating them is an absolute no brainer.  I converted the photos to black and white and had them printed to fit some affordable, craft store (50% off!) frames.  I usually lean towards black frames, or an eclectic combination of colorful frames, but here the white frames play to the new airy feel of the living room.  And the three horizontal 16×20 frames help to provide a sense of balance for that beautiful (but ginormous!) couch.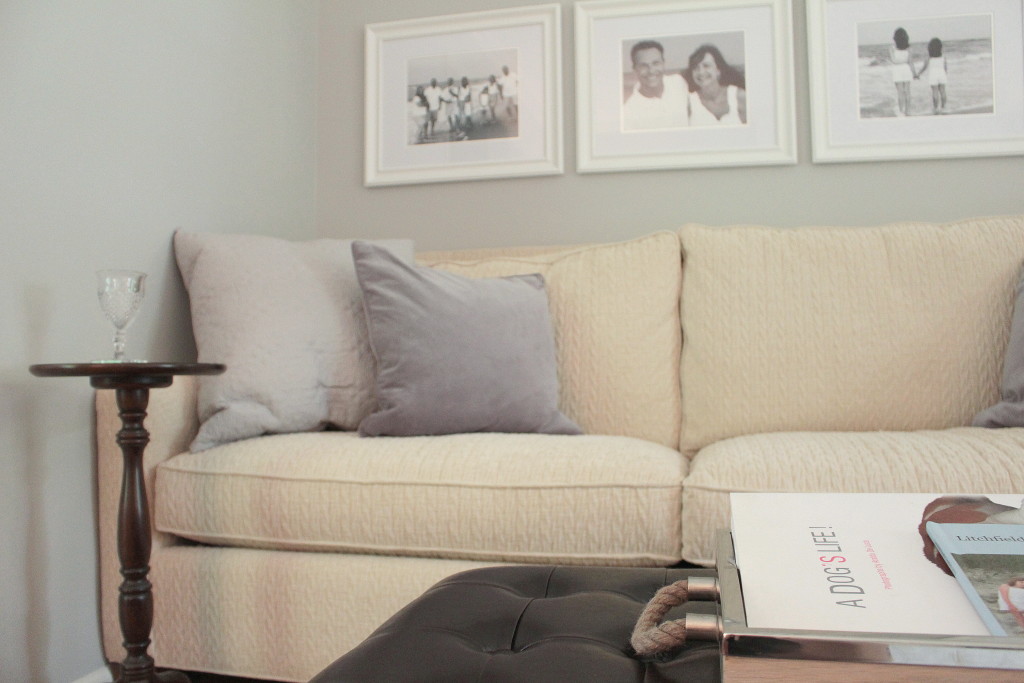 One of the great joys of working on this project was it was bursting with heirloom furniture.  Furniture the family had built, furniture from their family's estates, furniture the homeowners had invested in when they were just 18.  These traditional, meaningful pieces now complement the more modern lines and finishes that have been introduced to the space.  And the homeowners — like me — appreciate that the heirloom tables in this living room are a little worn with life and scratches and love of generations.  The tables give this room a sense of soul.
This pentagon shaped, marble end table was built by the homeowner's husband's father.  And though it once looked dated in the dreary living room, in this freshened up space, the table now looks as if it was always meant to be here.  And I mean really, marble?  How could I pass that up!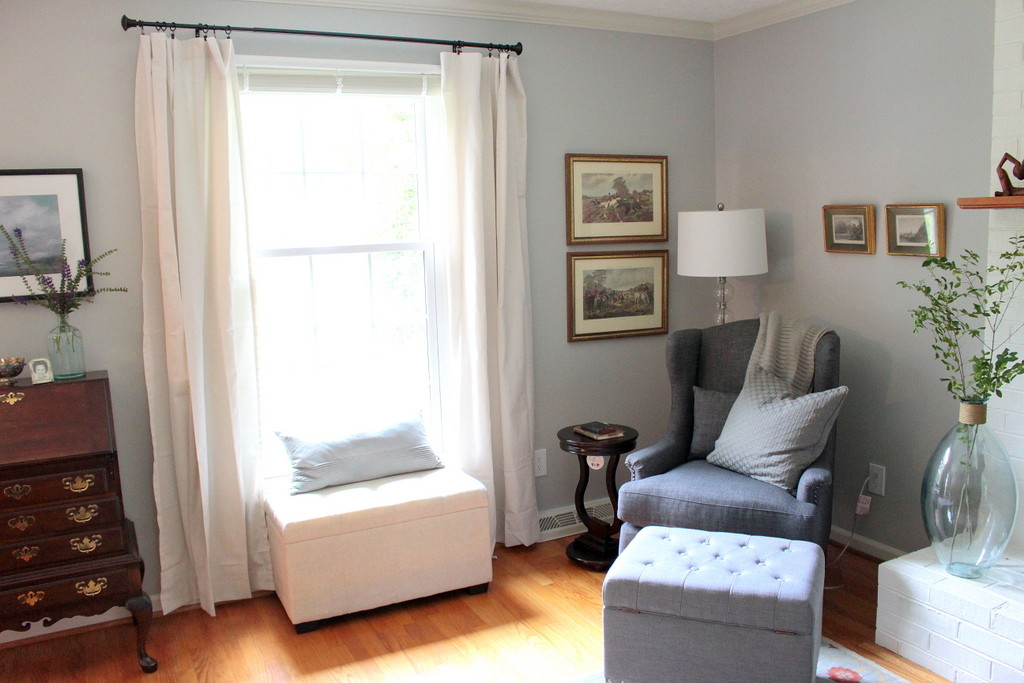 These gold framed landscape photos came from the homeowner's great aunt's estate.  And the hunting prints were her very first art purchase ever, when she was just 18 years old.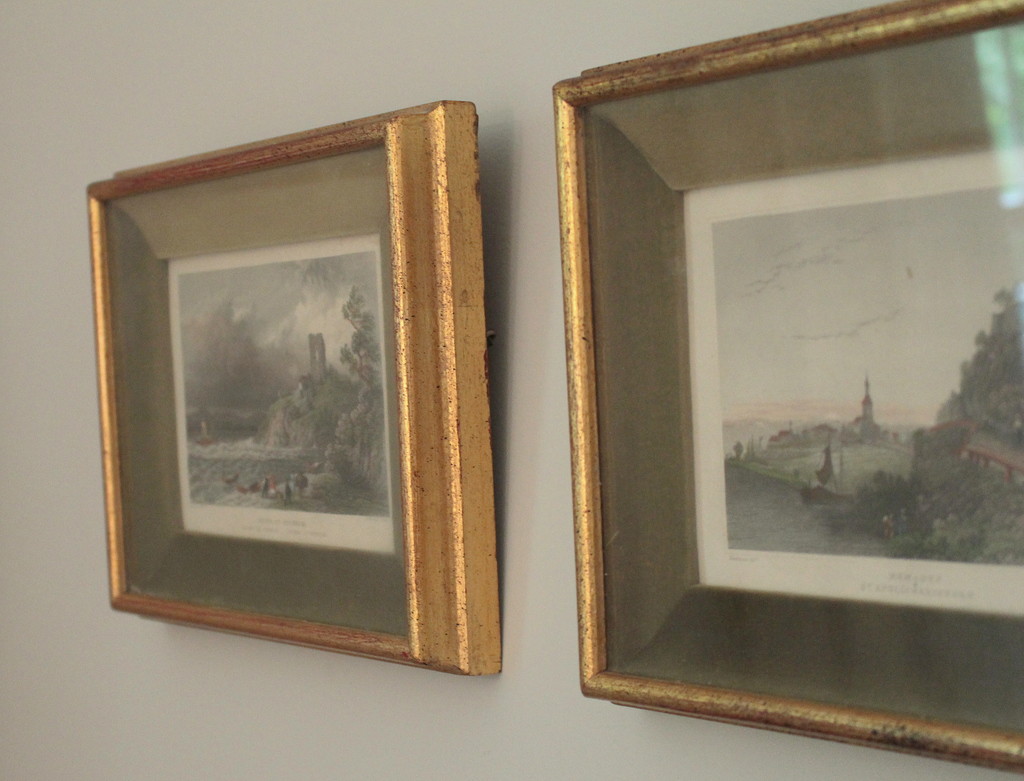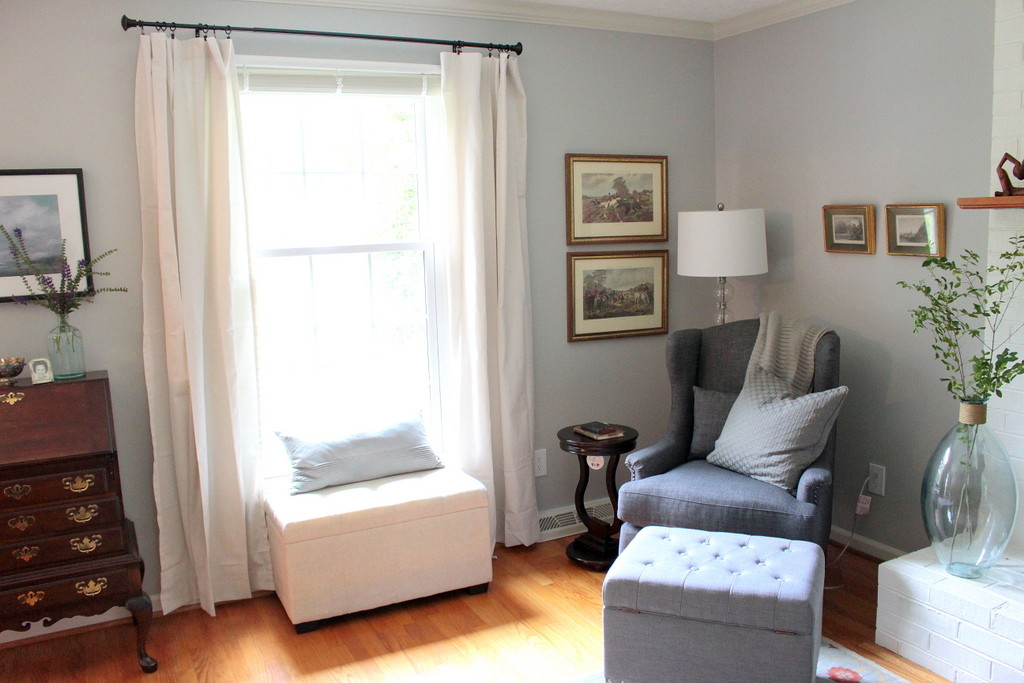 And we can't forget the spot for Gracie!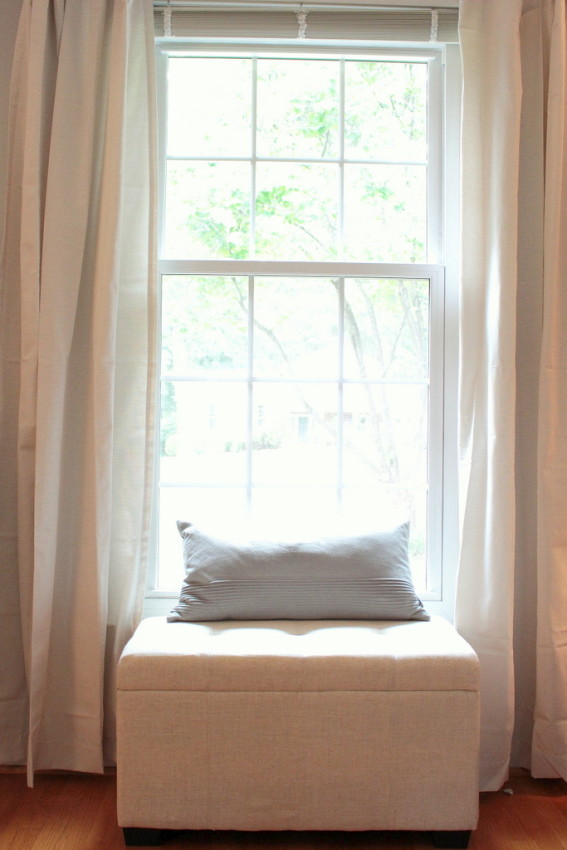 And you know I couldn't wrap up a project without installing a gallery wall.  I love a gallery wall!
The homeowners unpacked these gallery wall photos and frames from closets and boxes and storage, and now they have finally found a home in the stairwell where they reverberate with life lived and beautiful memories.  The homeowner's husband loved it so much he walked in and saw the gallery wall and said, "If it was only this, I'd be happy…and there's more!"  That's a sure win. ;)
So that wraps up the Forest Project.  Of course if you haven't seen the dining room…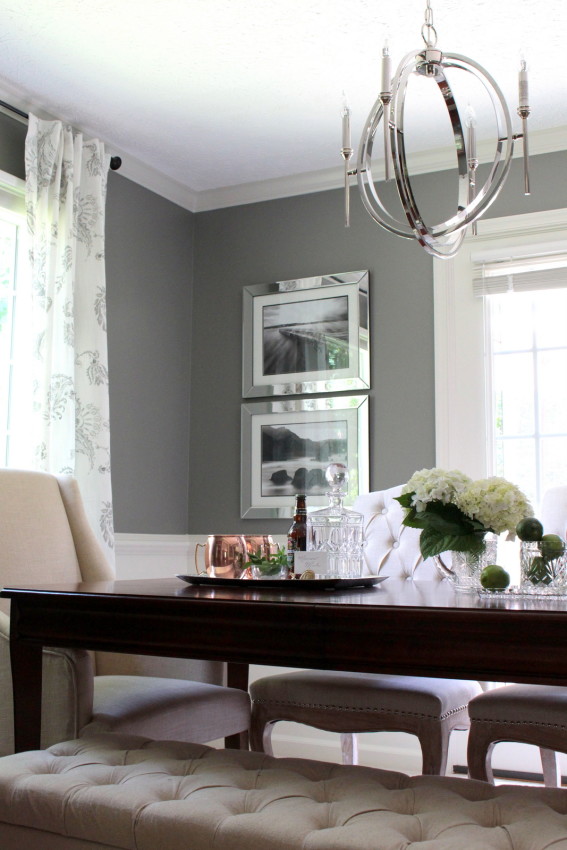 Or the deck…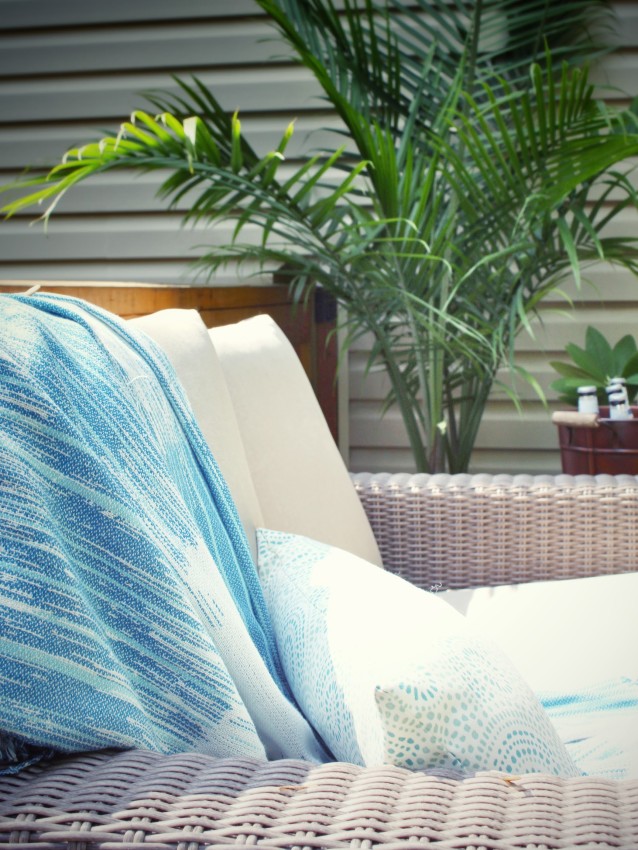 …there are still those spaces to see!  But otherwise, the Forest Project is officially A WRAP!
Well, until the kitchen…Cause I hear as soon as we finished up these rooms, the homeowners said to each other, "But what about the kitchen?"  I'm beaming — that's the best compliment.  I'm ready when they are!