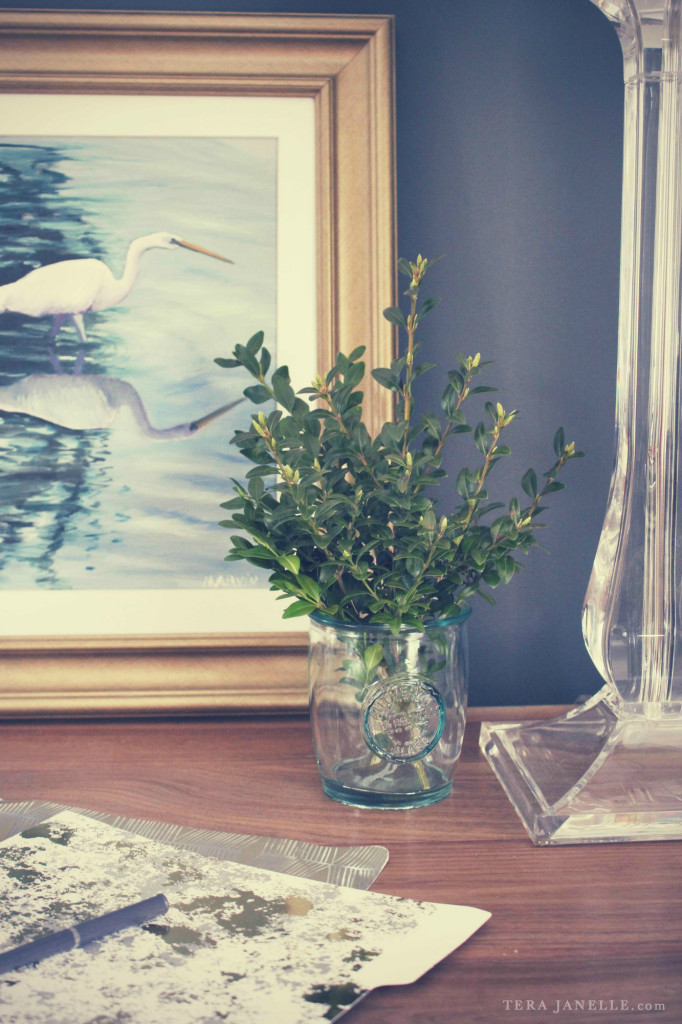 So we're still debating whether this bird is an egret or a crane… she's a beautiful bird, at the very least!  [Any bird experts out there?]
This custom painting was an Etsy find, and at a whopping $17 [including the shipping!] I was able to quiet my hyperventilating about buying something sight unseen [seriously, it happens everytime.]  And I'm so glad I took the $17 plunge!
The image and colors are true to the Etsy listing, and when paired with a Michael's gold frame and stock picture mat – I somehow managed to score a piece of lovely custom artwork for under $40!  Side note, this is not the way you would professionally mat a painting, but I simply couldn't justify $99+ for professional framing.  And this little beauty suits my purpose entirely.
I can't wait to showcase her on an upcoming gallery wall.  In the meantime, she's keeping me in tranquil company leaning against the wall behind my desk.  And though she's there only temporarily, leaning artwork is totally acceptable!  It lends a casual, curated feel to a room — Leaning artwork can work in a variety of spaces, consider floating kitchen shelving, work surfaces, nursery walls [with children's books!], and fireplace mantels.
These spaces are beautiful proof that art needn't be hung on walls . . .