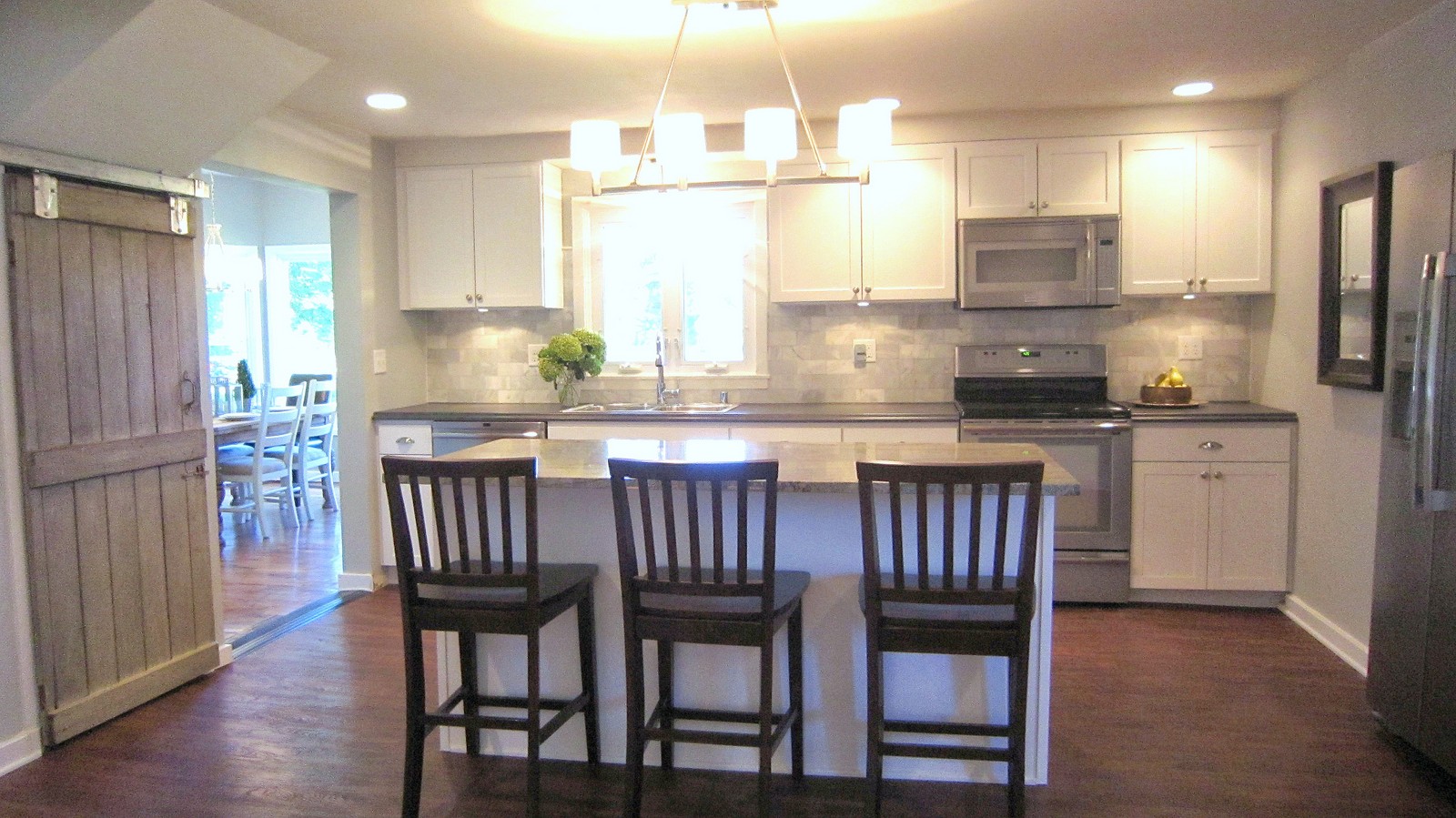 THROWBACK THURSDAY
Before we'd ever heard of a blog, a DSLR camera, or a hastag (they were still called "pound" signs back then), we were designing and renovating.  So we are excited to kick off "Renovation Throwback Thursdays" here on the blog, and to take a trip each Thursday down renovation memory lane.  We'll be looking back at some of our favorite projects, our live & learn moments, and the before & after transformations!
To kick off "Throwback Thursday Renovation Style" we are looking back at one of our favorite projects of all time, a 5 bedroom nearly 100 year old farmhouse that underwent a top to bottom renovation.  Over the years there had been some piecemeal remodels, so it was time to take the farmhouse back to the studs and put it back together in a way that maintained the farmhouse charm but incorporated modern luxuries and lifestyle.  The kitchen was one our favorite transformations from the project…
THE BEFORE
RENOVATIONS IN PROGRESS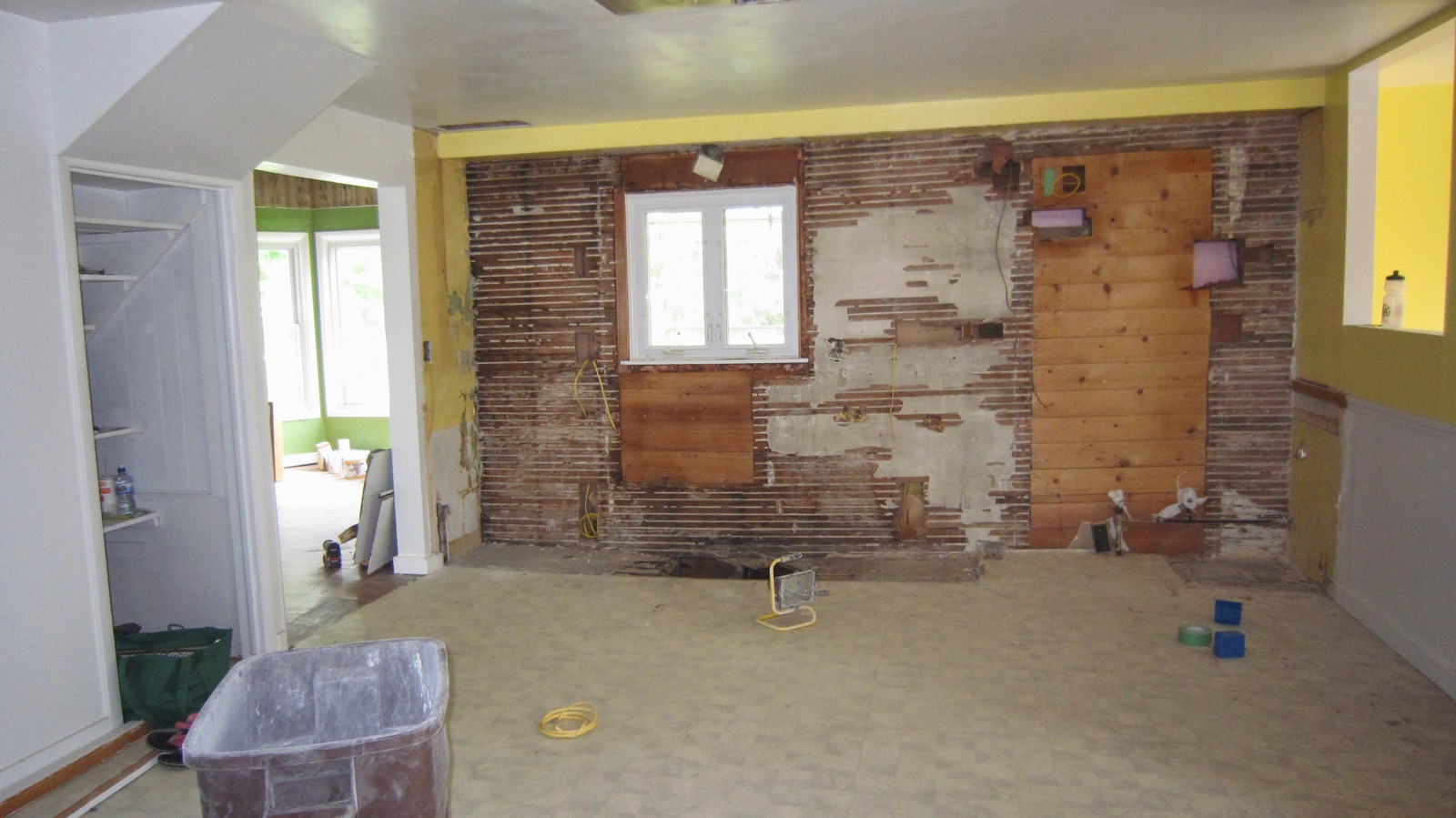 I found an old barn door for $40 at a middle-of-nowhere antique & salvage shop.  I loved the patina of the old door, so we simply sealed the door with polyurethane to protect the paint and patina.  Then we "customized" some sliding door hardware from parts at our Local Fleet Farm.  We did a trial run with a scrap hollow core door so we knew precisely where to place the hardware on the barn door, because we certainly didn't want to risk an error and wrecking that beautiful, old barn door!
I found this incredible "Austral Coffee" granite in the remnant section at a local stone yard at a huge discount!  I still can't get over the lovely veining and beautiful gray & neutral tones.  This remains one of my absolute favorite slabs of stone ever.  It fit perfectly on the island in this gray and white kitchen.
We saved money by using a matte "graphite" laminate counter on the kitchen perimeter and installing it ourselves.  We upgraded the laminate counter to an ogee edge and added a marble backsplash, both affordable techniques which gave this laminate counter an "expensive" look and allowed it to fit right in in this stylish farmhouse kitchen.
The island pendant light was a Lowe's clearance find some 8 or 10 months prior.  I'd tucked it away for some future project and it found a perfect home in this kitchen!
THE AFTER
That barn pendant you see hanging on the front porch outside the kitchen window was a $30 stock barn light from Fleet Farm.  We simply sprayed it with Rustoleum's Oil Rubbed Bronze, and it is a great tie to the home's original farmhouse roots.  The sliding barn door and view of the porch barnlight pendant bring a nice dose of farmhouse charm to this new kitchen.
Thank you for indulging us as we reminisce over past projects!  Sometimes life gets busy and the years blend together and we forget all the incredible projects of which we've gotten to be a part.  How lucky we are!!
I'll see you next Thursday with another Renovation Throwback.  We'll be looking back at a gut renovation of a historic Colonial we nicknamed "the treehouse" for its absolutely soaring, stunning views!