The arches.  The baseboards.  The soaring ceilings.  An ideal layout.  Those tall windows!
This 1925 charming 2-story had a lot going for it, but it was hiding beneath some clutter, needed upkeep, and a jungle of overgrown bushes and trees.  Buyers were missing all its charm.  So the sellers gave me a call and we got to work!  In 10 days we entirely transformed this home in hopes of a quick sale for their sweet family.  (It was a busy 10 days.  I'm so thankful for our awesome, hardworking crew!)  Two dump truck loads of landscape clean up, 12 gallons of paint, and an impressive to-do list of fix-ups later, this house has its groove back!!
After the Photos –   find the renovation details, paint colors, and
MY TIPS FOR PREPARING YOUR OWN HOME FOR THE MARKET!
BEFORE PHOTOS
AFTER PHOTOS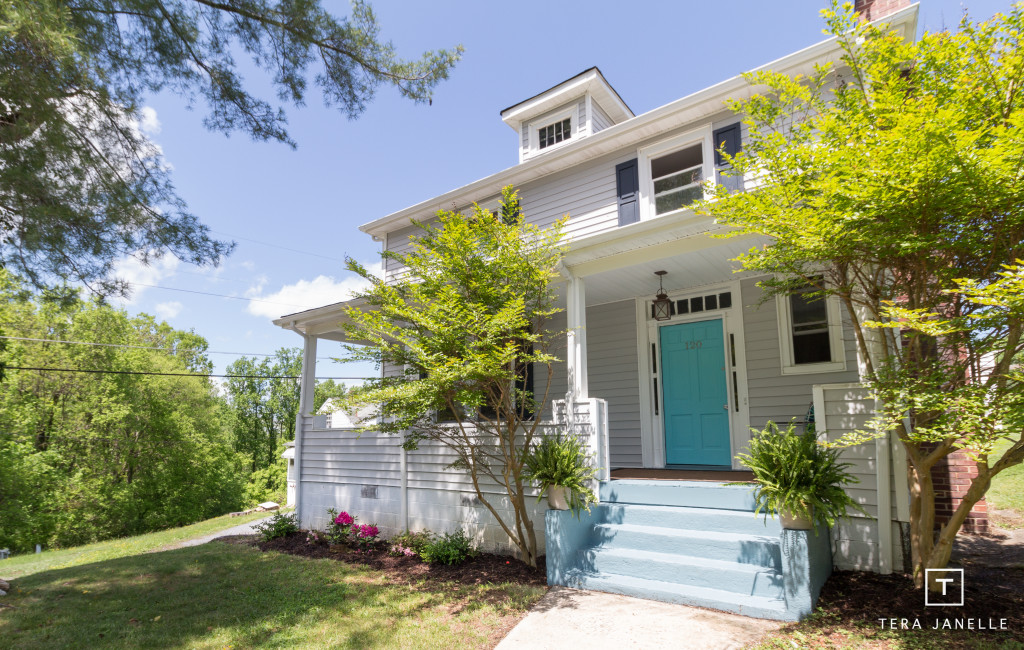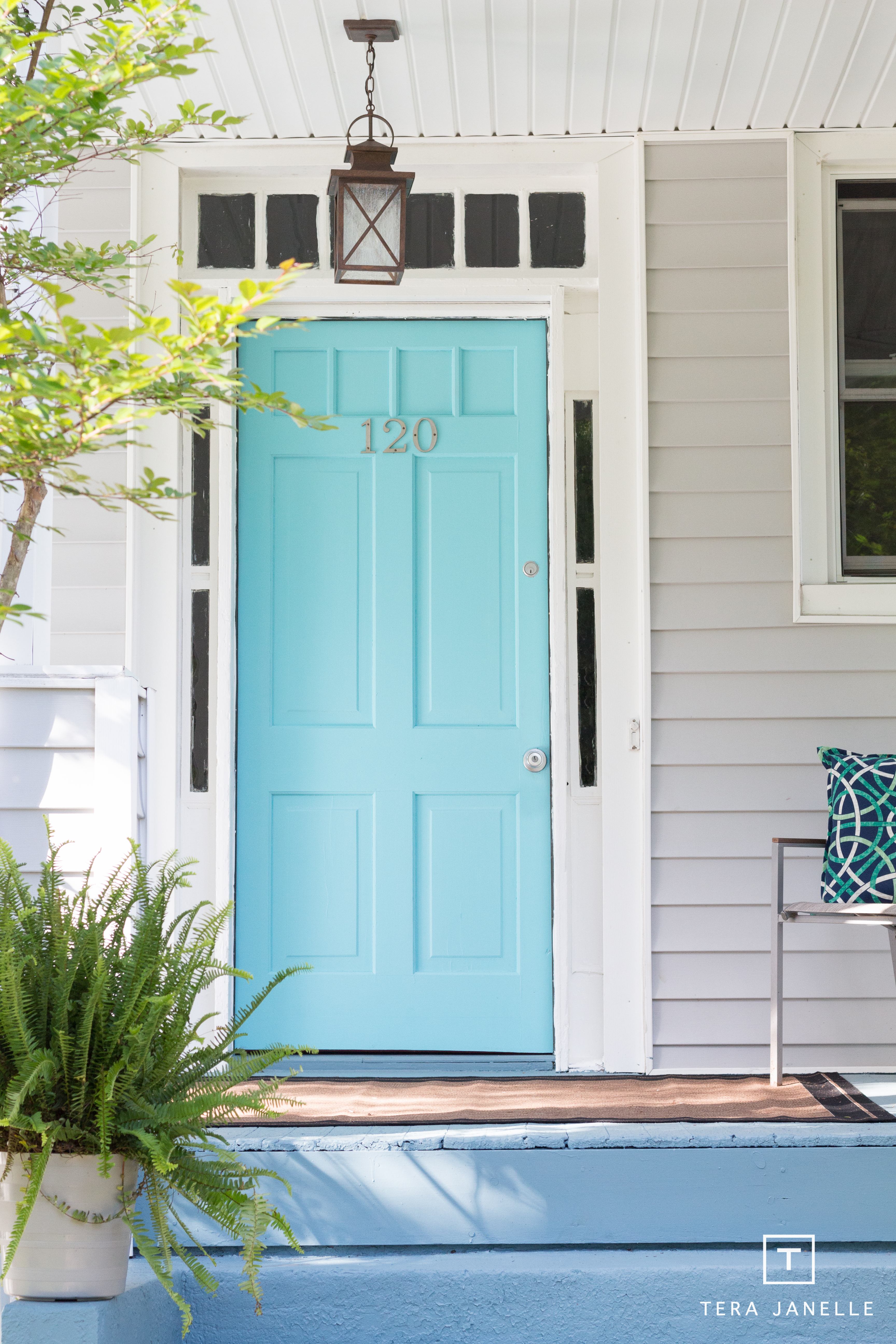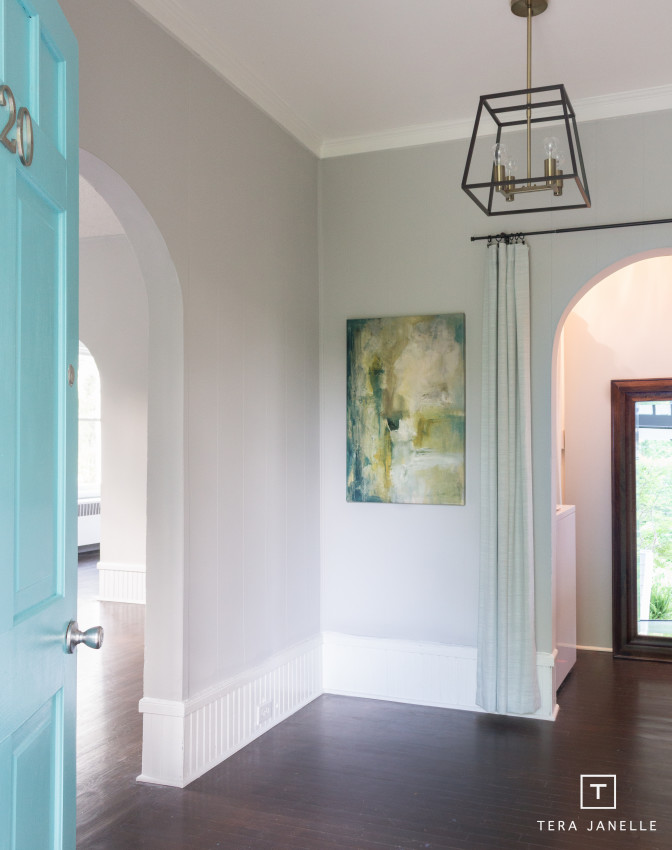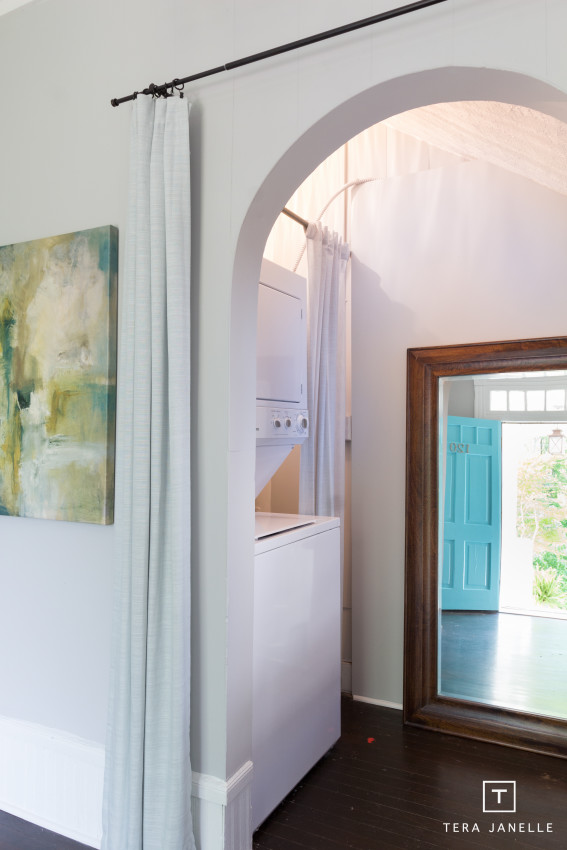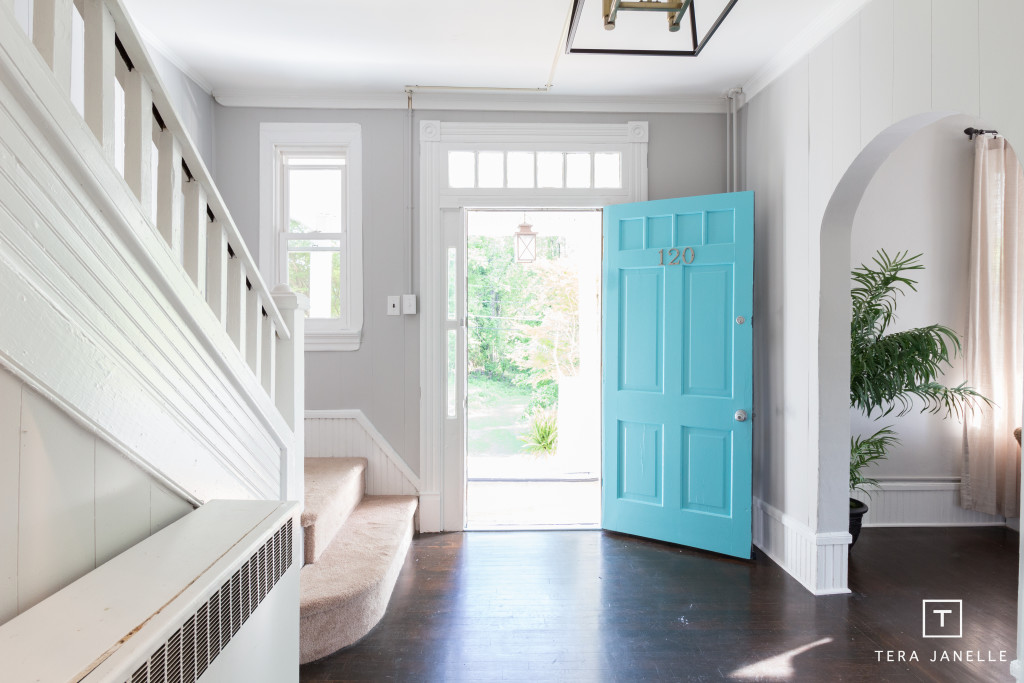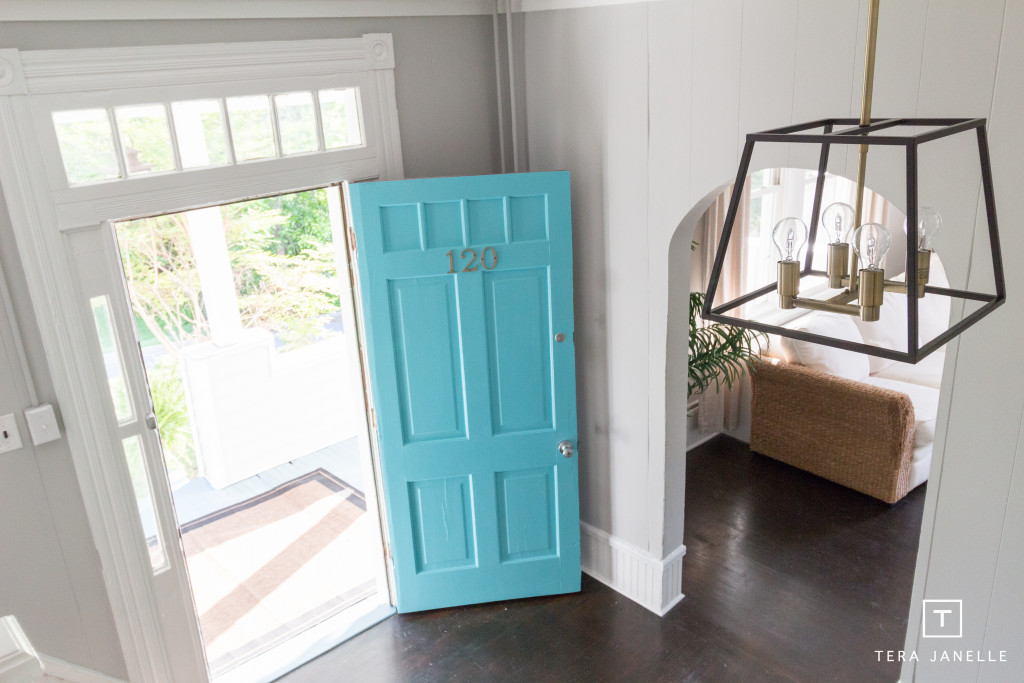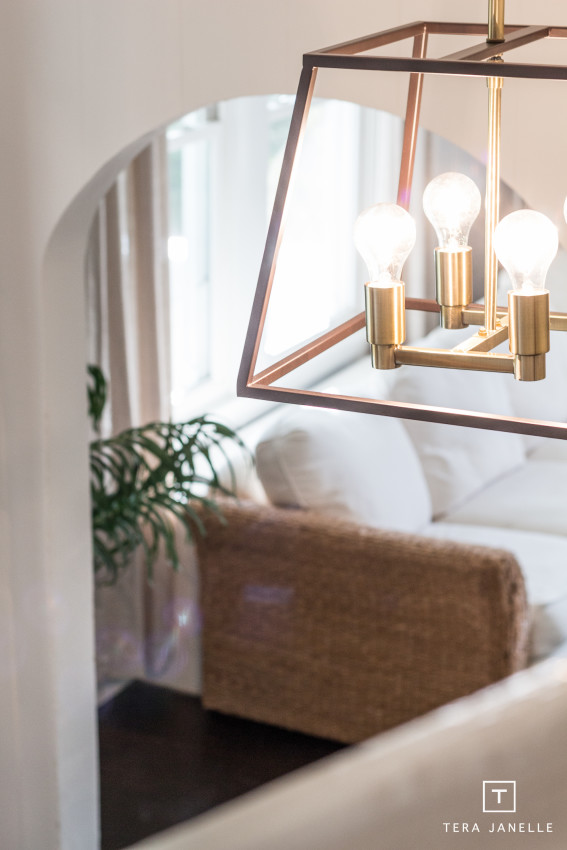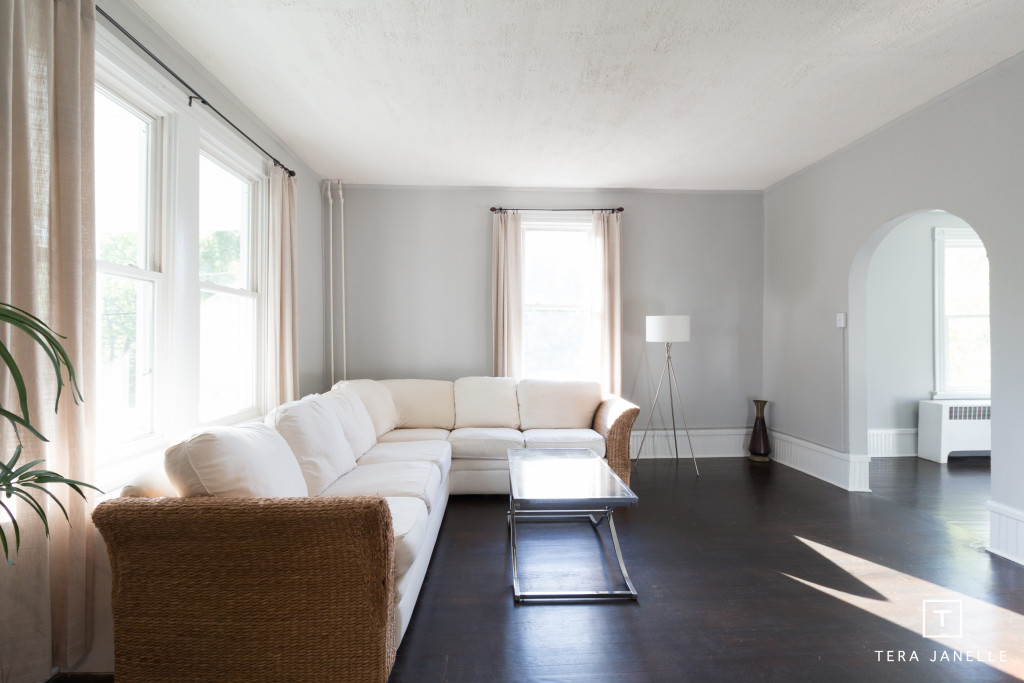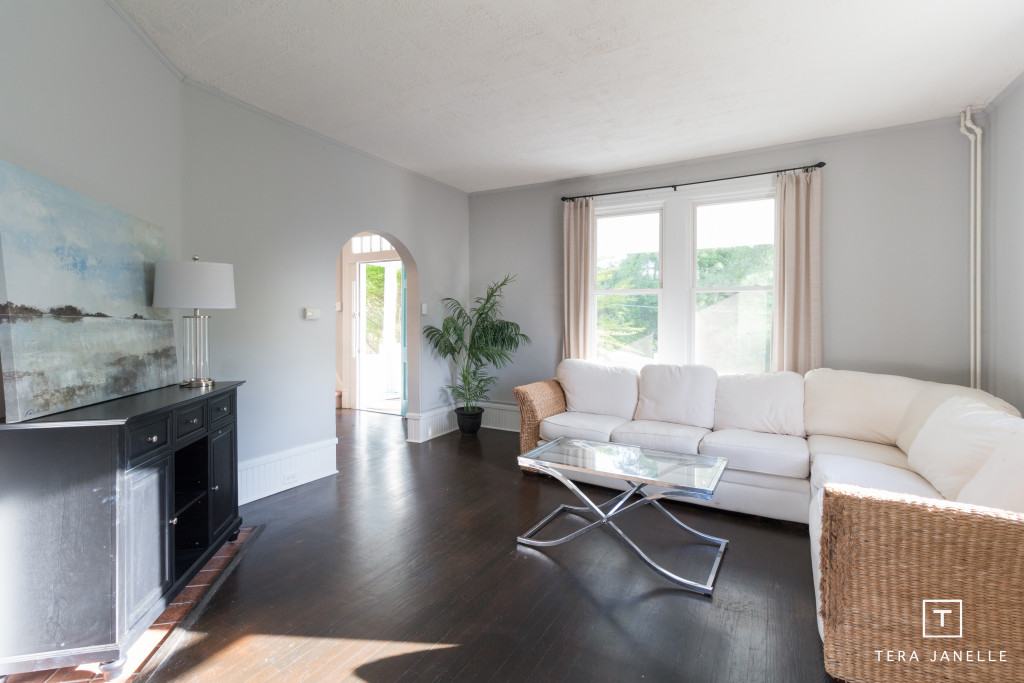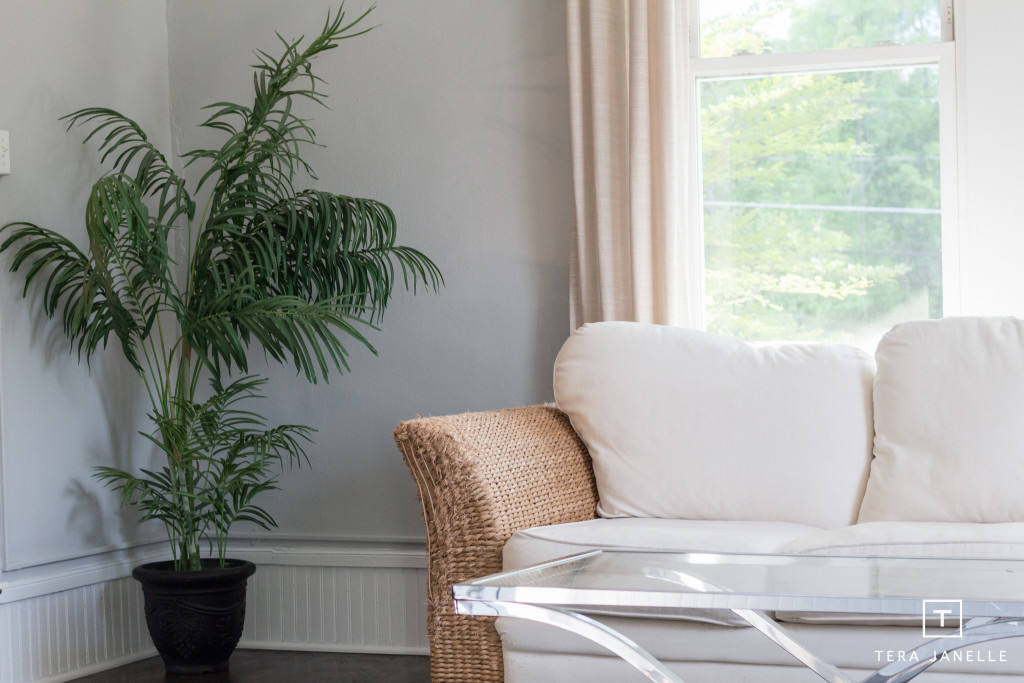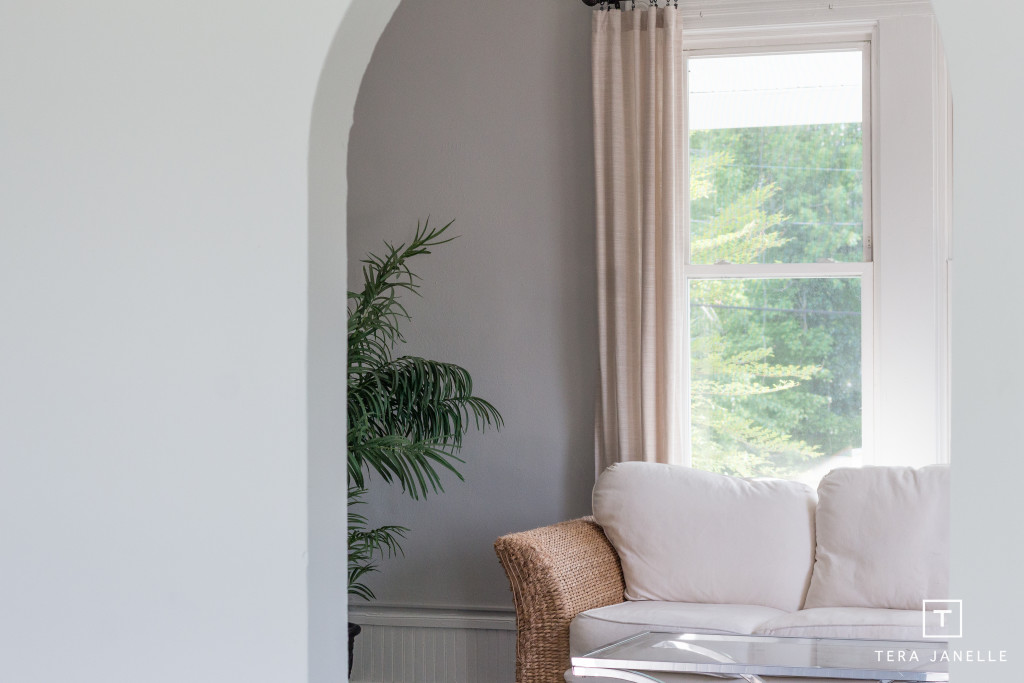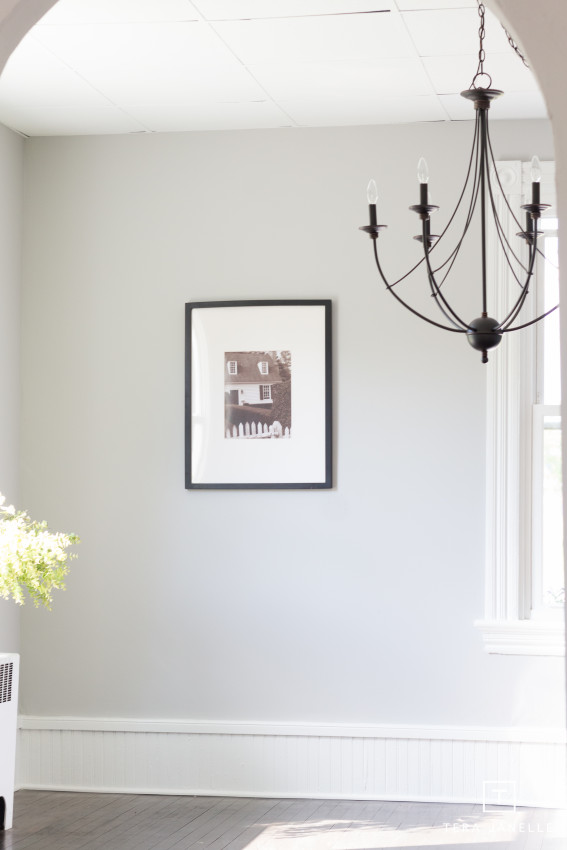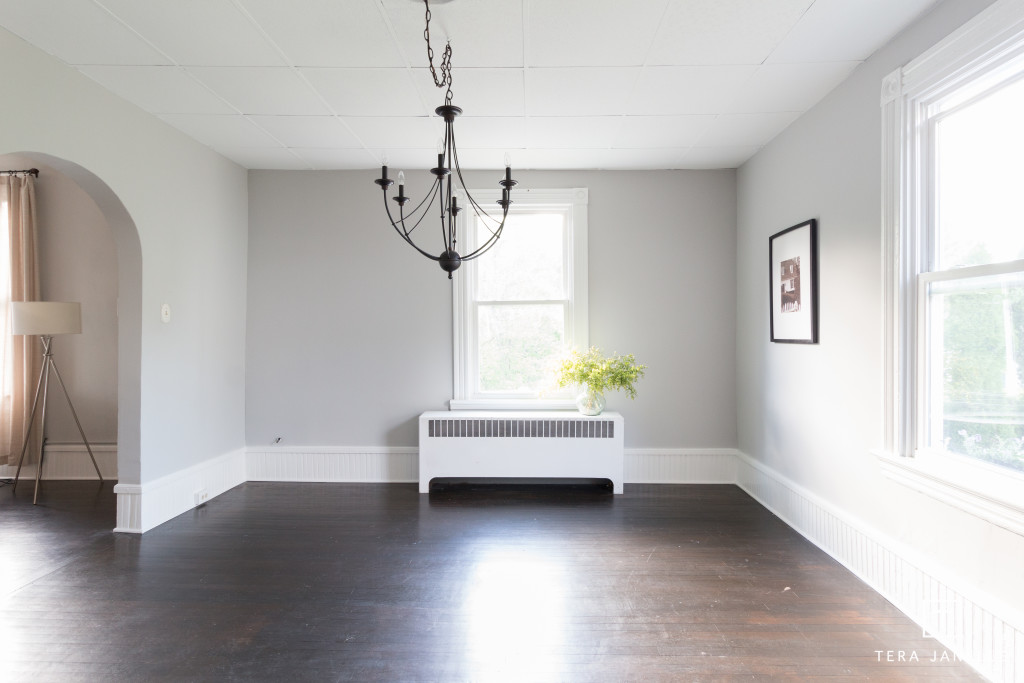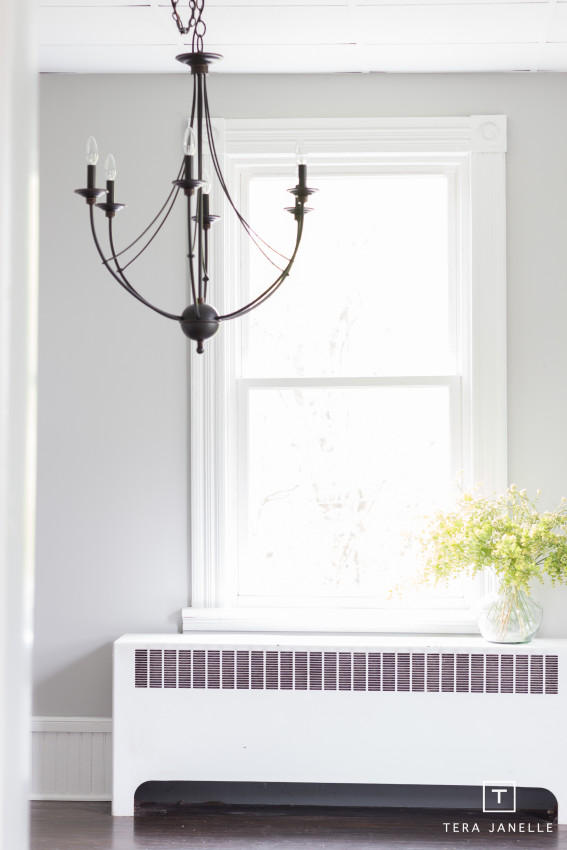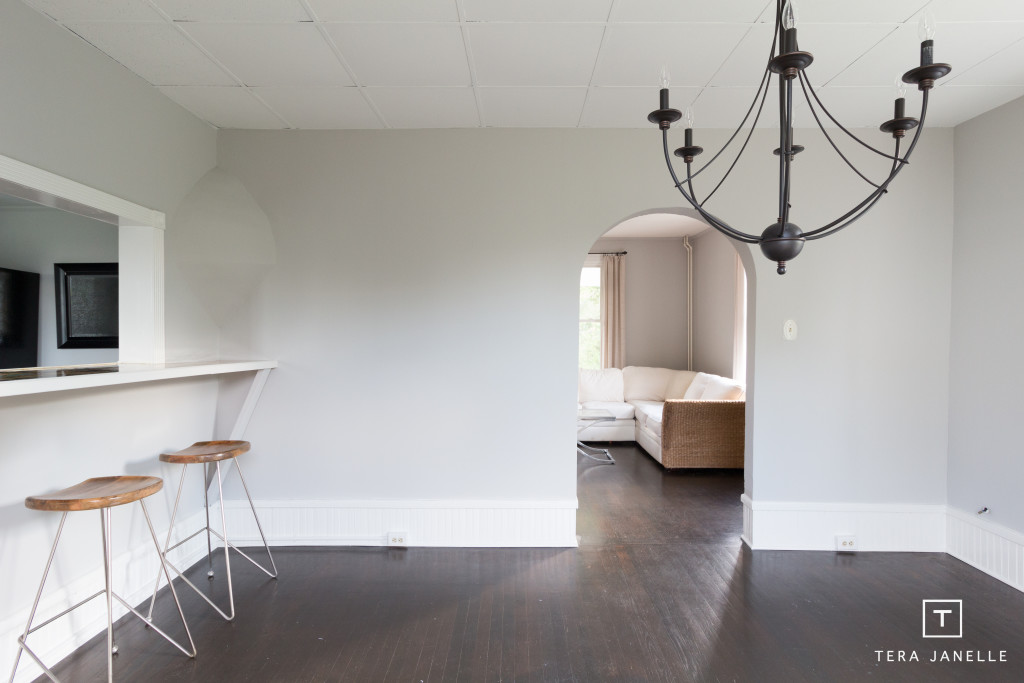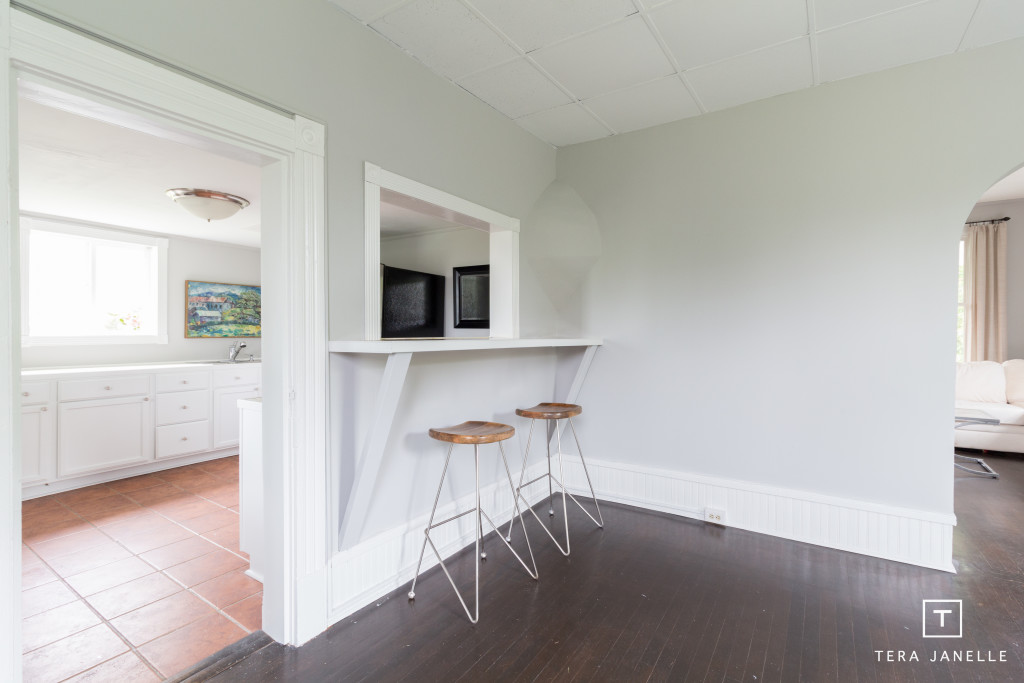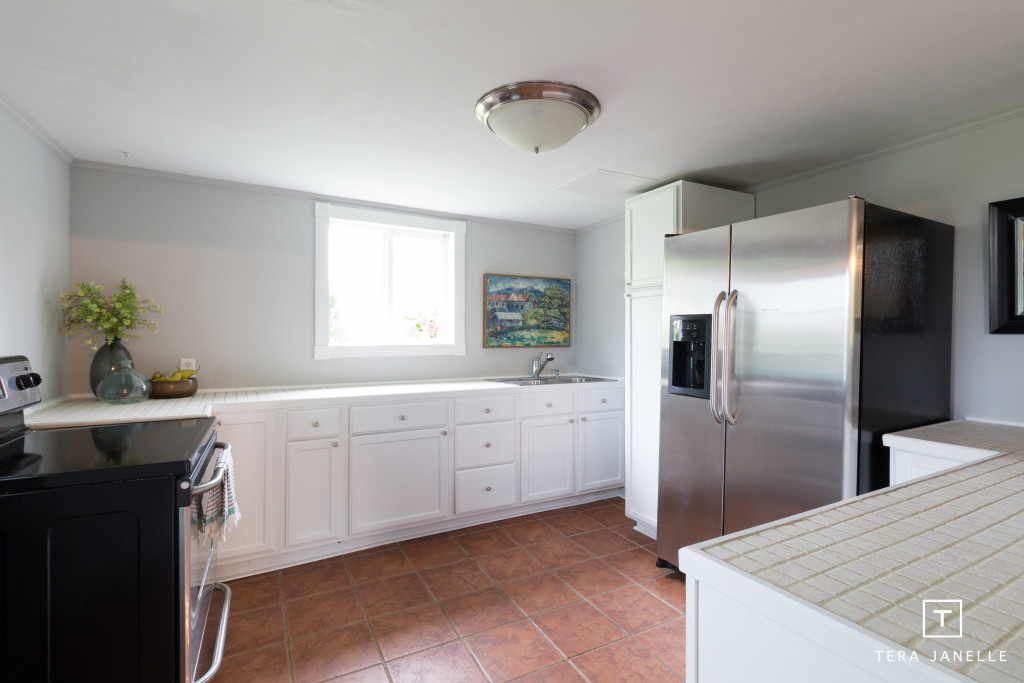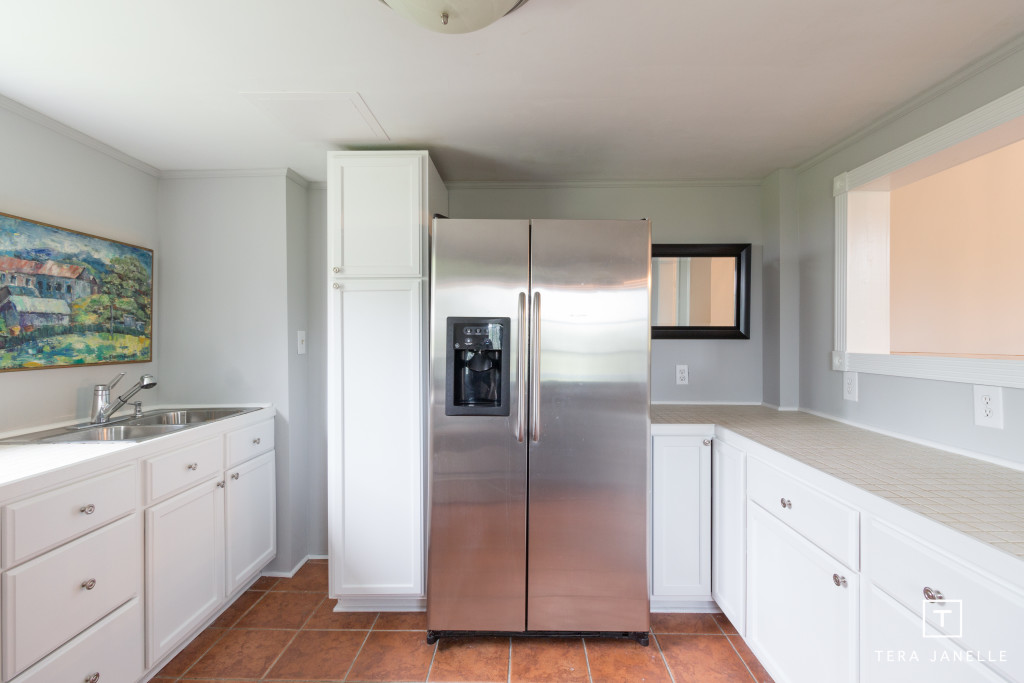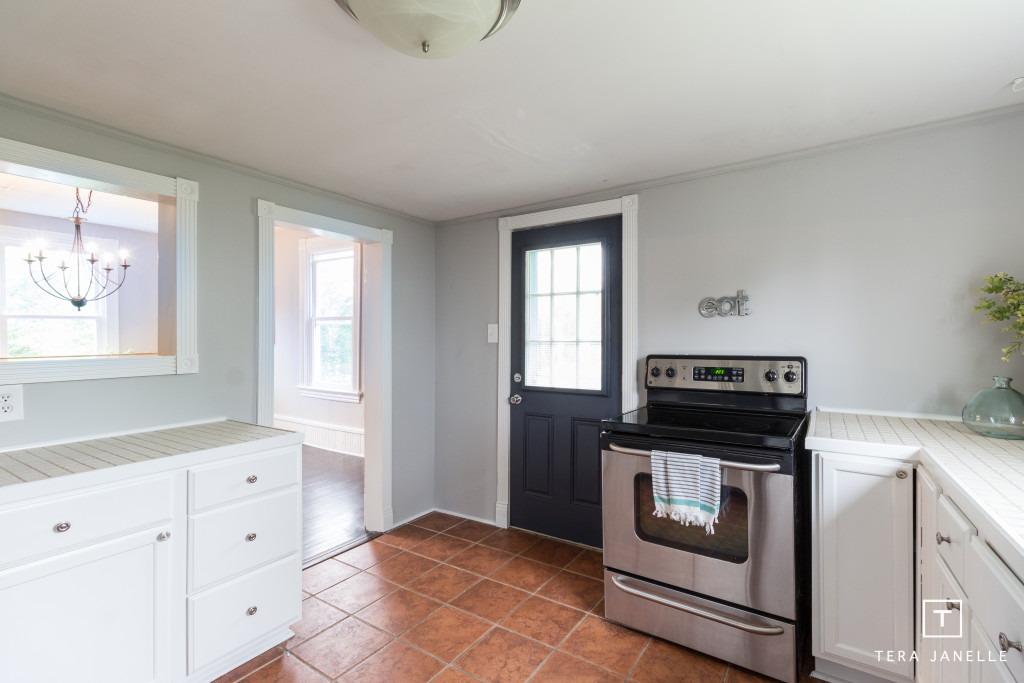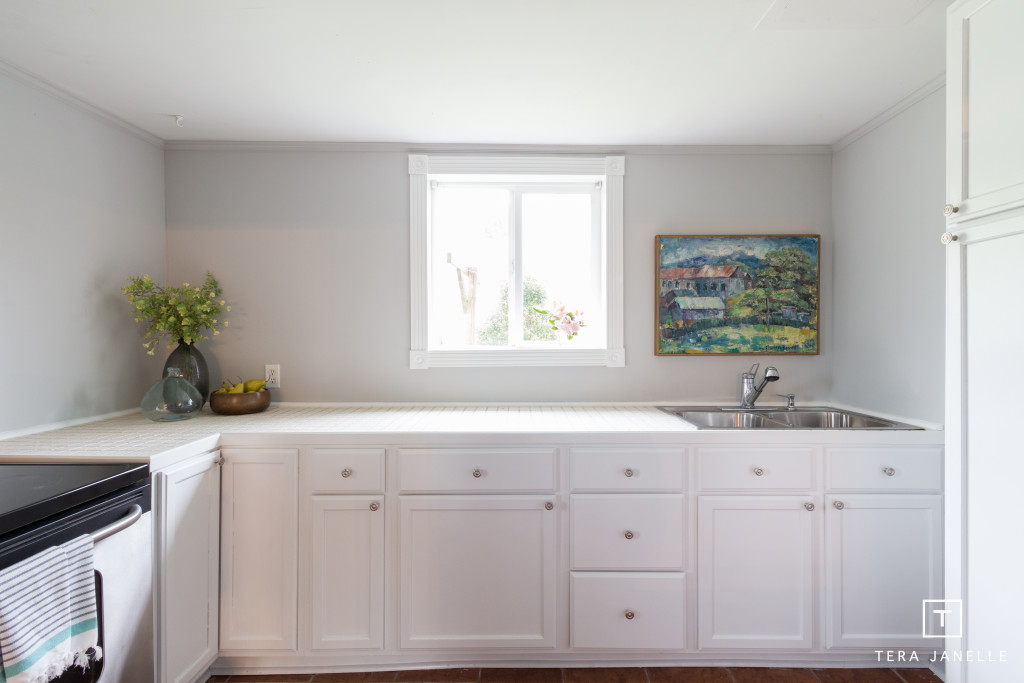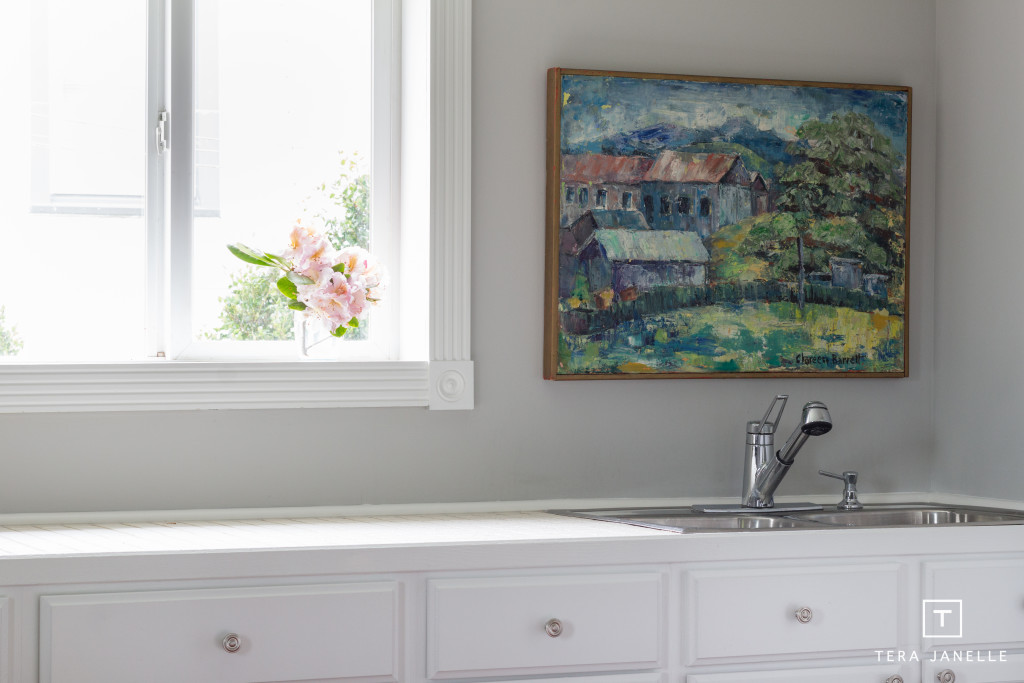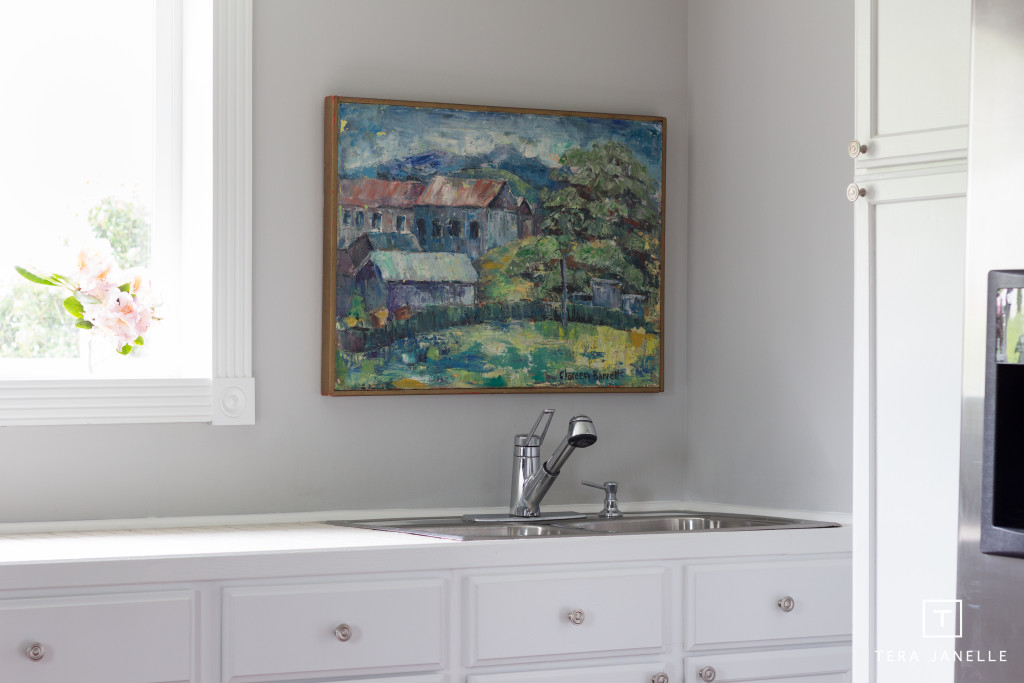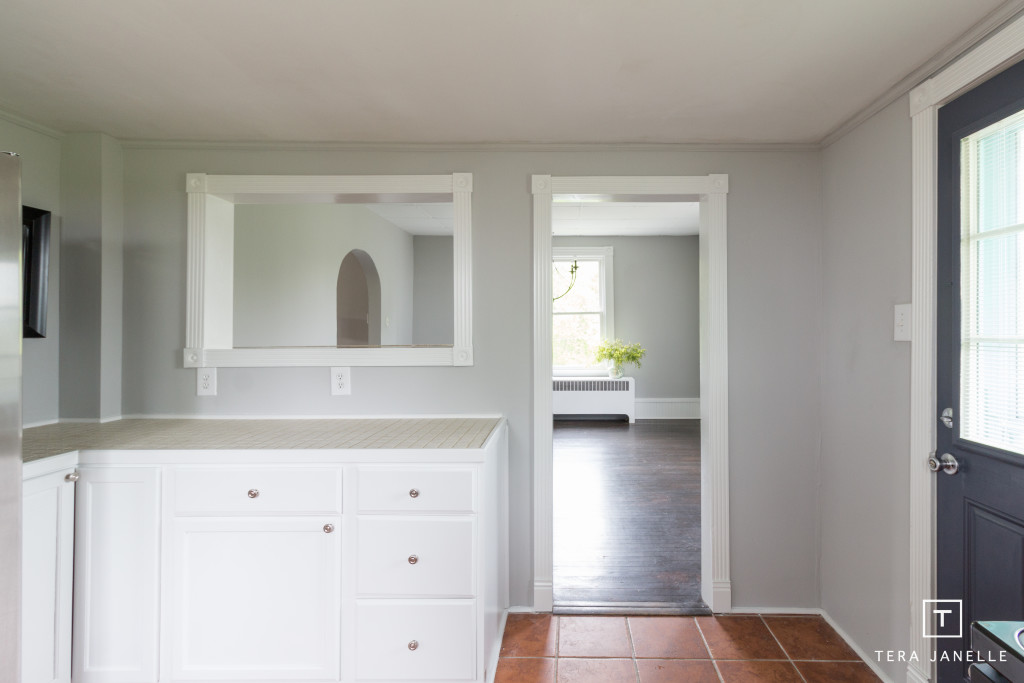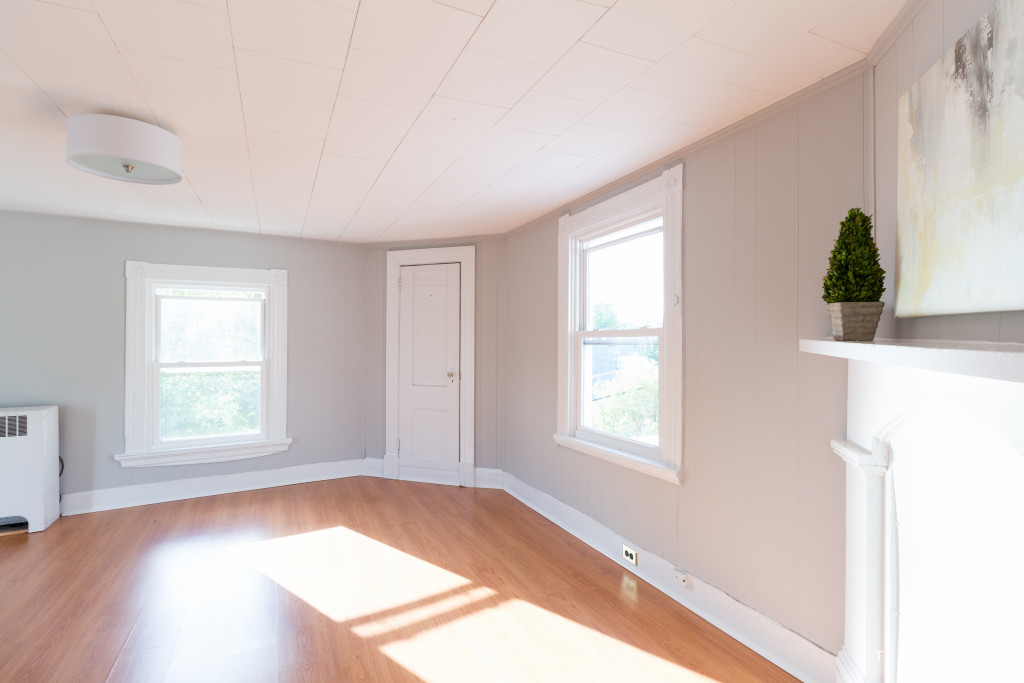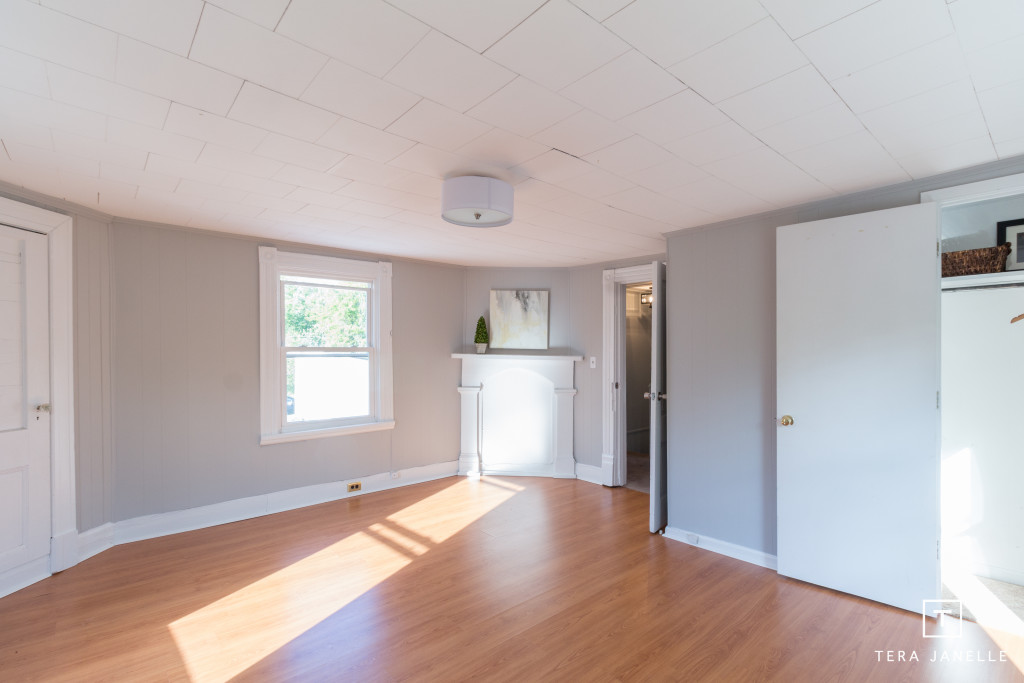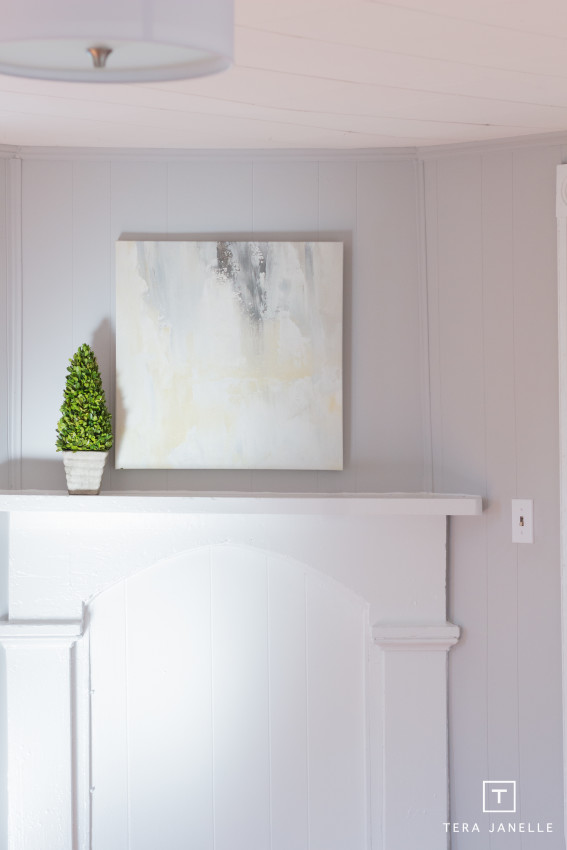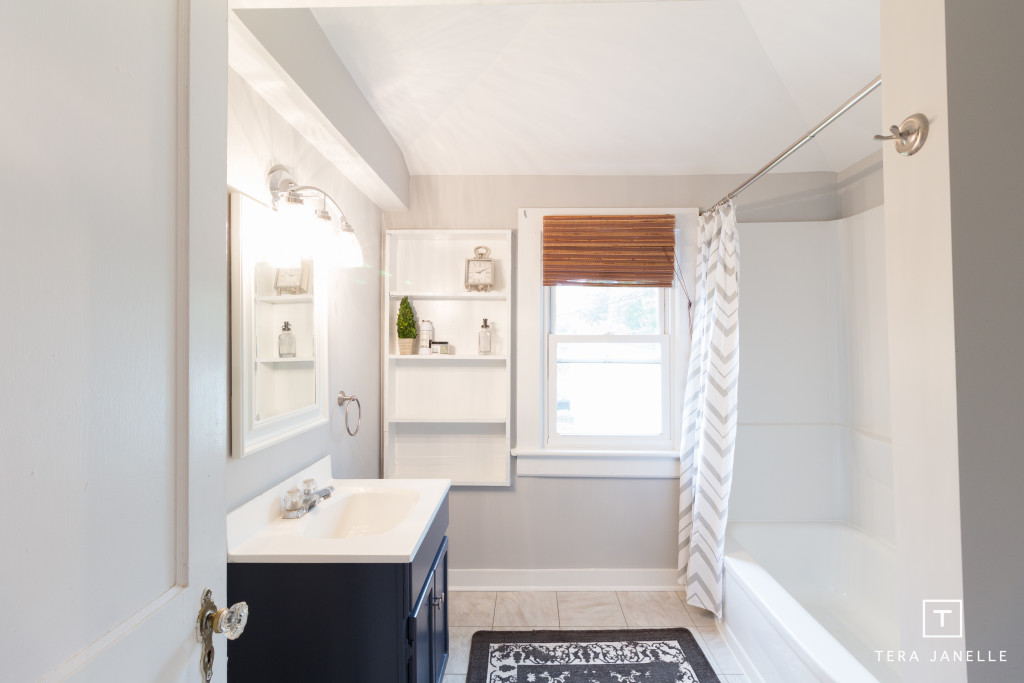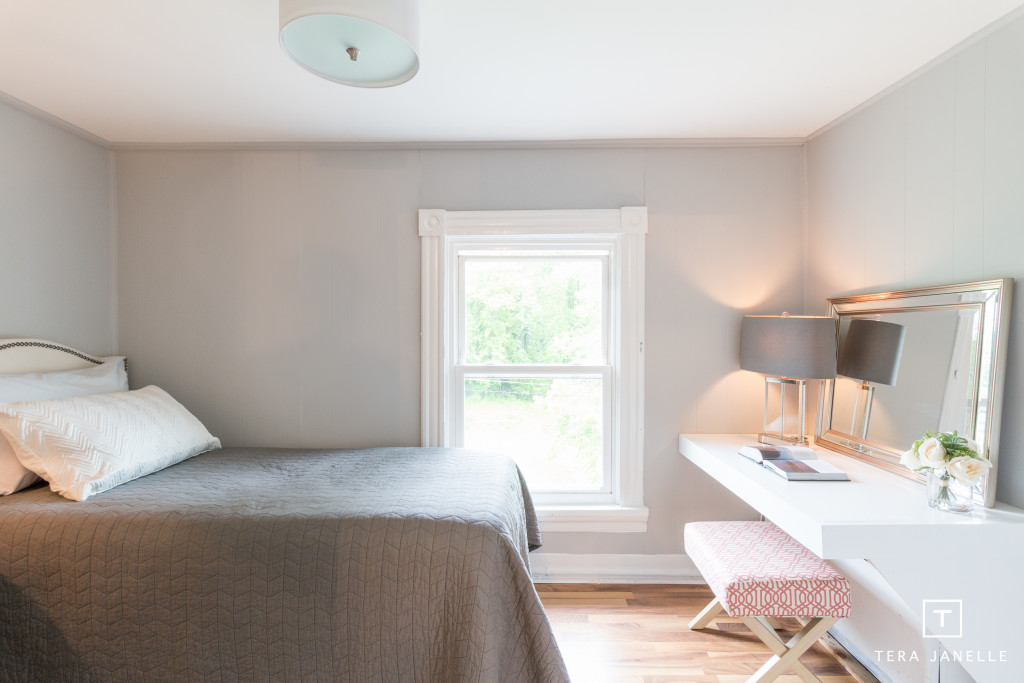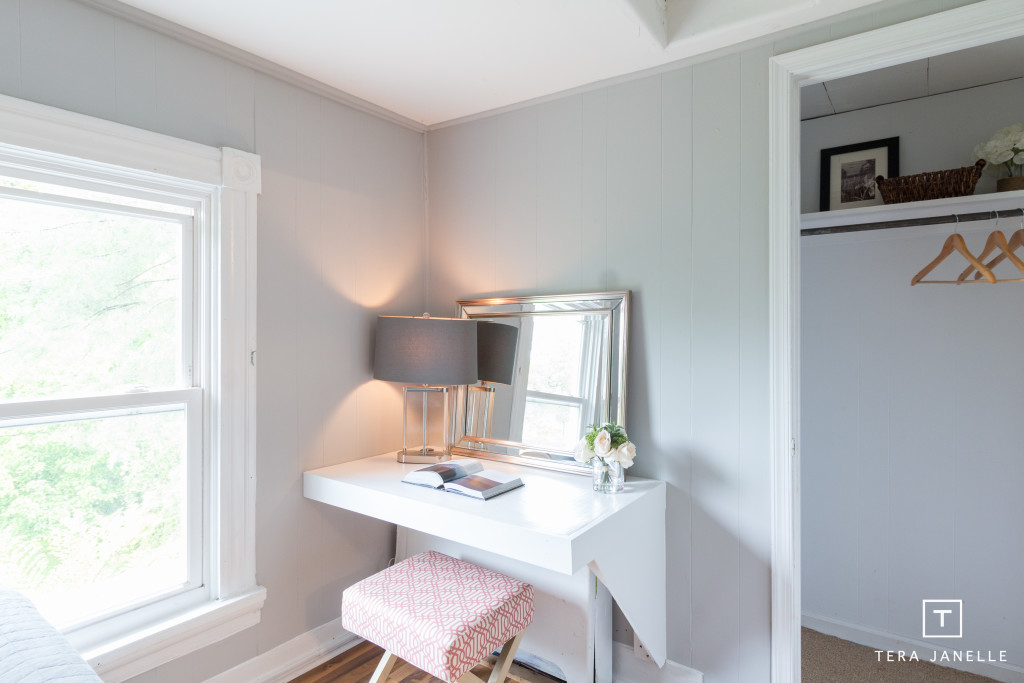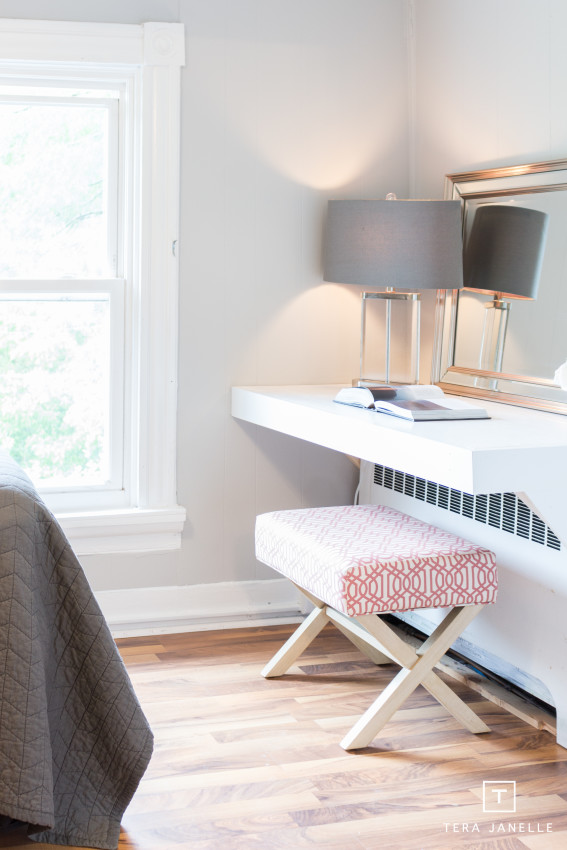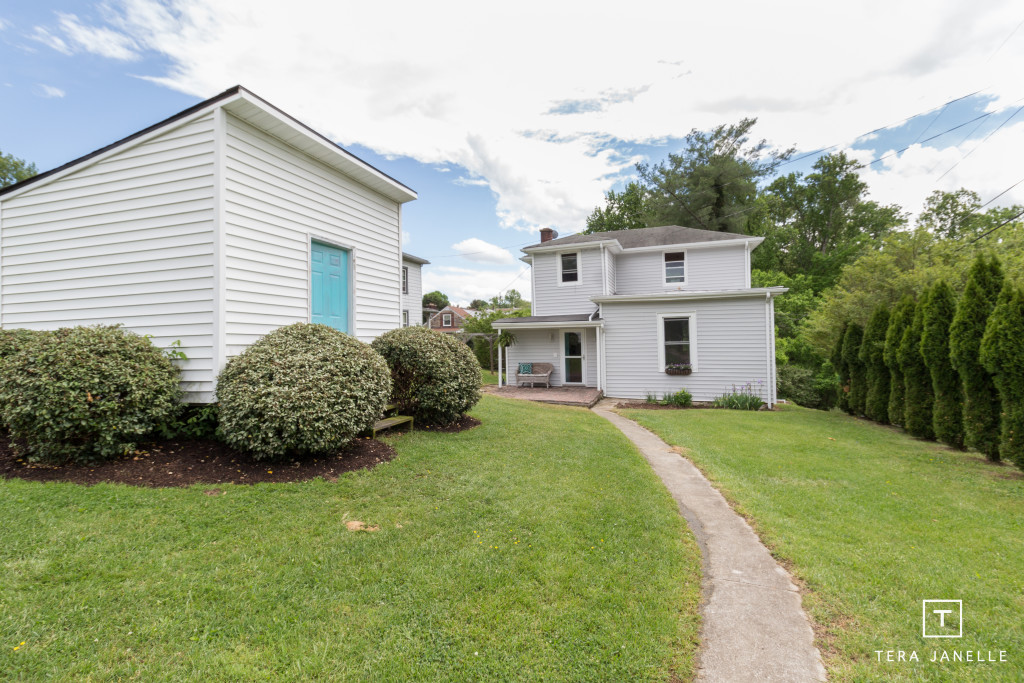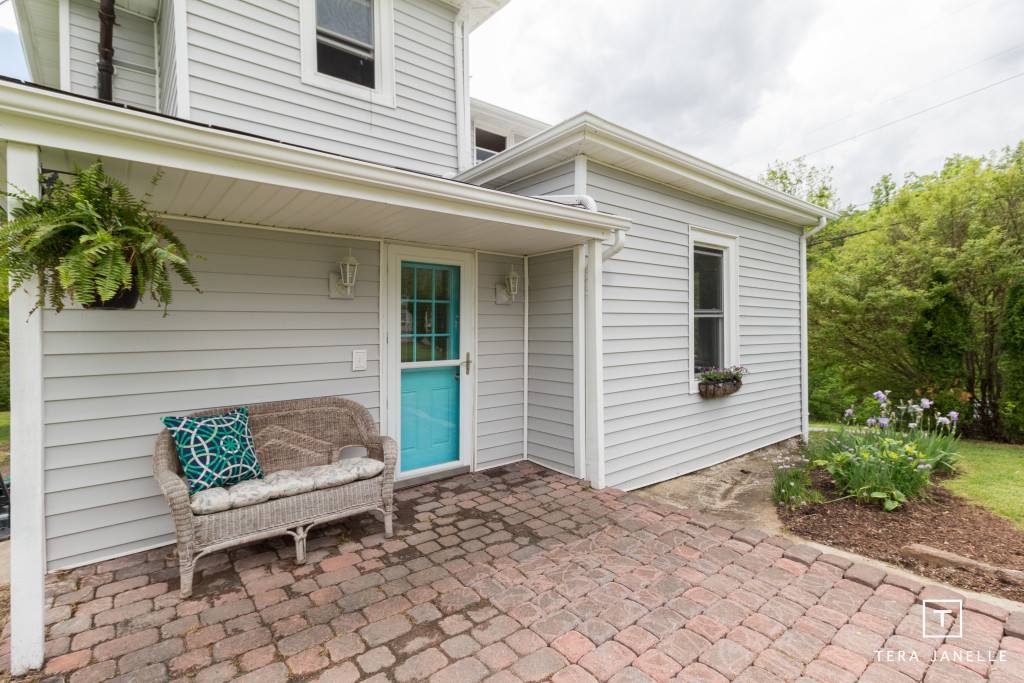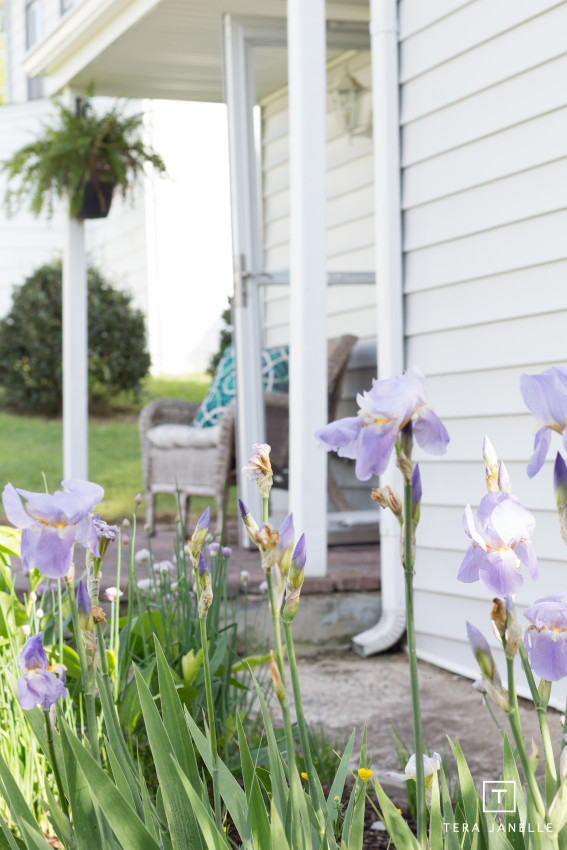 And just look at this endearing view from their backyard.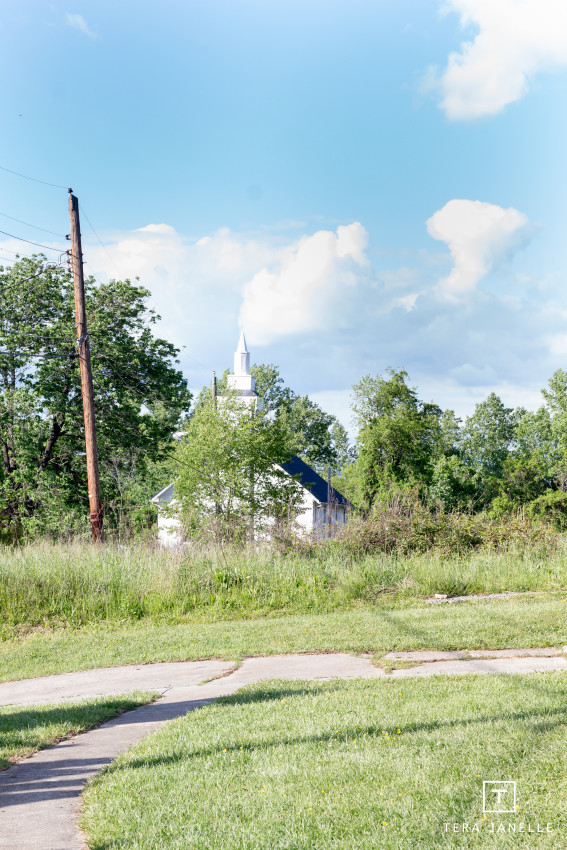 Renovation Details
Front Door: Behr "Soft Turquoise"
Porch Floor: Behr "Polaris Blue"
Walls: Benjamin Moore "Silver Chain"
Exterior Doors and Bath Vanity: Benjamin Moore "Hale Navy"
Outdoor Lighting: Front Pendant Light
Foyer Pendant: Monteaux Lighting
Vanity Light: 3-Light Sconce and Seeded Glass Shades
Second Bedroom Bedding: Gray Quilt
Living Room Couch: Homeowners
Other Furniture, Artwork & Accessories: Tera Janelle Design, Staging Inventory

Out of respect for our clients' investment and desire for a unique design, we share some but not all sources.
TIPS FOR PREPARING YOUR HOME TO SELL:
1. Banish clutter.  No doubt you've heard it before. :)  Pack up the knick knacks and excess furniture; it's a win win: your space will look good and you'll have packing already underway when your home sells!  Clear off dresser tops and bathroom counters.  Scale back the number of items on mantels, shelves, and in closets.  The Reusens Project before and after pictures highlight what some major decluttering can accomplish and the appeal of clean, simple spaces.  Of course it's easier when a home is vacant to keep the clutter at bay.  My husband, Ben, and I move often, so home sellers I feel your pain.  Keeping the clutter of everyday life at bay can be exhausting, but oh the result is so good!  And know the rest of us sellers stand in solidarity with your struggle. :) We raise our coffee cups to your trouble, especially those of you sellers with kiddos.  Kudos to your spotless, show-ready homes!  You're super heroes.
2. Make it Pretty and Keep it Simple.  A small investment in new artwork or a shower curtain or pretty accessories can really transform a space.  Stores like Target, Homegoods, and Ross are great sources for updating your space on a budget.  Large, affordable canvas artwork like this and this are easy to hang and oh so pretty, and you'll have artwork to use in your new home!  Abstract, softly colored landscapes are my favorite to use as they are quite universally adored.
3. Paint that front door.  Okay, so not everyone needs to paint their front door.  But you know the talk – curb appeal is key!  A fresh coat of paint on your porch and front door.  Pots or window boxes of colorful flowers.  Freshly trimmed bushes.  New mulch.  New house numbers or a new outdoor light.  They all work to win the heart of buyers from their very first steps towards your home. Buyers are driving by and checking out your house and neighborhood to see if they want to schedule a showing.  Give them a reason to schedule that showing!  And of course, keep that lawn mowed.
4. Who doesn't love fresh flowers?  A small glass of flowers on your bath vanity or nightstand.  A vase of greenery on the dining table.  Those pretty details amp up your home's charm.  But no need to spend a fortune!  The Reusens Project kitchen flowers are rhododendrons cut from my front yard.  And if you're lucky enough to have a magnolia tree (or a friend who will let you show up with limb cutters), magnolia leaves often last two weeks in fresh water.  Not up for the up-keep of fresh flowers?  Stores like Michael's and Hobby Lobby and many local home boutique stores have pretty faux options!  (Example: the Reusens Project vases in the dining room and second bedroom.)
5. Light it Up!  Oh, how I love a good light fixture.  I mean it's a lasting love affair, a sit in a room and just gaze at the lighting love.  I love the impact a new light fixture can have on a room! Light fixtures are a beautiful way to add a focal point to a room.  (Example: that fun Reusens entry pendant!)  So swap out those shiny, 1980's, brass hollywood-style vanity lights.  Upgrade those builder-basic chandeliers with a stylish chandelier or drum pendant like these.  Bonus: buyers love well-lit spaces!
6. C-L-E-A-N!  And we're talking about more than dust bunnies and smudged windows here.  Clean out and wipe down the fridge (buyers are looking in there!).  Give the windows an inside and out cleaning.  Have your moldings gotten dingy or your walls gained a few scuff marks?  Give them a fresh coat of paint.  Take a look at the caulking around your tub.  If it has seen whiter days, carefully use a box cutter to remove the existing grout and add a fresh line of silicone caulking.  And I know this one makes most of us cringe, but clean out your closets too!  Buyers love storage.  By organizing your closets, linen storage, and pantry, you'll highlight for buyers the storage and organization your home has to offer.
7. A picture really is worth a thousand words.  Or in the case of selling your home, thousands of dollars!  Great photos get potential buyers through your front door.  When considering realtors, ask whether they use a professional photographer.  If your realtor doesn't use a professional photographer, consider hiring one yourself.  Most buyers start their home search at a computer, scrolling through listings and looking at pictures.  Make sure the beauty of your home is reflected in your home's photos.   (Hint: Real estate photography is a unique area of the photography market. Look for a photographer who has experience shooting real estate or landscape and buildings.  They'll have the eye and equipment for capturing the beauty of your home.)
I get the awesome pleasure to not only design, renovate, and stage sellers' homes, but to also photograph the final results for the MLS.   If you're looking for a real estate photographer in the Lynchburg, Virginia area – I've got my camera packed and I'd love to see your home!
WANT MORE TIPS FOR PREPARING YOUR HOME FOR THE MARKET?  Check out my interview with Lynchburg Living in their current issue!