And that's a wrap!  Today was reveal day at the Westview Project, and that charming brick one-story has gone from odd and dingy to bursting with charm!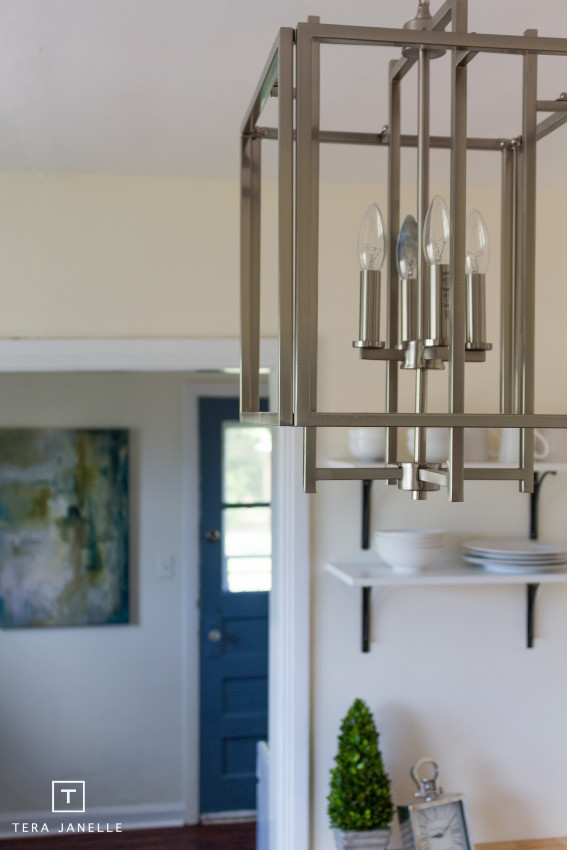 The house initially posed a few challenges:
Neglected curb appeal
Dingy walls
Poor lighting
A lackluster and oddly laid out kitchen (the fridge was in the dining room)
A bath leak which required some major bathroom updating
I joined this project part way through.  The owners had already contracted with a painter and contractor, and my job was to get the project from Point A to Point B effectively and efficiently — and to be sure the investment resulted in a beautiful end space!   The owner had seen my work on past projects, and so as we began talking paint colors and bathroom design, she said, "Just do your thing.  I trust you!"
Neglected curb appeal
The porch got a fresh coat of paint, the landscaping some major clean up, and the front door a new paint color (Behr's Connecticut Blue). We swapped out the finicky door hardware for new, brushed nickel hardware.  Added some colorful mums and a spot for enjoying that charming front porch, and topped off the new curb appeal with an American flag.

Dingy walls & poor lighting
The interior walls had already been given a fresh coat of soft yellow when I joined the project.  So I played to the yellow with complementary greens, grays, and blues in the decor.  The kitchen door got a coat of Behr's Connecticut Blue, and now the original glass knob stands out beautifully.  We added new lighting throughout the house – and the combination of some serious elbow grease, fresh paint, and stylish new light fixtures entirely transformed the rooms!  Some simple styling finishes things off and carries the color palette throughout the house.
An oddly laid out kitchen
We addressed the fridge in the dining room problem by creating what is now a two-room kitchen layout.  By adding shelving and rolling cabinetry to the dining room, the room now plays as a charming eat-in kitchenette, featuring a bistro table, open shelving, and awesome chandelier.  The kitchen's gray curtain plays nicely with the home's casual style and color palette (and hides the water heater), and the new cabinet hardware, sink, and faucet add clean, fresh style to the kitchen.
The bathroom
The bathroom got a major overhaul.  The gray and white color palette, paired with chrome hardware and classic finishes, resulted in a fresh, bright, functional, and beautiful bath!
This little brick home's end-style highlights how some affordable, intentional updates can entirely transform a home! Check out the before & after photos…
BEFORE PHOTOS








AFTER PHOTOS