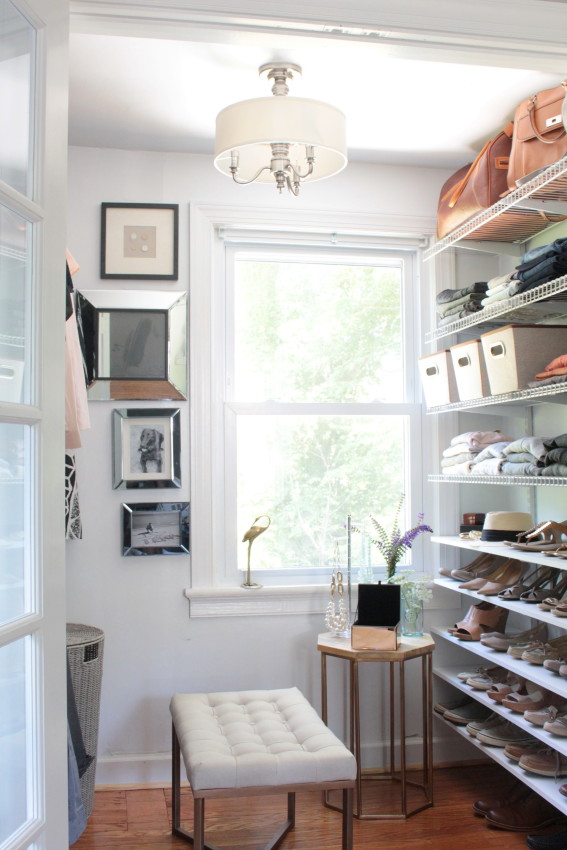 While we adore the character of older homes, they are ridiculously slight on closet space.  So last July, just days before we moved into the cape cod, we knocked down a few awkward master bedroom walls in order to capture some additional closet space.  But it took, well, about 8 months before we actually got to building the new closet.  Because in the meantime there were all these other renovations about the house that needed tackling — plumbing, electrical, floors, a dingy basement, a non-functioning kitchen. But finally, these last couple of weeks, the master closet inched its way to the top of the list!
Initially I had dreamt of a stunning, custom closet.  Pinterest will do that to a girl. However, we had a 5×7 space and a $1500 budget to contend with (and a huge chunk of that budget was dedicated to construction), so a custom closet just wasn't in the cards.  But I was not willing to give up on the custom look!  So I poured through pictures of dream closets on Houzz and Pinterest, and I made note of the elements of those closets that I loved:
a place to display handbags
pretty spots for jewelry throughout
an abundance of shelving for shoes
a lovely chandelier
a mirror
lots of natural light (thank goodness for that window!)
a luxurious entrance
personal touches (photos, art, etc.)
a tufted bench
And the benefit of waiting 8 long months for a master closet is I had time to dream and design and rework the space.  I measured our clothes and bags and shoes to maximize closet shelving while still allowing adequate space for larger handbags, taller boots, long dresses, etc.  Here are a few before photos and a rough sketch of our design plan…
THE BEFORE [MLS Photo]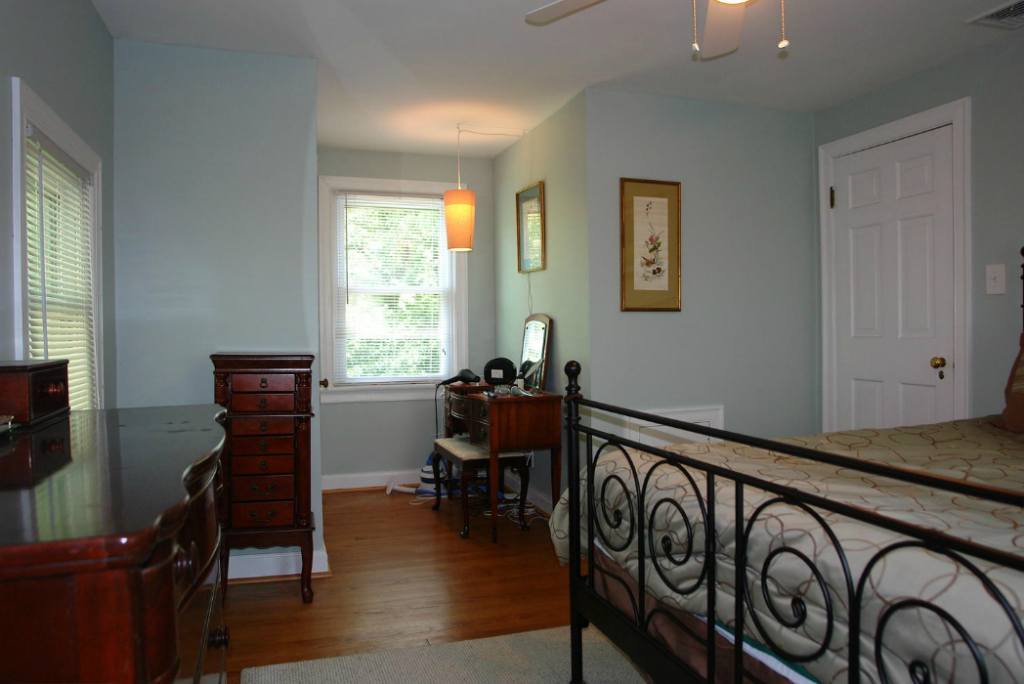 IN PROGRESS + A Handy Husband
THE PLAN
(Side note: We're a lot better with a hammer than with a pencil.)

If you follow us on instagram or frequent the blog, you've already seen a few sneak peek photos of the new space. Last weekend we wrapped up the closet renovations and added the finishing touches — finishing touches like French doors, a chandelier, and shelves galore!  Now we have a place for things, closety things. Clothes. Shoes. Jewlery. Bags. Hats. Belts. How marvelous!  For quite some time our shoes had existed in rubble-like piles throughout the house and eh-hem, in an embarrassing heep by the front door. But now, just look at all that space for shoes! All I have left to do now is buy more shoes!

THE AFTER
We were initially concerened about using French doors, as the glass allows sight lines into the closet. Who wants to look at their messy closet? However, we wanted to keep the large, airy feel of the master bedroom, and we did not want to lose the beautiful morning light from that window behind solid closet doors. In the end, we love the French doors. Now that things have their place, the closet stays tidy. And the closet is just so pretty, we actually enjoy the views of the closet.  In addition, the French doors and fresh, white paint make the entire master bedroom feel huge!
Those lovely glass door knobs were free, my favorite price. They were part of a coat rack that came with a house we renovated last summer. I didn't care much for the coat rack, but I liked the knobs, so I'd saved them to be reincarnated in some future project. And here was that future project! The doors have a magnet latch built into the door frame, so I didn't need actual doorknobs. So these pretty "dummy knobs" function well, look quite lovely, and are appropriate to the look and age of the house.  (You can find similar reproduction glass dummy door knobs here and here.)
We have standard 8 foot ceilings in the closet, but I was adamant I wanted a chandelier.  I love a closet with a chandelier.  A staircase with a chandelier.  A bathroom with a chandelier.  A laundry with a chandelier.  Even a chicken coop with a chandelier, like this pretty farmette!  So as soon as we started talking design plans for the new master closet, Ben rolled his eyes: "You want a chandelier in here, don't you?" And I absolutely did!  But finding an affordable, good looking flush mount chandelier can be tough.  This $99 semi-flush chandelier is our go-to option when we want a little chandelier-sophistication, but we're on a tight budget, in a tight space.  If Home Depot ever discontinues that fixture, we're in trouble.  What will the 8 foot ceilings in need of an affordable chandelier do?!
Having a place to display things like jewelry, purses, and summer hats, well it reminds me I do in fact own jewelry, purses, and summer hats!!  One of my favorite elements of the inspiration closets was the way in which shoes, jewelry, sunglasses, handbags, scarves, etc. were displayed like art.  And though I don't have 200 sq ft of closet space to work with, I made an effort to create a few, beautiful moments of display throughout the closet.  Being able to see all those beautiful things reminds me I do in fact have something to wear.  Like 20 pairs of nude heels, sandals, and flats to be exact.  (Whoops!)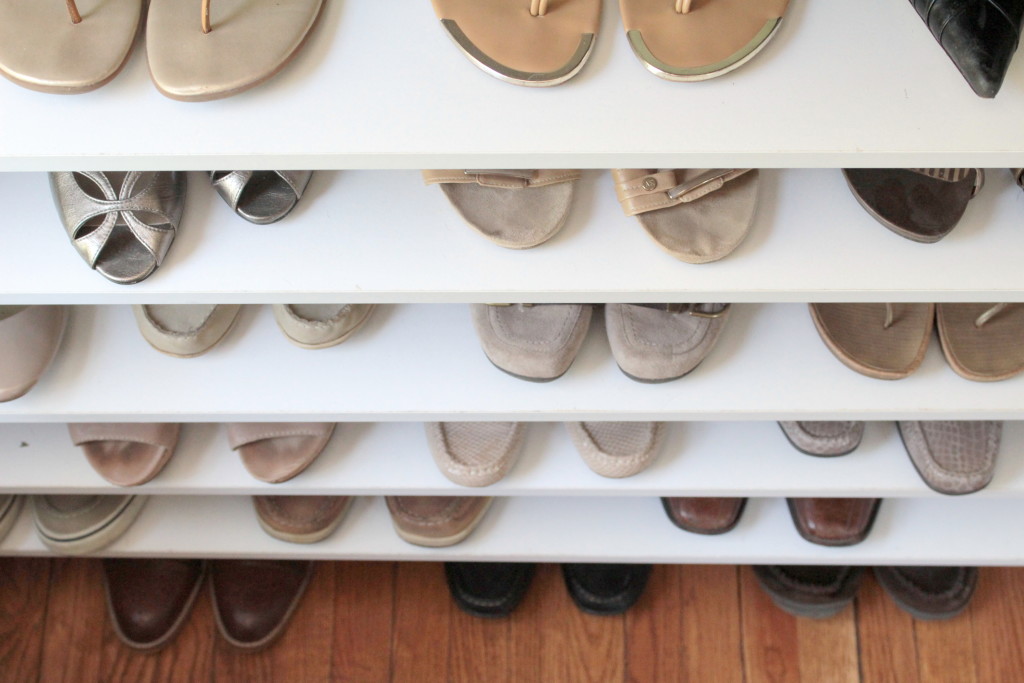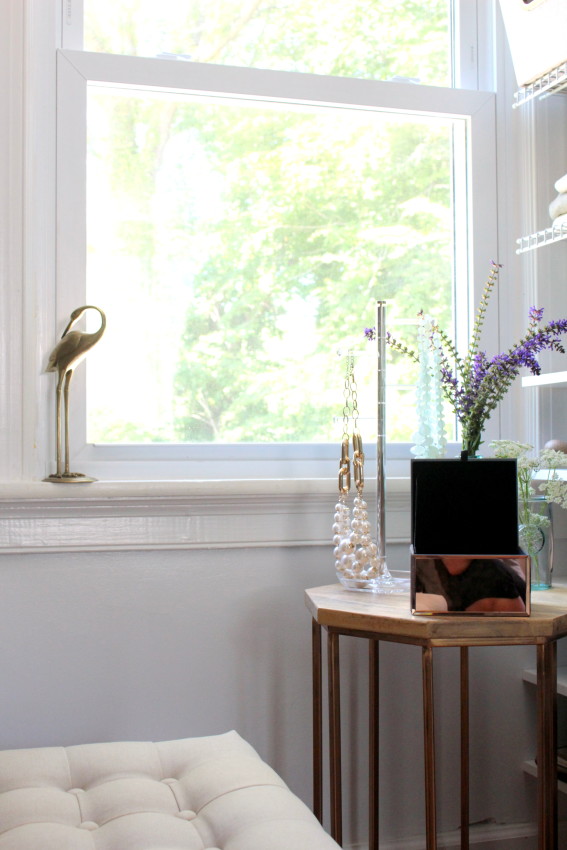 I've never had a sitting bench in a closet before, and let me tell you it 1) feels fancy, and 2) is so very practical!  I sit on the bench to put on my shoes, drape my outfit across it for the next day, stand on it to reach those tall shelves, and toss my clothes on it at the end of the day when I'm too lazy to put them away.  (Okay, that last part is not particularly a feature, but it is practical.)  The gray wicker hamper was another practical addition.  It is not actually wicker, which I assume would snag clothes, but a plastic, woven "wicker."  Our laundry room is on the lower level, and though it is in the midst of a remodel and will be beautiful, it is still on the lower level.  Having somewhere convenient to throw dirty clothes upstairs keeps them from gathering in a corner (embarrassing confession), and when the gray hamper gets full, I simply carry it downstairs to the laundry room.  Easy peasy.
I toyed with putting a full-length mirror where the frames now hang, but we have a lovely full-length mirror mounted on another wall in our master bedroom.  So instead I sided with a smaller mirror and some favorite, framed mementos.  The framed coins are from South Africa, where Ben and I first met (it's a pretty fun answer to "how'd you meet?").  The top photo is of our cutie Labrador, Kloee, and the picture of "I ♡ Tera" in the sand was taken when we got lost on the backroads of Wisconsin and ended up at a lakeside beach.  The brass crane (one of my very favorite items I own!) came from a Lynchburg, Virginia flea market. I think it cost $3.  We had all these items already on hand around our home, but it is these personal, finishing touches that dressed our closet with a sense of warmth and soul.  If a closet can have a sense of soul, those South Africa coins and brass crane are part of it.
I love a wood hanger.  But when it comes down to it, they're cumbersome and bulky.  Our closet had collected a mismatch of hangers — wood, blue, silver, green, and white — so I consolidated all the wood and white hangers in our master bedroom closet.  Then I took the silver to the guest room, put the green in the coat closet, the blue in the laundry room, and so on.  The white hangers blend in quietly with the closet's white walls and shelving, and so avoid drawing too much attention to the fact they are Walmart 10-pack $2.99 hangers.  But the white and wood pair nicely, and $2.99 hangers do the trick!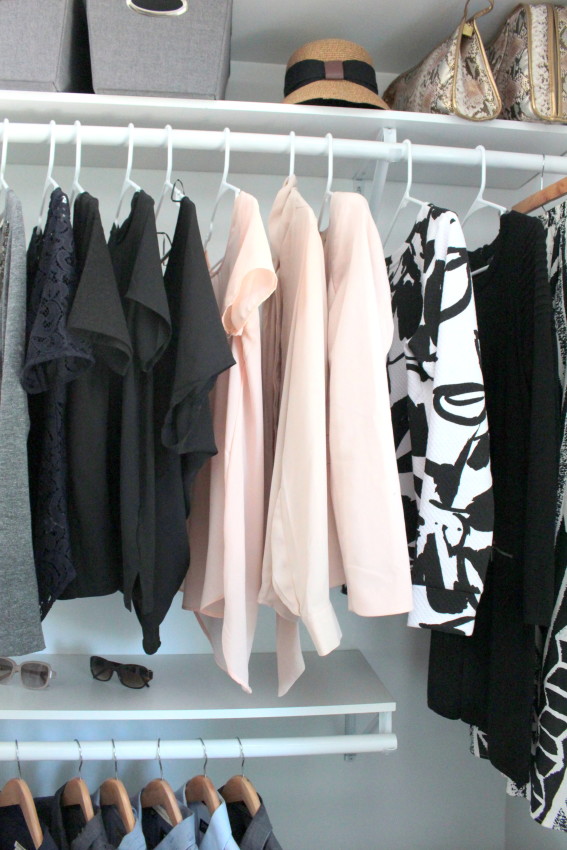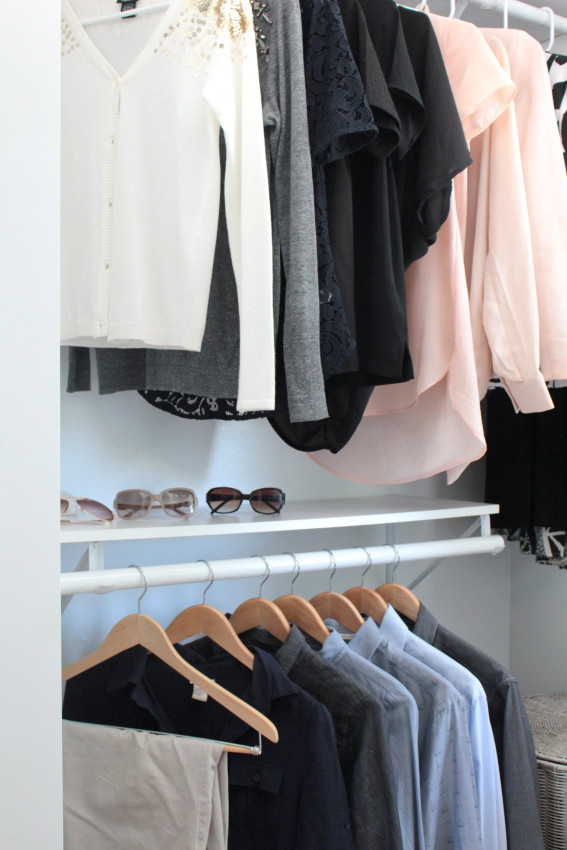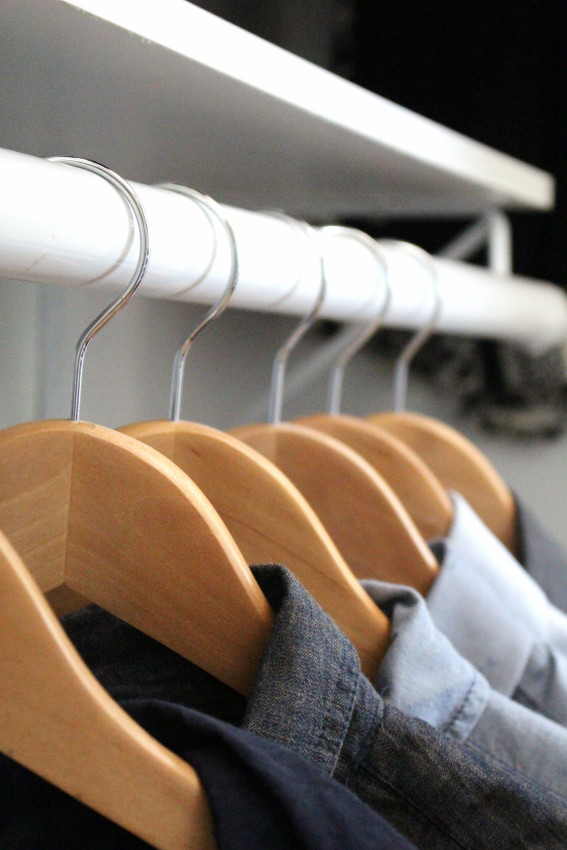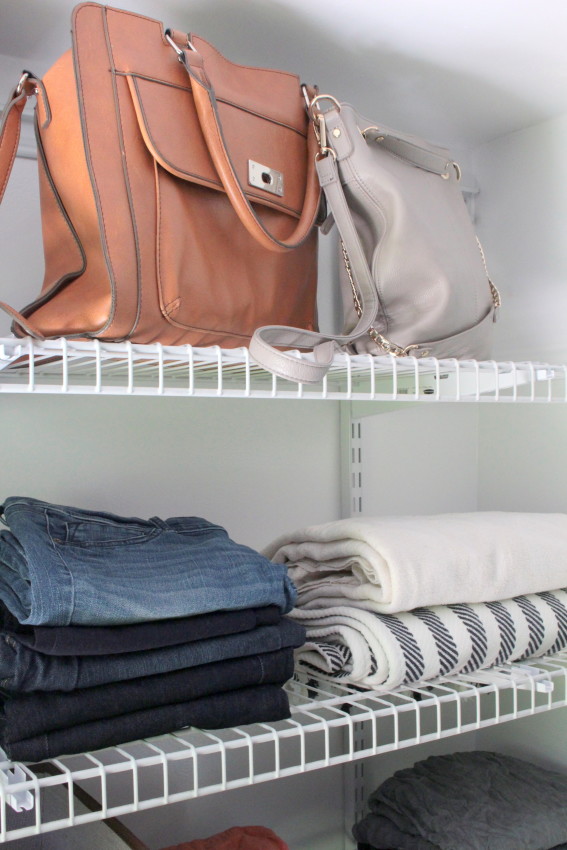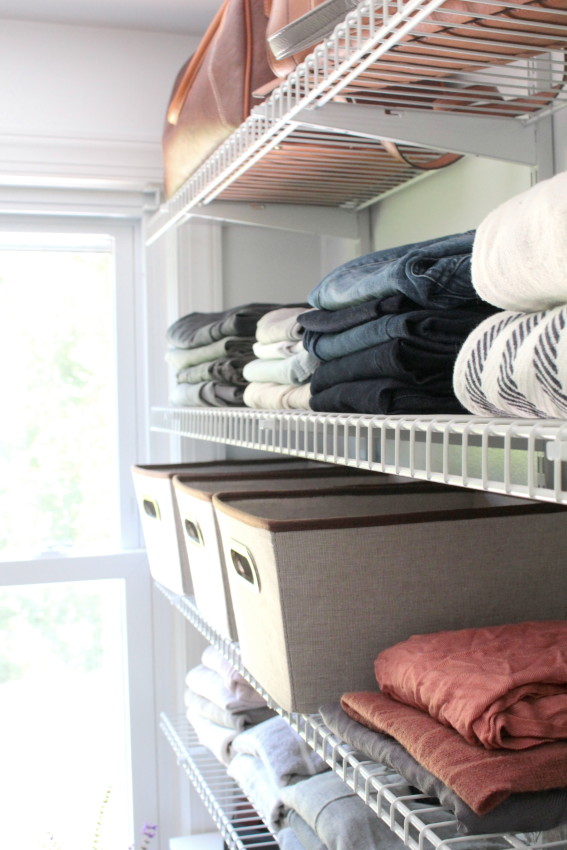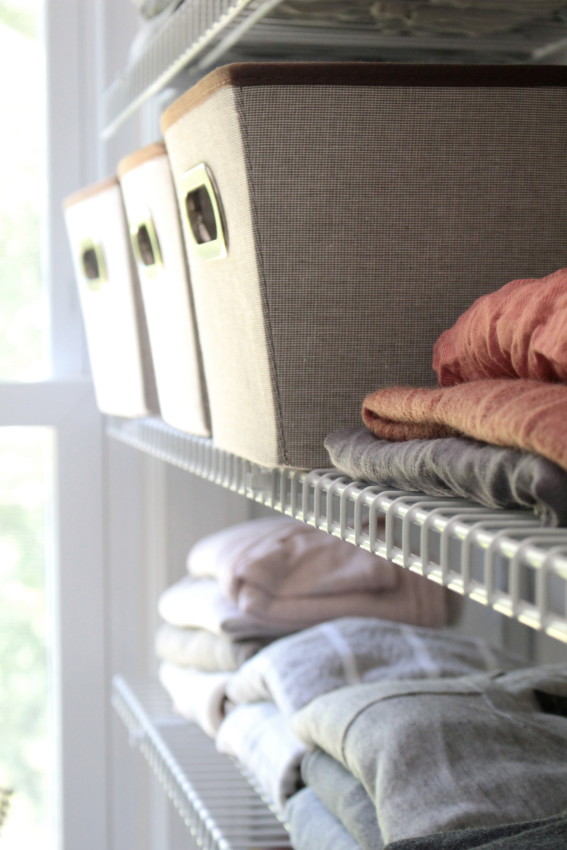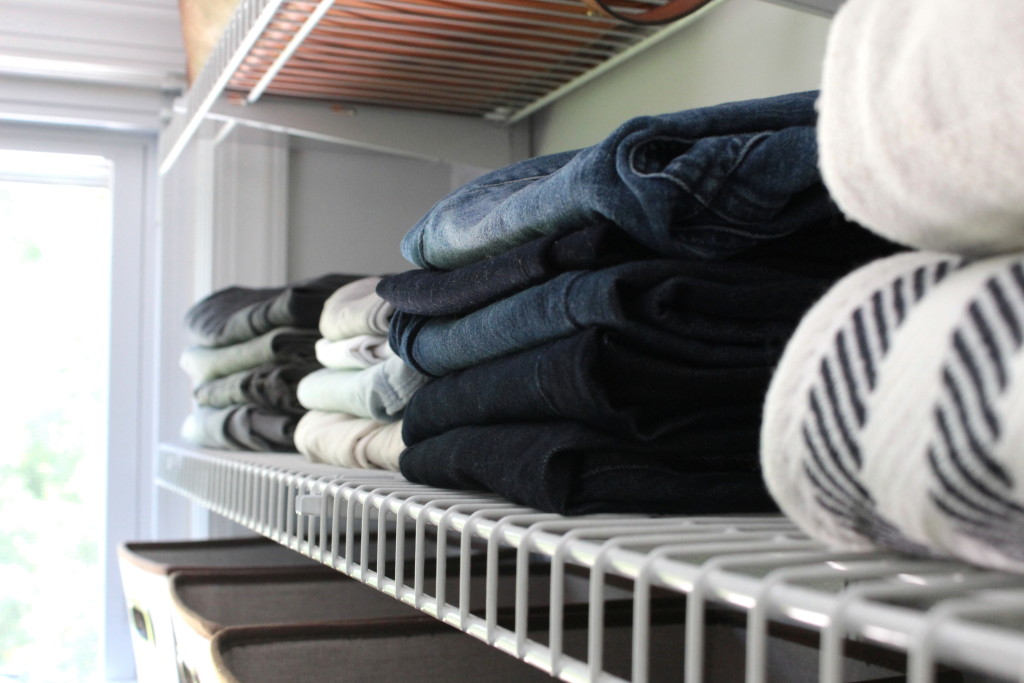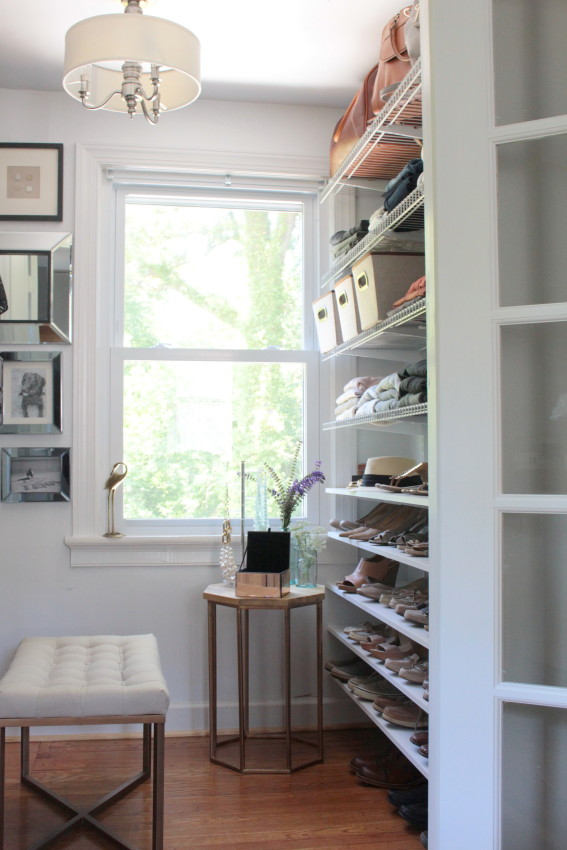 So that's the new closet in all its staged glory.  And if I had my make-believe-way, it would continue looking precisely this way… but I suppose I should eventually put the rest of our clothes in this new closet.  But where's the fun in that?
Patience clothes, patience.  Let me soak up this pretty, precise closet for just a few more days…
We are so excited to have pulled off such a beautiful closet space while staying within a reasonable budget and relying entirely on convenient, off-the-shelf materials!  Because when beauty meets convenience and a great budget – well that's our sweet spot.
MASTER BEDROOM CLOSET BREAKDOWN
Ben was traveling for work during most of the closet renovation, so we hired out the drywall, flooring patch, and the framing and hanging of the French doors.  We tackled the rest.
Quite a chunk of our budget went to constructing the closet (knocking out the old tiny closet and the construction required to create the new closet space), so we broke the project down into two budget categories: Construction & Finishes.
Construction & Build-Out: $900

Unfinished 48″ French door — $350 from Home Depot
Drywall: Labor & Materials — $100 (Local Installer)
Flooring Patch: labor, red oak floor boards, Minwax Early American stain, and poly finish — $200 (Local Installer)
Framing and hanging French door: labor & materials– $250 (Local Installer)
Shelving & Finishes: $580

Semi-Flushmount Chandelier  —  $99 from Home Depot
Valspar Signature Base A (untinted) SemiGloss (walls and trim) — $35* from Lowes
Threshold Tufted Bench — $85 (on sale) from Target
Necklace Stand — $20 from Target
Threshold Accent Table — $55, on sale (no longer available, similar option Target)
12″ x 6′ White shelf board (6) —  $11.97 ea = $72 from Home Depot
12″ x 48″ White shelf board — $9 from Home Depot
96″ White metal closet rod — $12 from Home Depot
72″ Wire Shelves (4) — $8.20 ea = $33 from Home Depot
White Shelf and Rod Support Brackets (4) — $3.97 ea = $16 from Home Depot
Wood Shelf Track Brackets (15) — $3.78 ea = $57 from Home Depot
Wire Shelf Track Brackets (12) — $4.98 ea = $60 from Lowes
Adjustable Shelving Wall Mount Hardware (2 pack) — $15.44 ea Home Depot
Adjustable Shelving Wall Mount Hardware — $11 from Home Depot
Fabric Storage Bins  — $0, already on hand (Walmart: tan tweed & black)
Glass door knobs (2) — $0, already on hand (similar option Hobby Lobby and Home Depot)
Mirrored jewelry box — $0, already on hand (similar option West Elm)
Pale Blue Vases — $0, already on hand (originally found at Homegoods)
Wooden Hangers — $0, already on hand (originally found at Big Lots and Walmart)
White Hangers — $0, already on hand (originally found at Walmart)
Mirror — $0, already on hand (originally found at Kmart)
Mirrored Frames — $0, already on hand (originally found at Homegoods)
Black frame & picture mat — $0, already on hand (originally found at Walmart)
Brass crane — $0, already on hand (originally found at Virginia flea market)
*We have tried nearly every brand of paint, and the coverage of Valspar Signature white is fantastic!  It's our absolute go-to brand when painting whites.
TOTAL: $1480
So $1480 is no small chunk of change, but we're consoling ourselves by remembering the inspiration closets cost $10,000 – $15,000.  The master closet has entirely changed the way we live in and use our master bedroom, and it feels pretty great.  I guess smart planning and living for months with a giant hole in your bedroom eventually pays off, with a pretty incredible closet!