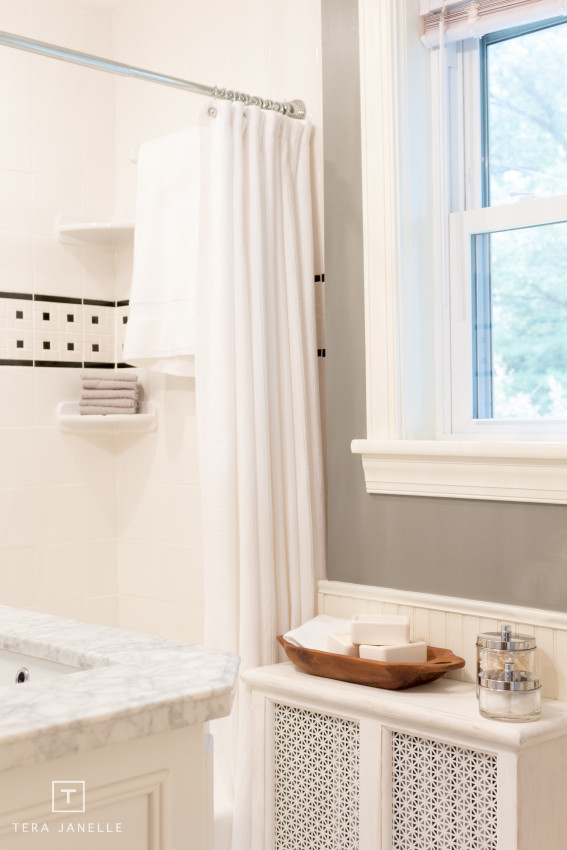 My love affair with classic tile, bead board, and marble continues!
The cape cod's upper bath is finally finished.  Like 100% finished.  Okay, maybe 95%.  In all reality, we made it about 75% of the way six months ago and then lost our bathroom-finishing steam.  But this week . . . this week that upper bath made a fighting run back to the top of the priority list — and she turned out pretty darn pretty!
THE BEFORE
IN PROGRESS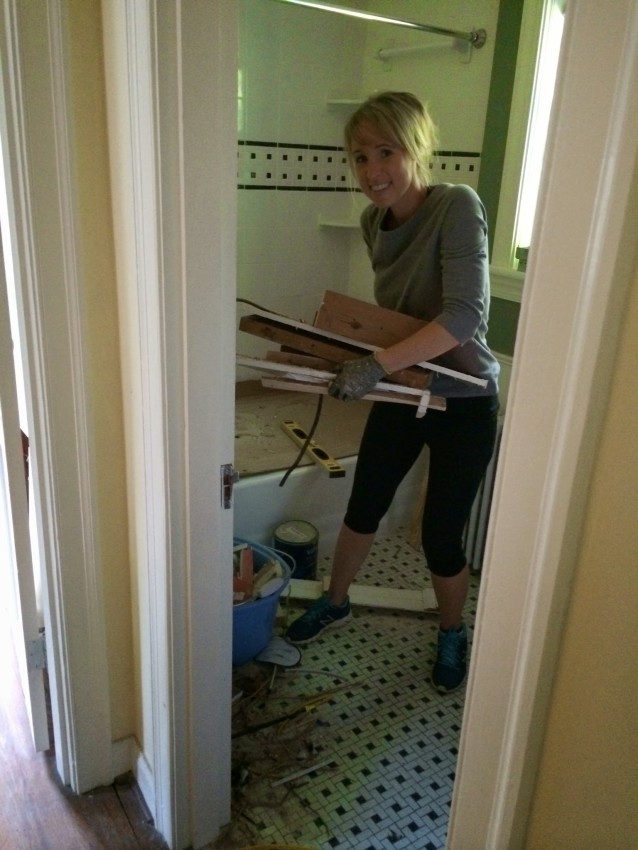 THE AFTER
So . . . Ben hates the "champagne for breakfast" print.  I'd bought the frame+print combo on clearance for $3 and intended to replace the print portion with a 5×7 seaside painting from Etsy or Minted.  Six months later, it's still on the To Do List.  But I do love the moment of gold in "champagne" – it complements the cape cod's brass door hardware and the wood tones in the decor.  So until I have the time (and money) to head over to Etsy… Cheers!
Of course we wanted a pretty bath, but more importantly, this bath needed to function.  And oh, how she does!
The new, larger vanity provides greater counter space and cabinet storage.  We added a big-box-store wire shelf to capture additional space in the cabinet's interior.  A pull out tray holds make-up and can be easily pulled out or tucked away.  Baskets corral brushes, a blow dryer, and curling irons.
Towel rods and hooks can be found on the door, back wall, and in the shower — so clothes and towels always have a place to go (and it's not the floor!).
The custom-built radiator cover adds historic character and another surface to house pretty jars of bath necessities.
We added a recessed medicine cabinet above the sink to house everyday usage items like toothbrushes and hairspray.  And the mirrored interior is flat out fabulous!  It allows me to keep applying mascara while Ben grabs his toothbrush.  Phew.
The new over-the-toilet cabinet adds charm and practicality too.  We swapped out the cheapo knobs for some pretty recycled glass ones!
Searching for more bath inspiration?  Check out our recent Stone Cottage bath renovation or the Division Street Project's super-affordable bath update!